Shop For Bar Tools, Bitters and Vintage Barware At The Mixing Glass In Costa Mesa
Gabrielle Dion, the mastermind behind some of the most innovative and buzzed about cocktails in Orange County, brings curated cocktail ware and know-how to The Mixing Glass at The OC Mix. If you're looking for something cool to get into in LA, why not stock your liquor cabinet like a pro?
Cocktail lovers and bartenders now have a haven to shop for the highest quality bar tools, hard-to-find bitters, vintage barware and glassware, books and more at the adorable new shop at The OC Mix. Sample bitters before you buy or pick up the Moscow Mule Kit, complete with everything from the traditional copper mug to the ginger beer. "After spending years searching high and low for barware and products while paying a premium, and not being able to taste and smell bitters before ordering, I knew that there had to be another way to access what I needed," says owner Gabrielle Dion. "I'm thrilled to offer other professional mixologists—and craft cocktail lovers of all kinds—a truly unique source to indulge their passion."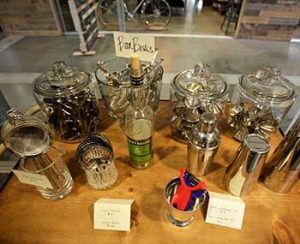 Before opening The Mixing Glass, Dion tended bar at Pelican Hill Grill, Charlie Palmer at Bloomingdale's in South Coast Plaza and is currently the bar manager at Broadway by Amar Santana in Laguna Beach and serves on the board of Orange County's Bartender Cabinet trade group. She is known for creating creative cocktails, often using obscure ingredients and The Mixing Glass carries products that Dion uses personally.
The Mixing Glass will also host regular classes ranging from how to make homemade ingredients for cocktails, as well as bar mechanics and Mixology 101 taught by leaders in the craft cocktail movement. Look for guest speakers such as Ricky Yarnall from Harvard and Stone in Los Angeles and Jason Schiffer from 320 Main sharing their knowledge with Mixing Glass customers. M-F 11 a.m.-7 p.m.; Sa 10 a.m.-6p.m.; Su 11 a.m.-5 p.m. 3313 Hyland Ave., Costa Mesa, 714.975.9952. themixingglassshop.com