Vintage, Antique-Style Furniture at Montucci Designs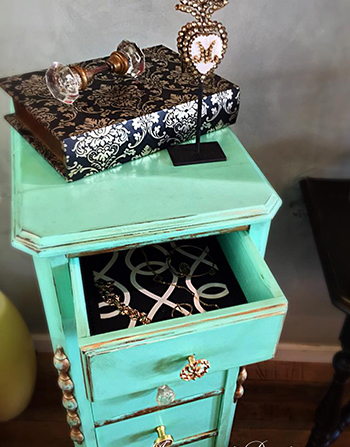 Find uniquely hand-painted and custom refined furniture and accessories at new Montucci Designs.
From estate sales and Craigslist, to friends, family and past clientele, Montucci Designs finds and unveils the beauty in seemingly useless furniture by transforming it into a Cinderella of its own kind.
"The uglier, the better," according to Kelly Montalbano, Owner of Montucci Designs. The custom furniture store at The Shops at the Cove in Newport Beach opened in March, however, Montalbano has been yard-sale hunting, sanding, painting, staining and selling one-of-a-kind pieces of furniture for almost three years. Her Etsy-to-storefront business thrives on creating furniture "the old-fashioned way." Each piece is sanded by hand and painted with acrylic latex paint, rather than the alternative, skipping the sanding and only finishing with chalk paint.  All furniture is stained in specific areas and the entire piece is sealed in wax. Montalbano uses a staining technique that thrives on details and flaws that are a natural feature of used or old furniture. "The stain settles in the cracks and adds character that cannot be found in mass produced furniture," she says.
Detail is critical to the brand as all drawers are painted and lined inside and out and new hardware is added unless the original is still in great shape. Special orders and requests are encouraged. Montucci Designs ships anywhere in the country. New at The Shops at the Cove, 410 W. Pacific Coast Hwy., Suite I, Newport Beach, 714.715.1562. MontucciDesigns.com