Tried, True and New: Top Orange County Restaurant Picks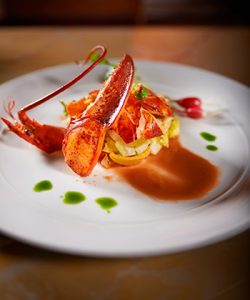 What restaurant should you choose for your next Orange County dining experience? Check out picks for the tried, true and new.
Adapted from Tried, True and New by Anne Marie Panoringan and Benjamin Epstein in Where Orange County Magazine
Choosing restaurants, like choosing stocks or a horse at the races, depends greatly on your appetite for risk. With stocks and horse races, often the greater the risk, the greater the reward. With restaurants, however, whether your choice is more conservative or more adventurous, the potential payoff can be equally rewarding. Do you thrive on dependability or the thrill of the new? Or something in between? Here we offer a compendium of cuisines, each with three restaurant recommendations.
TRIED: Open for two or three years and very much on our radar.
TRUE: A classic, the benchmark by which all others are measured.
NEW: Open a year or less, and showing lots of promise.
New American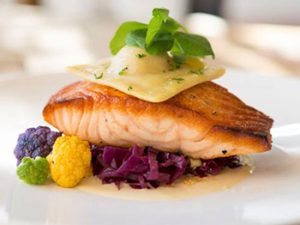 TRIED > Little Sparrow in Santa Ana has an enamored following and was recently chosen by the Bravo channel's Tom Colicchio to compete as one of 16 best new restaurants in the United States. Perhaps chef Eric Samaniego's housemade charcuterie or grilled opah with beluga lentils and fennel pollen, or pastry chef Nasera Munshi's madeleines, swayed him. Start with a libation in the connecting bar. 300 N. Main St., Santa Ana, 714.265.7640
TRUE> The good life awaits at stylish Stonehill Tavern, poised to please within the posh St. Regis Monarch Beach Resort in Dana Point. Since 2006, restaurateur Michael Mina's vision has included his lobster pot pie, prepared tableside, alongside starters, entrées and reinvented desserts from executive chef Raj Dixit that double as artwork. The very best option: Dixit's transporting tasting menus. 1 Monarch Beach Resort Drive, Dana Point, 949.234.3318
NEW > Island Hotel Newport Beach unleashed Oak Grill and its sibling Aqua Lounge as part of a culinary redux last summer; the pair share a street entrance from an expansive patio that looks onto Fashion Island. At Oak Grill, chef Marc Johnson skews to meticulously executed tandoori-spiced ahi tartare, and at Aqua Lounge to late-night breakfast burritos. 690 Newport Center Drive, Newport Beach, 949.760.4920
Californian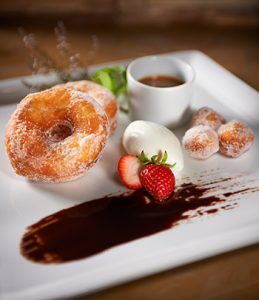 TRIED > The buzz about SeaLegs Wine Bar since it began popping bottles in Huntington Beach is about the ladies' nights out, and it's owned by two women. But men also appreciate chef Alexander Dale's juicy pork-belly sliders, chimichurri hanger-steak salad and garlic-and-Parmesan stinky fries—which makes it great for date night, too. The mini-patio is new.  21022 Beach Blvd., Huntington Beach, 714.536.5700
TRUE > Napa Rose, nestled in Disney's Craftsman-style Grand Californian, is Andrew Sutton's ode to the wine country. Consider the Smiling Tiger salad—tempura-fried lobster, spicy beef, Asian greens and coconut-lime vinaigrette—or duck breast with goat-cheese-stuffed cherries and fennel puree. The exhibition kitchen recently got a redo; the Vintner's Table tasting menu changes weekly. 1600 S. Disneyland Drive, Anaheim, 714.635.2300
NEW > You'll find striking decor, harbor views, a cigar patio, three docks, and dining rooms and stunning bars upstairs and down at The Winery in Newport Beach; the original is in Tustin. A two-story glass wine cellar complements chef-partner Yvon Goetz's seafood, wild game and Prime steaks—not to mention his roasted organic vegetable tower and Alsatian "pizza." 2647 Park Ave., Tustin, 714.258.7600; 3131 W. Coast Hwy., Newport Beach, 949.999.6622
Gastropubs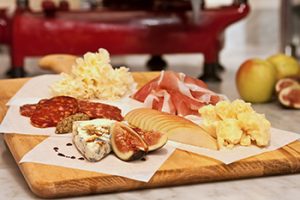 TRIED > Hopscotch jumped into the downtown Fullerton dining scene two years ago, and it's been hopping ever since. Take time to browse the comprehensive whiskey and microbrew lists—lots to ponder. Relax on the patio and converse over crispy pig ears, seared duck breast with mascarpone polenta or tri-tip with roasted cauliflower. It's adjacent to the Metrolink/Amtrak station. 136 E. Commonwealth Ave., Fullerton, 714.871.2222
TRUE > SideDoor—adjacent to Five Crowns in Corona del Mar, in a replica of England's oldest inn—sets the bar, so to speak. Pub fare such as fish and chips gets elevated treatment; there's a dedicated charcuterie and cheese station. Despite the thoughtful selection of brews, regulars turn to top-notch cocktails. High demand and a no-reservations policy can mean a wait. 3801 E. Coast Hwy., Corona del Mar, 949.717.4322
NEW > Expect the eccentric at Bosscat Kitchen and Libations, a Southern-inflected ode to whiskey with a rare-whiskey tasting room near John Wayne Airport. Consider Duroc-pork-belly poutine, its razor-sharp fries topped with gravy, cheese curds and a fried egg; whiskey-scorched okra; red velvet churros; or simply a piled-high burger. Perfect stop before or after a long flight. 4647 MacArthur Blvd., Newport Beach, 949.333.0917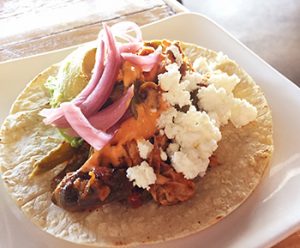 Breakfast
TRIED > Defying the stereotype of hotel restaurants, Anepalco's Café at the Ayres Inn Orange shines with its Mexique French cuisine. Make room for chef Daniel Godinez's famous chilaquiles or his huevos divorciados with a duo of red and green sauces. Staying for a leisurely meal? Opt for patio seating and watch the day go by as you order another seasonal cocktail. 3737 Chapman Ave., Orange, 714.456.9642
TRUE > John Q. Humphries offers his take on the most important meal of the day at Ramos House Café, served on the covered patio of a historic board-and-battan home near San Juan Capistrano Depot. Sip on a soju bloody mary with Scotch quail egg, say hello to the cat, listen to the trains go by, and enjoy blueberry-basil pain perdu, crab hash with bacon-scrambled eggs, or warm apple-cinnamon beignets—the stuff dreams are made of. 31752 Los Rios St., San Juan Capistrano, 949.443.1342
NEW > After a brief hiatus, Laguna Hills gem Break of Dawn reopened in a better space, a dining room that sets the stage for chef Dee Nguyen's original breakfasts, many with a Vietnamese touch, with repurposed church pews and sewing tables. Consider Nguyen's tempura-fried eggs, bison sausage with onyx rice, or crème brûlée French toast, all in generous portions. His Vietnamese coffee and signature hot sauce perk up the weariest of diners. 24351 Avenida de la Carlota, Laguna Hills, 949.587.9418
Brunch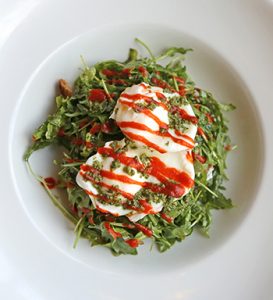 TRIED > The newer sibling of Costa Mesa's Eat Chow—just off Coast Highway in Newport Beach—serves up innovative dishes such as an egg-white mole burrito with spinach and pico de gallo, and the signature fried egg, which arrives bathed in tomato essence and truffle oil. Go for the gusto with the "a.m. burger" topped with hollandaise and bacon, and wash it down with a cup of Portola coffee. 1802 Newport Blvd., Costa Mesa, 949.650.2469; 211 62nd St., Newport Beach, 949.423.7080
TRUE > For a buffet treat, make reservations for chef Manny Gonzalez's acclaimed Sunday spread at Taps Fish House & Brewery, in Brea since 1999. You'll find oysters, artisan cheeses, and rotating carving and crepe stations as well as classic morning fare—100-plus choices best accompanied by the venue's nationally and internationally acclaimed craft beers, brewed on the premises. 101 E. Imperial Highway, Brea, 714.257.0101
NEW > Chef-owner Cathy Pavlos of lauded Lucca Cafe in Irvine launches her sophomore effort, Provenance, in Newport Beach's Eastbluff. Dine amid farmhouse decor or in the garden amid planters brimming with seasonal produce and herbs. Try roasted eggs in bacon-wrapped polenta, brown-sugar-cured wild-salmon gravlax, and, for a real eye-opener, whiskey that's infused with star anise and vanilla. 2531 Eastbluff Drive, Newport Beach, 949.718.0477