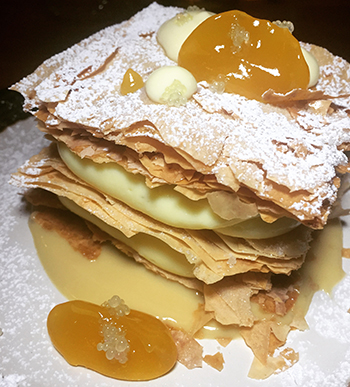 Satisfy your sweet tooth with SOCIAL Costa Mesa's new dessert menu.
Ashley Guzman, voted Pastry Chef of the Year at the 2015 Golden Foodie Awards, joined SOCIAL in December and since, has revamped the dessert menu. The new menu features three beautifully crafted, indulgent desserts. Ashley's selection of desserts are reminiscent of classics such as apple pie and chocolate cake, yet through incorporating unique ingredients and flawless presentation, she turns each dessert into a grand finale.
Waterloo
This tangy, creamy and flaky phyllo Napoleon dessert is made with kaffir pastry cream, coconut jam, mango and finger limes. The dessert is named for Napoleon's last battle—the Battle of Waterloo.
Bonita Applebum
Full of delicious flavors and textures, this dessert includes apple cider panna cotta, granny smith apples, crumbles of pie crust, honey comb and vanilla ice cream. Served in a bowl, the flavors meld together to create a refreshing and sweet recreation of apple pie.
Cheat Day
This sweet, slightly crunchy dessert is devils food cake, tainori cremeux, caramelized white chocolate namelaka and hazelnut brittle—paired with a scoop of banana ice cream.
SOCIAL will open a new concept next door in summer 2016, to which Ashley will provide the pastries for that location as well. Her and SOCIAL's Chef Jeffrey Boullt formerly worked together at Playground in Downtown Santa Ana before she moved on to The North Left to be Pastry Chef.
T-W 5-10 p.m., Th 5 p.m.-12 a.m., F-Sa 5 p.m.-1 a.m., Su 11 a.m.-10 p.m. Social Costa Mesa, 512 W. 19th St., Costa Mesa, 949.642.2525. socialcostamesa.com