Little Sparrow Joins The Hip Downtown Santa Ana Dining Scene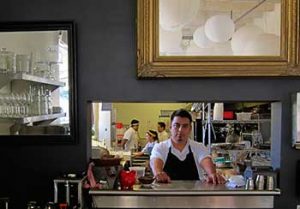 With improvisational and approachable bistro fare, Little Sparrow is a significant addition to the Orange County dining scene. When it comes to things to do in OC, this place is quickly becoming the place to eat.
Chef Eric Samaniego is a protégé of acclaimed L.A. chef David Myers, so it's not surprising he's shaking things up with Little Sparrow. "What I learned from David is to be really improvisational. He taught me to never allow myself to be stagnant or complacent," says Samaniego, who changes 80 percent of his menu every month. Cooking at Myers' Comme Ça in West Hollywood clearly gave the young chef an appreciation for the comforting qualities of a brasserie. "I want our guests to forget they're in Santa Ana and to feel like they're at a bistro in Paris, San Francisco or New York," he says.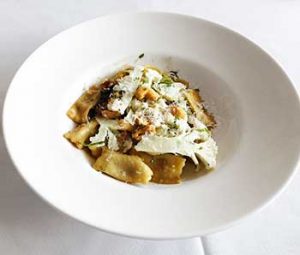 Samaniego applies sophisticated technique to dishes that are unpretentious but ambitious, adding various international influences. On a recent menu, Samaniego paired crispy veal sweetbreads with smoky eggplant puree, and plated ricotta agnolotti with roasted cauliflower dusted with ras el hanout, a North African spice blend. Although he dabbles in molecular gastronomy, Samaniego takes a measured approach to new technologies in the kitchen. "I understand and respect the techniques but am generally more traditional," he says.
The 32-year-old chef is the final person to touch every plate before it is sent out to the dining room. And now that he's no longer working in the shadow of a celebrity chef, Samaniego is becoming more comfortable schmoozing with guests. "I love talking to people who are passionate about food," he says. Dinner Tu-Sa; brunch Su. 300 N. Main St., Santa Ana, 714.265.7640. littlesparrowcafe.com