Orange County Hotels Are the New Hot Spots to Drink and Dine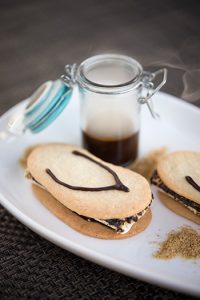 Orange County hotels have reinvented their restaurants and bars, creating new additions to the dining scene.
FLOE Lounge
This new restaurant and lounge offers surprises with every turn, blending high-concept interior design with advanced technology and fine art, bringing a 'downtown' vibe to coastal Orange County. From the exclusive alcove seating with semicircular banquette tables that provide privacy, quiet (acoustically engineered to encourage conversation), and their own televisions–all with a view of the action–to the inviting indoor marble fireplace and outdoor fire feature, FLOE offers an inviting, laid-back environment, providing ease of movement from interior to exterior spaces. Play a game at the ping pong or foosball table, watch the 70-inch screen TV, or catch a glimpse of the living herb garden wall where Chef Adrian Hernandez has a daily ritual of snipping and trimming mint, thyme and more to use in the menu items and craft cocktails.
The food coming out of the kitchen is the main draw though as Chef Hernandez is cooking up dishes like wildflower honey glazed salmon with arugula and charred corn and grilled cauliflower steak with corn polenta, vegetables and black bean salsa. His cuisine stays true to the FLOE vision with menu items based on ingredients from purveyors within 50 miles of the property and interpreted into relatable yet citified dishes that center on quick, light bites and seasonal offerings. Don't miss the adorable and delicious flip flop s'mores for dessert. Join FLOE for their "Relaxed Hour" Monday-Friday from 5-6 p.m. for half-price on all signature drinks and quick bites. Check website for current live entertainment schedule. Open daily from 7 a.m.-midnight. Irvine Marriott, 18000 Von Karman Ave., Irvine, 949.254.5725. marriott.com
Oak Grill and Aqua Lounge
Island Hotel Newport Beach has recently completed an extensive renovation including the new Oak Grill and Aqua Lounge. The all-new restaurant and lounge duo bring California cuisine, nightly DJ sets, live music and craft cocktails to the Orange County social scene. Oak Grill boasts one of the largest patios for alfresco dining in Newport Beach and serves an expertly curated wine and beer list, including 50 California wines by the glass, while Aqua Lounge features American heritage cocktails, a 360-degree bar, resident DJs and an intimate outdoor patio and fire pit.
Executive Chef Marc Johnson oversees the culinary programs for both destinations, with each offering a contemporary California menu. Familiar dishes are given a novel and fun deconstruction like a BLT sandwich transformed into an heirloom tomato BLT panzanella salad with field greens, crispy pork belly and avocado or a traditional side of horseradish and mashed potatoes substituted for an elegant yet homey cauliflower horseradish puree served alongside the grilled Brandt beef filet with trumpet mushrooms and fingerling potatoes. The menu at Aqua Lounge is more casual featuring shareable plates and a late-night menu offered Thursday through Saturday beginning at 11 p.m., satisfying after-hours cravings with street food-inspired items such as street tacos poutine, short rib beignets, burgers, gourmet hot dogs and Chef Johnson's signature breakfast burritos. Oak Grill serves  breakfast, lunch and dinner daily; Aqua Lounge opens at 11 a.m. and serves light bites throughout the evening. Island Hotel, 690 Newport Center Drive, Newport Beach, 949.760.4920. oakandaqua.com
Driftwood Kitchen
This new kid on the block presents a dining experience featuring the freshest and finest seafood, steaks and hand-shucked oysters, alongside handcrafted cocktails and breathtaking ocean views. Specialties include octopus a la plancha taco with Mexican wild shrimp, jicama-cilantro, avocado mousse and tomato-pineapple chutney and whole fried branzino with mochiko rice flour, julienne vegetable, roasted shishito peppers and ponzu sauce. Dine on the outside patio furnished with oversized couches and fire pits or opt for drinks in the indoor Stateroom, which serves classic cocktails with an emphasis on fine bourbons and whiskeys artfully and creatively crafted into artisan libations, presented with an original twist. Open for breakfast, lunch and dinner daily; brunch Saturday and Sunday until 3 p.m. The Pacific Edge Hotel, 619 Sleepy Hollow Lane, Laguna Beach, 949.715.7700. driftwoodkitchen.com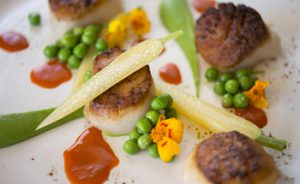 Waterline and A&O Kitchen+Bar
With Executive Chef Vincent Lesage at the helm and Rachel Haggstrom as Chef de Cuisine, you are in for a treat when dining at the refreshed and refined waterfront restaurant. With its contemporary nautical design, Waterline restaurant presents a captivating water-to-table experience, with the freshest seafood and a unique chef-driven concept. Enjoy scenic harbor views as you taste menu items including the resort's traditional recipe of lobster bisque; sweet n' spicy pork chop with stone fruit & jalapeno chutney and mashed potatoes; scallops "peas and carrots" or braised Sonoma lamb shoulder with potato pancake, corn succotash and braising jus. Serving breakfast, lunch and dinner daily; brunch on Sundays.
A&O Kitchen+Bar is Newport Beach's newest gastropub to open along the water's edge. Enjoy the open-air space, horsehoe-shaped bar and iron clad centerpiece tap system that overlooks the Newport Beach harbor. The restaurant's menu has a strong focus on shared plates, hearty dishes, and creative cocktails with eight beers and two wines on the tap system. Open for lunch and dinner daily. Live music on Friday and Saturday evenings. Balboa Bay Resort, 1221 W. Coast Hwy., Newport Beach, 949.630.4145. balboabayresort.com
Fireside An American Tavern
With Executive Chef Scott Brandon (Oysters, The Crow Bar and Kitchen, LinX) in the kitchen, Fireside made a splash earlier this year when it opened at the Crowne Plaza in Costa Mesa. Chef Brandon's food is spot on with dishes such as Anchor Steam beer battered fish and chips, cedar plank Skuna Bay salmon with creamy kale, twice cooked fingerling potatoes and preserved kumquats; tavern mac and cheese with four cheeses and housemade smoked sausage and short rib pot pie. Guests are welcomed to hang out in the comfortable lounge, bar, dining room and patio with a fire feature.
Fireside offers a fantastic value during its two happy hours, 3-6 p.m. and 10 p.m.-midnight daily where you can snag a charcuterie and cheese plate for a mere $8. Breakfast, lunch and dinner served daily. Crowne Plaza Costa Mesa, 3131 Bristol St., Costa Mesa, 714.913.9061. firesidetavern.com
Watertable
The completely reimagined dining destination at the Hyatt Regency Huntington Beach features comfort food with attitude with offerings such as bar jars–small mason jars filled with pates or pickled items, Sunday suppers and globally relevant wines, regionally inspired spirits, beer-tails and signature water drinks (infused with fruits, syrups, herbs and spices). Executive Chef Manfred Lassahn delivers dishes such as rosemary-honey brined Berkshire pork with stone fruit chutney and port wine reduction and pan-roasted branzino with Meyer lemon, fennel and thyme stuffed succotash.
With a modern yet rustic feel, Watertable encompasses a variety of different spaces within the restaurant, including a Gastro Pantry and bar that serves breakfast by day and cocktails by night, a living room with a firewall feature and small tables for lounging and an outdoor patio with expansive ocean views. Open daily for breakfast, lunch and dinner. Hyatt Regency Huntington Beach, 21500 Pacific Coast Hwy., Huntington Beach, 714.698.1234. hyatt.com