High-End Burger Hot-Spot, Holsteins Shakes & Buns Arrives at South Coast Plaza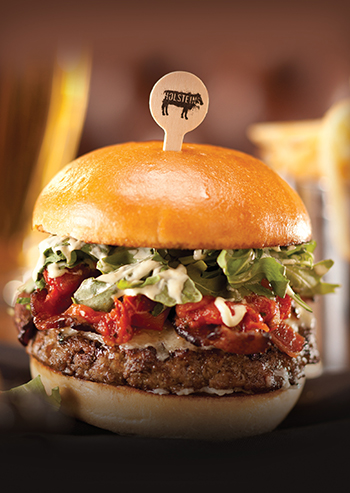 From specialty burgers and housemade sauces to delectable "bam-boozled" milkshakes, you won't be disappointed with South Coast Plaza's newest addition, Holsteins Shakes & Buns.
This concept was tailor-made for The Cosmopolitan of Las Vegas with an emphasis on fresh, natural and organic ingredients. Credited with one of Las Vegas' best burgers, Holsteins Shakes & Buns expands to Costa Mesa, offering its "bad-ass burgers" and "bam-boozled" shakes (with booze and without), in the former Charlie Palmer space at Bloomingdale's South Coast Plaza. Meat is choice, toppings are organic and condiments and buns are housemade. Not to mention, it has one of the most extensive beer programs in Orange County, including an underground beer cellar.
Among menu highlights are the poke tostada appetizer and the gold standard – a dry aged beef sirloin burger with smoked bacon, aged goat cheddar cheese, tomato confit, baby arugula and garlic-chive aioli. Holsteins even offers something for vegans, the urth burger, a crafted vegan patty topped with lettuce, tomato, cucumber, sprouts and avocado. The creative bam-boozled shakes include campfire s'mores with Smirnoff marshmallow fluff vodka, chocolate syrup, marshmallow and graham crumble. The list of milkshakes is full of must-try concoctions like birthday cake, coffee and donuts and cereal bowl. Sun-Th 11-12 a.m.; F-Sat 11-2 a.m. South Coast Plaza, 3333 Bristol St., Costa Mesa, 714.429.7640. holsteinsburgers.com