Feast On French Favorites at Pinot Provence in Costa Mesa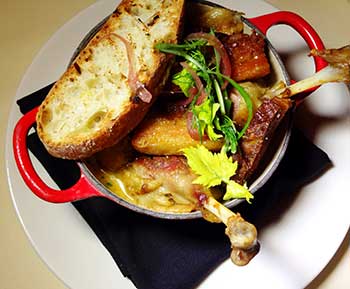 Cassoulets and frog legs from Executive Chef Alfonso Ramirez are just some of the creative dishes continuing to come out of Pinot Provence's kitchen.
Executive Chef Alfonso Ramirez, known for showcasing classics as well as contemporary dishes at Pinot Provence, has already impressed Orange County diners with his passion for French-provincial cuisine. Earlier this year, Chef Ramirez launched Cassoulet Suppers, the traditional shared Southern French comforting casserole dish, perfect for group dining to enjoy casually with friends and family. Offering a selection of classic cassoulets, he also added his own innovative versions such as Australian lamb and duck confit, the latter made with Tarbais beans, duck leg confit, braised pork belly and duck jus–the pork belly is perfectly crispy, lending a candied quality to the comforting dish.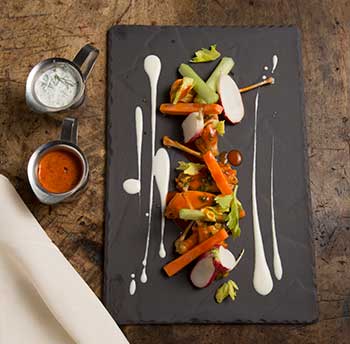 If you like hot wings, try the more sophisticated version–Buffalo-style frog legs– available as an appetizer on the a la carte dinner menu and happy hour Trois Petites Bouchees Menu every Friday. Unlike the classic chicken wing, the buffalo-style frog legs are leaner, delicate and served lollipop-style for easy eating and dipping in the Roquefort dressing and beurre-blanc sriracha. Ramirez also serves frog legs sautéed with forest mushrooms, black garlic puree and Dijon jus–an equally delicious dish that will have you wanting more. 686 Anton Blvd., Costa Mesa, 714.444.5900. patinagroup.com