Andrei's Conscious Cuisine & Cocktails Turns Four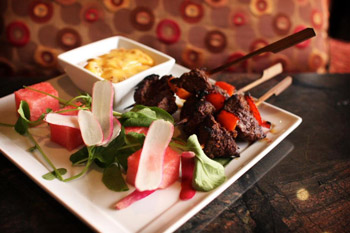 In honor of their 4th anniversary, Andrei's Conscious Cuisine & Cocktails celebrates with surprises and specials every day in July.
After four years of serving classic American farm-to-table fare, Andrei's offers you daily specials in July in honor of their anniversary. The week kicks off with Meatless Mondays where you can dine on vegetarian dishes; Bubbly Tuesdays include a complimentary champagne cocktail; Sweet Treat Wednesdays result in a free mini dessert; Thirsty Thursdays bring seasonal cocktail samples from 5-7 p.m.; Foodie Fridays equal complimentary hors d'oeuvres from 5-7 p.m.; and on Silver Oak Saturdays you can sip on a bottle of Silver Oak Cabernet for only $49 (regularly $110).
The celebration extends to Bastille Day when Andrei's celebrates their Annual French Festival July 15-20. The event features a special French menu, crepe station, French music and films.
Incorporating local and organically grown produce, naturally raised meats and sustainable seafood into their menu, Andrei's Conscious Cuisine & Cocktails has carefully chosen local artisans and family owned businesses to supply them with products, supporting local commerce. In addition, the restaurant donates all of their profits to the Andrei Foundation, a 501.C3 non-profit organization focused on a number of community and global support causes. Lunch served M-F; dinner nightly. Closed Su. 2607 Main St., Irvine, 949.387.8887. andreisrestaurant.com