Dine On Orange County's Best Seafood Dishes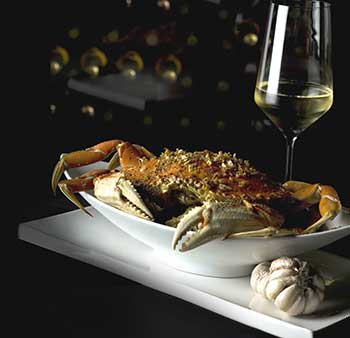 The bottom is often tops, providing signature seafood dishes at many of Orange County's finest restaurants.
By Roger Grody
Some of the planet's most remarkable creatures, biologically and culinarily, dwell at the bottom of the sea. Harvesting shellfish—and finfish such as halibut that feed on bottom-crawling crustaceans—requires care and patience, but it's worth it: Those prized ingredients from the ocean depths can often inspire the dishes for which restaurants are known.
Lobster Pot Pie
In many of the nearly 20 restaurants of chef/restaurateur Michael Mina, comfort foods are reimagined as luxury indulgences, including the lobster pot pie he began serving long before he attained celebrity chef status. At Stonehill Tavern, in the posh St. Regis Monarch Beach resort in Dana Point, executive chef Raj Dixit stays true to Mina's vision. The pot pie—and the tuna tartare and whole fried Jidori chicken—never come off the menu.
The pot-pie recipe calls for an entire 2-pound lobster. Seasonal ingredients incorporated into the dish might include fava beans, asparagus, morel mushrooms and even black truffles. As for its creamy essence, the chef says, "Cognac or brandy goes into a sauce that's like a lobster bisque on steroids. It's rich and intense but highly floral, with great minerality." The pastry—presented on the bottom with the filling ladled over it—is a classic French pâte brisée that when executed properly puffs up like a balloon.
No ordinary pot pie, it ranges in price from $75 to $82, based on the sourcing of the lobster, but it is easily shared. Dixit recommends a Gewürztraminer from Alsace or Germany as the perfect wine pairing.
Roasted Crab
AnQi, part of a restaurant dynasty founded by Helene "Mama" An in San Francisco and now a major presence in Southern California, has several signature dishes, its roasted 2K-pound Dungeness crab—prepared in a "secret kitchen"—among them. Daughter Elizabeth, who now runs the empire, says the dish was first served in 1971 at her family's first restaurant, Thanh Long in San Francisco, inspired by her grandfather's preference for spice-rubbed, roasted seafood. The crab is seasoned with garlic, pepper, salt and olive oil, but the rest of the recipe is a closely guarded secret.
The secret kitchen is accessible only by the An family and chefs working for the family for more than 10 years. Because just two people at AnQi are permitted entry, the crab is served only on Tuesdays, when Mama comes down to prepare it. At Crustacean, the family's celeb-favored restaurant in Beverly Hills, four people are eligible, so it's available nightly.
Although the crab is available de-shelled, Elizabeth An prefers it served with the shell intact: "That way, you eat it with your fingers," she notes. She recommends a pairing of beer instead of wine, and that the An family's garlic noodles, a similarly addictive signature dish, be served alongside. "People come in for their fix," she says. "If the crab was ever taken off the menu, we'd hear many guests cry."
Warm Octopus Salad
One of the most fascinating creatures prowling the sea floor—and one of the tastiest in the hands of the right chef—is the octopus. At Andrei's Conscious Cuisine & Cocktails in Irvine, executive chef Yves Fournier tosses it with fingerling potatoes, bell peppers and Spanish chorizo in a lively Meyer lemon vinaigrette for a memorable warm salad. Although Andrei's usually showcases local products, Fournier seeks out large octopuses from the Mediterranean waters between Spain and Morocco, which he favors for their texture.
Fournier braises the octopus in an assertively seasoned vegetable stock; he drops in wine bottle corks—a trick learned from Japanese chefs—to enhance its tenderness. Pieces of octopus, along with local potatoes and peppers, are marinated in olive oil and spices, then sautéed in the fat rendered by chorizo slices that are transformed into crispy chips. Unlike the burger, another Andrei's favorite, he doesn't even think about tweaking the composition: "If I took it off the menu, people would go crazy!"
Andrei's is a handsome, architecturally significant restaurant in the shadows of office towers and, as these seafood dishes suggest, well worth discovering. This summer, its new patio opens, and the restaurant celebrates its fifth anniversary in July with various complimentary surprises for diners.
Pan-Seared Halibut
At The Winery in Tustin, executive chef/partner Yvon Goetz turns out a Cal-French menu in a contemporary yet clubby dining room with an exhibition kitchen and a wine cellar supporting an impressive global list.
His pan-seared filet of halibut with fingerling potatoes, sun-dried tomatoes, shrimp and Manila clams has been on the menu since the day the Winery opened in 2007. It's plated with a compelling nage created from clam juice and fish stock enhanced with butter and Mediterranean seasonings. "It's not overly rich, but bright and flavorful … almost like a mini-bouillabaisse," says Goetz, noting that saffron is essential to the dish.
One of the county's most honored chefs, Goetz left his native Alsace to cook at the Ritz-Carlton, Laguna Niguel, in 1991. Like a true Frenchman, he says that mopping up the sauce with crusty bread is half the fun. "If customers don't do it, I'll show them how…. It's like sucking the bone on a bone-in filet."
He once took the dish off the menu, but regular customers pressured him to put it back on. It works best, he says, during the Alaskan halibut season, April through September. Though not on the regular menu at the new, second location of the Winery in Newport Beach, it will be offered as a special.
Oysters
Oysters were not always a luxury food—in the 1800s, they were more common street fare in New York than pizza is today—but overfishing increased their mystique. The less you do to oysters the better, and they excel in their raw, unadulterated form but for a splash of mignonette.
Shuck, inside the hip OC Mix at Costa Mesa's South Coast Collection, offers as many as 18 varieties each day and has to date showcased some 200 small farmers. "After growing up in San Francisco, I missed those little marble oyster bars where you ate things that were living just seconds before," says chef/co-owner Noah Blom. Blom is now an admirer of East Coast oysters, particularly those from Cape Cod, but insists artisanal farming is the key to any good product, noting that conscientious oyster harvesting is analogous to the process employed by a hands-on winemaker.
At Shuck, purists gravitate to a 17-stool bar to enjoy what was in the sea, even the Atlantic Ocean, no more than 24 hours earlier. When they're available, Blom offers Belon oysters from France's Brittany coast, topped with crème fraîche and osetra caviar (priced at $20 each instead of the usual $3). Though the menu also offers lobster rolls, "clam chowda," a killer grilled cheese and even wood-grilled fish, he serves as many as 15,000 oysters per week. New Ways & Means oyster house in Orange also celebrates the scraggly bivalve.
Crab-Truffle Gnocchi
Alaskan king crab-black truffle gnocchi is a specialty at Mastro's Ocean Club in Newport Coast and Mastro's Steakhouse in Costa Mesa, part of a chain where both prices and pampering are elevated. "The gnocchi dish is one of our most popular items. If we ever took it off the menu, we'd have a lot of explaining to do," says corporate training chef Brian Kohl. It's been a signature dish for at least a decade.
The potato dumplings are tossed in a sauce of Asiago, Grana Padano and pecorino cheeses; slices of fresh black truffle heighten the luxe level. The made-to-order side dish, which serves four, is sprinkled with seasoned breadcrumbs and more cheese before going into the salamander for a healthy golden color. "Finally, we drizzle a little truffle oil over it, which really brings out the flavor," Kohl says.
For anybody who thinks these gnocchi, bathed in a silky sauce perfumed with truffles, aren't the most decadent way to consume potatoes, Mastro's has another sexy option: Competing in popularity with the king crab gnocchi, according to Kohl, is an extravagant dish of lobster mashed potatoes.
Scallops and Lentil Stew
Along with Little Sparrow and Playground, Chapter One: The Modern Local contributes to a stunning dining renaissance in downtown Santa Ana. Executive chef Jason Montelibano turns out contemporary takes on comfort foods such as truffle-scented mac-and-cheese and a killer duroc pork chop with cherry demi-glace. Passionate about his Filipino heritage, he also plates up new takes on dishes he grew up on.
A variation on a French bistro dish that he put on the menu when he took over the kitchen a year ago has already become a signature dish: an appetizer-portioned lentil cassoulet, studded with bacon, topped with a giant pan-seared scallop and finished with a splash of chive vinaigrette. The cassoulet, a country dish, here offers a rare occasion that finds the elegant scallop in a rustic context. The classically trained chef tweaks the traditional cassoulet, using lentils instead of white beans, and applewood-smoked bacon instead of pork sausage or duck. The dish has been such a hit—notably at happy hour, when it's priced at an incredible $4.50—that he doesn't dare change it.
Scallops with Black Garlic, Pickled Chanterelles and Cauliflower Puree
NHL superstar Teemu Selänne, who recently concluded his ice-hockey career, has put his name on the door at Selanne Steak Tavern, in the historic Laguna Beach cottage that long housed popular French 75. Downstairs is the more casual tavern; outside is an alluring covered deck illuminated by a galaxy of Moroccan lanterns; upstairs is an upscale steakhouse with a chic Scandinavian-esque decor.
A signature starter at the steakhouse is a pair of perfectly caramelized Pacific diver scallops plated with organic cauliflower purée and chanterelle mushrooms quickly pan-pickled with Champagne vinegar. "I grew up on scallops in the Seattle area, and I like to put things on the menu I can relate to," says executive chef Joshua Severson. Clearly, customers share his passion for scallops: Nearly every other table orders the dish. Says Severson, "I usually like to change my scallop dish seasonally, but this one has stuck." He also features monkfish, a monster of the deep whose hideous appearance is compensated by an appealing flavor influenced by a diet that includes shellfish.
Abalone
Other delicacies from the deep have become specialties at Orange County restaurants, among them the much-prized abalone.
For 30 years, the precious shellfish, now a red California variety, has been a signature at 21 Oceanfront. There, you can enjoy the dish—be forewarned, it's priced like a good Bordeaux—while listening to live jazz and watching the sun set over its Pacific source.