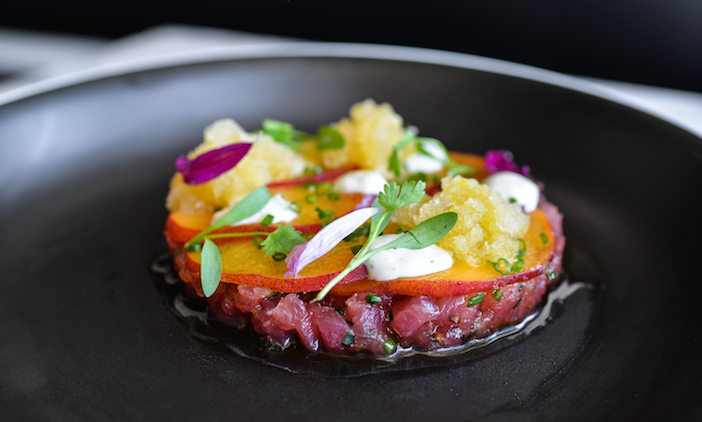 Orange County is in a new Golden Age of Asian restaurants, with a spectacular up-tick in top-notch options in the last year or so. Here are four of the best.
By Benjamin Epstein, adapted from WHERE Orange County magazine.
If we had to trace the start of the current era of Asian restaurants in Orange County to a single moment, it would be that first bite of truffle xiao long bao three years ago at Taiwanese dumpling sensation Din Tai Fung at South Coast Plaza in Costa Mesa.
It was the explosion of juices heard round the county; the wait for tables would be measured in hours, not minutes, with lines way out the door. Flamboyant Cantonese dim-sum destination J. Zhou opened around the same time at the District in Tustin, offering special-occasion fare such as abalone of several species or whole lobster offered 16 ways—and unusual fare, at least hereabouts, such as chicken knees and durian mochi.
Other top eateries have opened since—Vietnamese standout Garlic & Chives in Garden Grove, stunning Sushi Roku for contemporary Japanese in Newport Beach and Irenia for new Filipino in Santa Ana come to mind.
But now Orange County is really on a roll—whether you're after lumpia, spring roll, egg roll or sushi roll. Never in memory have so many benchmark restaurants—in terms of both cuisine and style—opened in such quick
succession as Southeast Asian destinations have since November 2016.
That month saw the bookend openings of two restaurants, either of which could easily be considered that year's most exciting: Mix Mix Kitchen Bar in Santa Ana, where, true to his own background, chef Ross Pangilinan offers Filipino fusion fare, and intimate Vietnamese eatery LSXO, a restaurant hidden within a restaurant—Bluegold at Pacific City in Huntington Beach.
April 2017 saw a spring awakening. Meizhou Dongpo, which has more than 120 locations in China, converted a former Marie Callender's to a splendid space with white-tablecloth ambience where every dish is an artfully presented adventure. Actor Robert De Niro and chef Nobu Matsuhisa opened an outpost of their globally renowned Nobu, which pioneered Japanese fusion fare, at trendy-luxe Lido Marina Village in Newport Beach.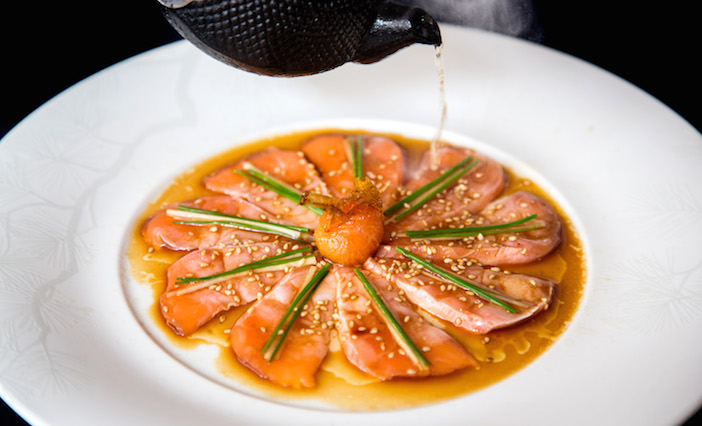 1. NOBU
"You can tell how much fun a city is going to be if Nobu is in it," Madonna once famously said. Matsuhisa and the Oscar-winning De Niro opened their first Nobu in New York in 1994. It's now the world's most recognized Japanese restaurant, in more than 30 cities from Malibu to Dubai to Beijing. Vogue once called it the "hippest restaurant chain." Kate Winslet deemed it "heaven on earth and sex on a plate."
At Lido Marina Village, the gorgeous ground-floor lounge centers on an oval bar; it spills out onto a patio overlooking a harbor canal where the first-ever Nobu Grand Cordon Bar serves rotating cocktails from other Nobus. Full-menu dining, sushi and tasting menus are offered at the sushi bar and at tables upstairs. Nobu Classics include black cod miso. Nobu Now offers salmon nashi pear and roasted King crab with uni. Among desserts is a bento box of dark-chocolate fondant and Imperial matcha.
Lido Marina Village 3450 Via Oporto, Newport Beach, 949.429.4440. noburestaurants.com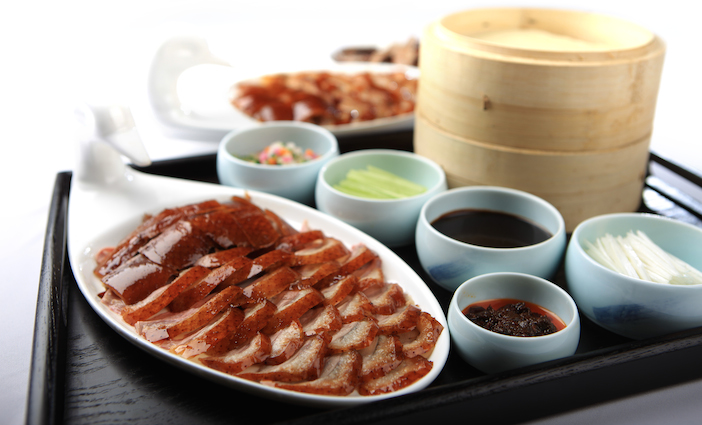 2. Meizhou Dongpo
In addition to its many Chinese locations, the upscale Sichuan eatery's elegant Irvine outpost brings the number in the U.S. to five. Meizhoui Dongpo is best known for its roasted duck and dim sum items such as dan dan noodles and Sichuan dumplings—and for its bold and fiery cuisine.
Show-stoppers abound on the lunch and dinner menus. Sweet and sour tilapia is painstakingly sculpted and fried into the shape of a pinecone. The Royal Hot Pot—mouth-numbing from Sichuan peppercorns, five-alarm fiery, served in a pot fit for royalty—includes beef, shrimp, quail egg, Spam-like luncheon meat, needle mushroom, lotus root, soybean sprout and kelp. "Spicy" chicken finds not-so-fiery chilies dotted with fried chicken. The wok-fried bamboo shoots come directly from China—as do the chefs, in three-month stints. Most dishes are served family style. Crispy sticky rice cake is the dessert of choice.
Culver Plaza, 15363 Culver Dr., Irvine, 949.433.5686.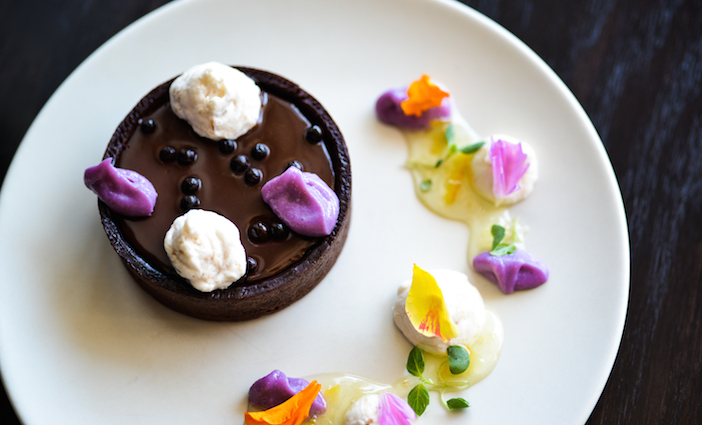 3. Mix Mix Kitchen Bar
With the opening of Mix Mix, Ross Pangilinan went from being one of the county's least-known best chefs—having helmed sophisticated Leatherby's Café Rouge for seven years—to one of its best known, with Mix Mix widely considered O.C.'s top new restaurant of 2016. Mirroring his upbringing, Pangilinan offers Filipino fusion fare.
Small plates include a ceviche with yellowfin tuna, coconut lime, avocado, pork cracklings and Thai chili, and a pork-cheek adobo with garlic fried rice and chimichurri. Among mains are New York steak with calamansi-soy hollandaise and a duck French toast with five spice maple, Sichuan pepper cider jus and caramelized blackberries. The Tropical Verrine dessert, with lychee, passion fruit, coconut and macadamia nuts, is a twist on the halo halo. The don't-miss cocktail: the orange-hued Silly Rabbit, with reposado tequila, Thai chili-carrot syrup, lemon-lime juice, cloves and mezcal misting.
300 N. Main St., Santa Ana, 714.836.5158. mixmixkitchenbar.com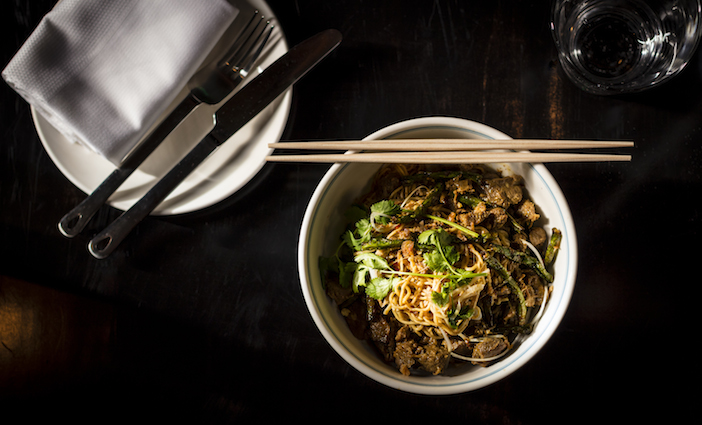 4. LSXO
The "LS" in LSXO stands for Little Sister, the first of nine projects from Jed Sanford and chef Tin Vuong. Whether the "XO" stands for "extraordinary" or "XO sauce," the chef's favored cognac concoction, doesn't matter; both work.
The intimate Vietnamese restaurant is tucked within sleek Bluegold restaurant at Pacific City in Huntington Beach. Follow the butterflies on Bluegold's ceiling; inside, find intoxicating décor and servers clad in black eveningwear. Vuong's menu takes its cues from Saigon's District 1 neighborhood. Assemble-yourself imperial rolls with shrimp, crab, pork, taro root, glass noodle, roasted peanut and chili-lime sauce; lamb satay noodle; bo kho with marrow, tendons, oxtail, rib meat, baguette and pate; and peanut butter & jelly cheesecake leave you wanting to try the other 50 dishes. Spectacular cocktails include the two-bamboo-straw Cool Runnings in a copper pineapple goblet and, Friday and Saturday late nights only, the Coke by Coke West with ginger-sugar "lines." What can we say? XOXO!
Bluegold, Pacific City, 21016 Pacific Coast Hwy., Huntington Beach, 714.374.0038. dinebluegold.com
Tuna TarTare Mix Mix Kitchen Bar photo by Talia Samuels. Nobu photo by Henry Hargreaves. Mix Mix Kitchen Bar photo by Talia Samuels. LSXO photo by Simon Nicholls.
[et_bloom_inline optin_id=optin_12]