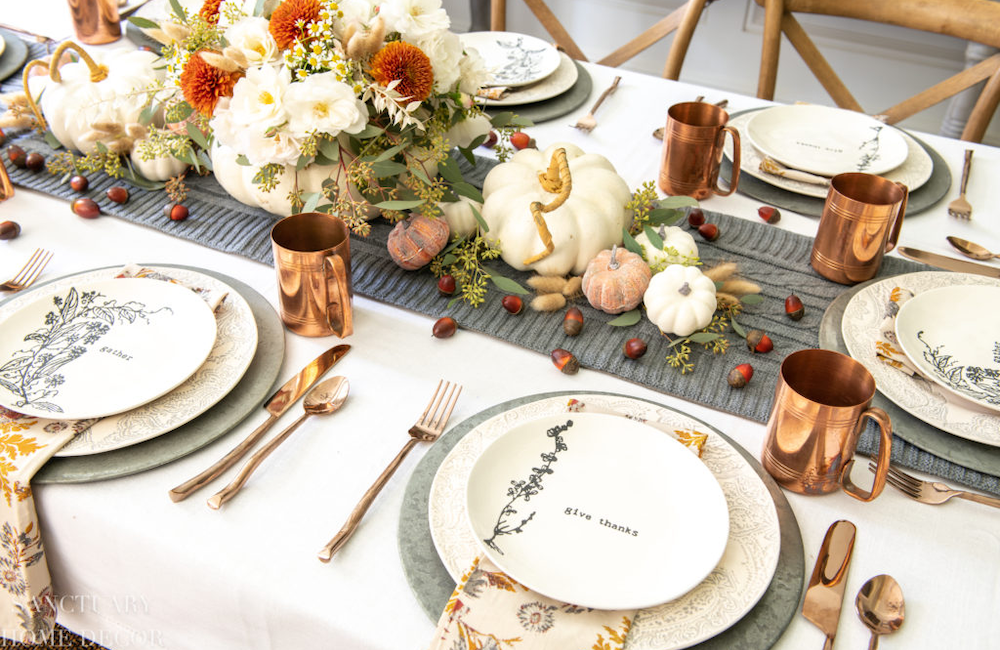 Not sure how to celebrate Thanksgiving this year? We've found some virtual and socially distant in-person festivities, as well as dine-in and takeout feasts in Orange County.
Virtual and social mediums have opened up more ways to connect with family and friends this Thanksgiving holiday. We're grateful to our restaurants who are making the extra effort to prepare take-home feasts and offering safe ways to dine-in. So, get connected. Run. Don't walk! Take a class. Stream a show. That's right, 'dial it in' this Thanksgiving and jump start that holiday spirit.
Note: Call or check websites for pandemic-related updates and to confirm hours of operation before visiting venues as they can change without notice.
FESTIVITIES
Nov. 22-28. Run this year's annual Turkey Trot race at your own pace! Whether you're near or far, participants can run or walk a 5K, 10K or 15K anytime, anywhere this Thanksgiving week. Kids ages 4-12 can also join the fun during the Kids' Gobble Wobble race. Enjoy special Thanksgiving menu items and prices at select restaurants in the harbor. See website for details. Opens 6 a.m. $25+ for 5K race, $47 for 10K race, $22+ Kids' Gobble Wobble. Golden Lantern and Dana Point Harbor Drive, Dana Point, 949.496.1555.
Nov. 23. Participate in a hands-on cooking class—with limited attendance—for a contemporary take on classic Thanksgiving recipes. Learn how to dry-brine and roast a turkey, make classic turkey gravy, perfect buttermilk mashed potatoes and pumpkin mousse with bourbon whipped cream. Attendees will receive a discount for shopping after the class. 4 p.m. $79 per person. South Coast Plaza, 3333 Bear St., Suite 110, Costa Mesa, 714.241.0118.
FEASTS
Available Now. Skip the hassle, stress and mess of hosting Thanksgiving and come celebrate the season with Bayside. With a full traditional Thanksgiving feast available, as well as a la carte options, there's something for everyone. The Thanksgiving prix fixe menu includes a starter, main course and dessert. Seating for dine in starts at noon; place takeout orders by Nov. 23. $65 per person, $30 children 12 and under. 900 Bayside Drive, Newport Beach, 949.721.1222.
Nov. 26. Thanksgiving is almost here, and Bello will be open to serve a specially created menu featuring a combination of traditional American ingredients with Bello's special Italian touch—including some of Bello's holiday favorite dishes from his mother. Course options include hamachi crudo, gnocchetti sardi quattro formaggi, Bello's turkey plate, pumpkin panna cotta and more. See website to make reservations. Seatings available at noon, 3 p.m., 5 p.m. and 7 p.m. $60 per person, $25 children 12 and under. 1200 Bison Ave., Newport Beach, 949.520.7191.
Bistango | Dine-In, Takeout
Preorder by Nov. 23. Whether you're looking to dine out on Thanksgiving day or to take home a feast, Bistango's got you covered! The Irvine fine-dining restaurant is offering three-course prix fixe menu with a limited a la carte menu also available. Prix fixe menu items include Kabocha squash soup; roasted organic Diestel turkey with apple-cranberry and walnut stuffing, mashed potato, roasted Brussels sprouts and turkey gravy; creamy pumpkin cheesecake; and more. There's also a kids' two-course menu highlighting roasted organic Diestel turkey with all the fixin's and Nutella cheesecake. For takeout, Bistango is offering special pricing on select magnum wine bottles, as well as whole pumpkin cheesecakes. Seating starts at 1 p.m.; takeout orders accepted until Nov. 23. $55 adults, $25 children. 19100 Von Karman Ave., Irvine, 949.752.5222.
Preorder before Nov. 24. With Thanksgiving just around the corner, The Blind Pig is taking the guesswork out of your holiday celebration! Customers can pick up a no-fuss Thanksgiving feast package (serves 6-8) from either location featuring a mix of heat-and-serve and ready-to-serve Thanksgiving classics. The package includes prime rib, turkey legs, mashed potatoes, green bean casserole, stuffing and pumpkin cheesecake. You can add on bottles of wine for 25% off list price. Pick-ups will be available at both locations on Nov. 24-25 during regular hours of operation. Quantities are limited; call your preferred location or email contact@theblindpicoc.com to place your order. $250. 31431 Santa Margarita Pkwy., Rancho Santa Margarita, 949.888.0072; 4975 Lakeview Ave., Yorba Linda, 714.485.2593.
Preorder by Nov. 22. Let Cafe Gratitude help fill your table with fall-inspired sides and pies this Thanksgiving. For sides, available options ($15-$35) include cranberry roasted butternut squash and garnet yams; cauliflower mashed potatoes with garlic confit; truffled porcini gravy; maple miso Brussels sprouts; pear and pomegranate chutney; French lentil and butternut squash loaf; and persimmon and pomegranate salad. Don't forget to add pie to your cart! Options include pumpkin pie (raw and gluten-free), chocolate coconut cream pie (raw and gluten-free), and baked apple pie (contains gluten)—also available for pre-order. Preorder by Nov. 22 and pick up on Nov. 25 from 1-9 p.m. 1617 Westcliff Drive, Newport Beach, 949.386.8101.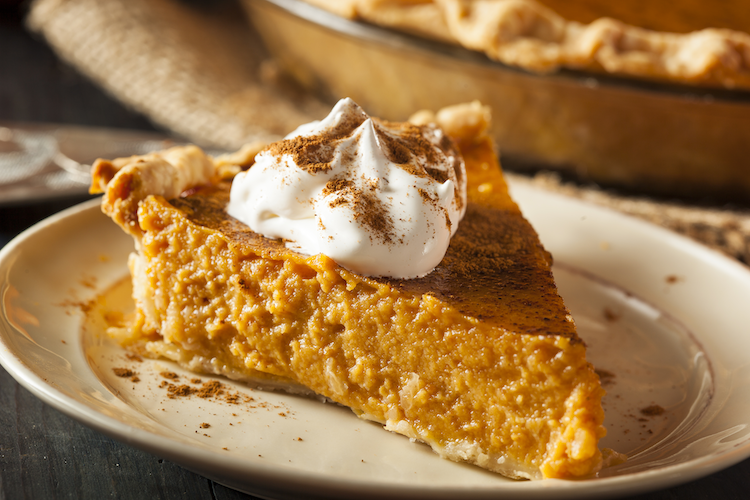 Preorder by Nov. 24 | Dine-in Nov. 26. Gather with family and friends to enjoy Cafe Sevilla's three-course prix fixe Thanksgiving menu. Enjoy classics with a Spanish twist including butternut squash soup with lemon and chive cream; roasted turkey breast and glazed black forest ham served alongside sweet mashed potatoes, gravy, stuffing, Brussels sprout casserole, corn bread and barbacoa pineapple chutney; and homemade pumpkin pie for dessert. There are also a variety of rustic holiday themed drinks including the Bourbon Peach Pie and the Harvest Passion Caipirinha. Dinner menu will also available all day. For to-go, place your order by Nov. 24 at 4 p.m. to Holly at holly@cafesevilla.com or 714.717.4945; orders can be picked up on Nov. 26 from 11 a.m. to noon. See website for to-go prices. Dine-in: $49.50 adults, $24.50 kids (two courses). The Triangle, 1870 Harbor Blvd., Costa Mesa, 949.688.1555.
Preorder by Nov. 23. Host your holiday gathering with Thanksgiving sides from The Capital Grille. Store the prepared dishes in your refrigerator, and simply reheat on Thanksgiving Day. Side offerings include brioche stuffing, gravy, French green beans with Marcona almonds, cranberry-pear chutney, Sam's mashed potatoes, pecan-crusted sweet potatoes with hot honey and seeded rolls. Preorder and pickup on Nov. 24 or 25. $125 (serves 4-6). South Coast Plaza, 3333 Bristol St., Costa Mesa, 714.432.1140.
Nov. 26. Join Driftwood Kitchen for an incredible seaside Thanksgiving dinner! Chef Rainer Schwarz's prix-fixe menu begins with Parker House rolls with Vermont creamery butter and sea salt for the table, followed by a choice of roasted baby beet and arugula salad, yellowtail carpaccio, butternut squash soup, or pan-seared day boat scallops to start. Guests will then have option of entree, with a choice of traditional roasted turkey with all the fixings, roasted Greater Omaha prime rib, or Ora king salmon filet. Kids have the option of a turkey plate, mac and cheese with green beans, or chicken Fingers with fries. All meals will end with traditional desserts for the table, including pecan pie, apple pie and cookies. 1-8 p.m. $75 per person, $19 children 12 and under. Reservations recommended by calling or online. 619 Sleepy Hollow Lane. Laguna Beach, 949.715.7700.
Preorder by Nov. 24. Allow Fable & Spirit to complete your Thanksgiving dinner at home by selecting wines and cocktails to accompany your menu! Simply share your Thanksgiving menu and sommelier Ali Coyle will recommend the perfect pairings from her curated list of wines offered at exceptional prices. If you're looking for a cocktail to begin or end your meal, director of spirits Drew Coyle is creating a special "fabled spirit" to celebrate the holiday! Orders may be placed by Nov. 24 for pickup between 4-7 p.m. on Nov. 25. Fable & Spirit will be closed on Thanksgiving Day. Contactless curbside pick-up can be requested when placing orders. Guests will be able to order by phone or via email at info@fableandspirit.com. 3441 Via Lido, Suite A, Newport Beach, 949.409.9913.
Preorder by Nov. 24. To ensure that your holiday meals are memorable, beginning with Thanksgiving dinner, chef Jonathan Blackford put together an "Everything But The Turkey" menu—you handle the turkey and he'll handle the rest! Order from a menu of Thanksgiving sides, seasonal soup, fresh salads, stunning cheese and charcuterie platters, and holiday desserts including apple pie and pumpkin cheesecake. All orders must be in by Friday, Nov. 20. All food is cold (except baked goods) upon pickup, and pickup can be scheduled for Nov. 25 or 26 until 2 p.m. Place your orders by calling or email kristib@forkandknifecm.com. 401 E. 17th St., Suite A-2, Costa Mesa, 949.877.0330.
Preorder by Nov. 20. Did you hear? Gracias Madre is bringing back its holiday tamales this season! Chef Alan invites vegans and non-vegans alike to take a piece of Gracias Madre home for the holidays with special sweet and savory tamales to-go (sold by the dozen). Offerings include Jackfruit Birria tamales and black mole mushroom tamales. Pre-order on website by Nov. 22; pick up on Nov. 23, 24 or 25 from 4-9 p.m. $48. 1617 Westcliff Drive, Newport Beach, 949.386.8100.
Preorder by Nov. 23. If your family has around 8 to 10 people, The Hall is ready to serve you a family feast to-go! The order consists of a Mary's organic whole roasted turkey with giblet gravy, Amar's cranberry sauce, sausage-cornbread stuffing, Yukon gold mashed potatoes, maple glazed yams with pomegranate, green beans with toasted almonds and cream of mushroom soup as a starter. For dessert, enjoy a freshly-baked pecan tart from the Hall's Pâtisserie. Directions for warming the dinner will be included. Place order and pickup at desired location. Preorder by Nov. 23 at 2 p.m.; pickup Nov. 25 between 3-8 p.m. $495. South Coast Plaza, 3333 Bristol St., Suite 1876, Costa Mesa, 714.515.5544.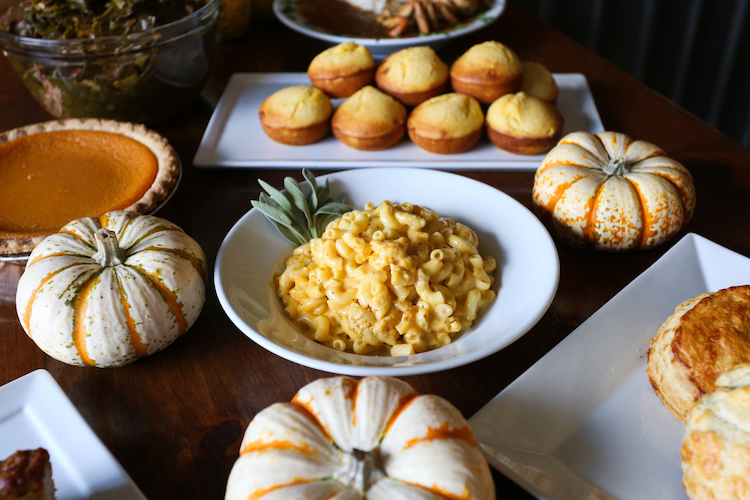 Preorder by Nov. 21. Thanksgiving is all about spending time with family and friends, so this year let family-owned Georgia's Restaurant at the Long Beach Exchange and the Anaheim Packing House bring the best of the South to the table! Preorder Georgia's festive feast and soulful sides such as the signature fried chicken, barbecue St. Louis ribs and house-specialty jambalaya. To make things easier. Georgia's is offering a slew of soulful sides (each by the half-pan) featuring cole slaw, chili, chili mac, corn on the cobb, collard greens and more. Thanksgiving would also not be complete without desserts such as a whole peach cobbler, lemon cake, pound cake and sweet potato pie. Preorder by Nov. 21 for pickup on Nov. 24 and 25 from 11 a.m. to 8 p.m. Georgia's will be closed on Thanksgiving Day. Call to preorder. 440 S Anaheim Blvd., Suite #209A, Anaheim, 714.906.1900; 4101 McGowen St., Suite 155, Long Beach, 562.420.5637.
Preorder by Nov. 24 | Dine-In Nov. 26. Feast on a prix-fixe Thanksgiving dinner at Hendrix or order to take home! The meal begins with Parker house rolls with Vermont creamery butter and sea salt for the table, followed by a choice of harvest salad, Hawaiian big eye tuna tartare, butternut squash soup or pan-seared day boat scallops to start. Select an entree with choices such as traditional whole-roasted turkey with all the fixings, roasted Greater Omaha prime rib, or Scottish salmon filet. Kids have the option of a turkey plate, mac and cheese with green beans or chicken fingers with fries. All meals will end with traditional desserts for the table such as pumpkin pie or apple pie. To-go orders feed 6 to 8 people and must be placed by Nov. 24 for curbside pick-up on Thanksgiving between 11 a.m.-2 p.m. Dine-in: 1-8 p.m.; $65 per person, $19 children 12 and under. To-go: $175. 32431 Golden Lantern, Laguna Niguel, 949.248.1912.
Nov. 26. Las Brisas celebrates with a three-course prix fixe Thanksgiving menu offering starter selections such as lobster salad, cured duck and more. Main entrees include chile-rubbed turkey served with traditional fixing; and slow roasted salmon with fennel-orange salad and roasted pumpkin seed sauce; among other options. For dessert, guests can select from pumpkin cheesecake, apple bread pudding and chocolate pot de crème. A variety of seating options at the restaurant are available, including the margarita garden, patio and dining room—all of which offer views of the Laguna Beach coastline. 11 a.m.-10 p.m. $80 per person. 361 Cliff Drive, Laguna Beach, 949.497.5434.
Preorder Nov. 22. Lido Bottle Work's chef Amy Lebrun is going all out for her Thanksgiving to-go meal sourced from some of her favorite local farms! The meal (seres 4-6) features roasted Diestel farms turkey breast with an array of traditional sides including fall harvest vegetables from Tutti Frutti Farms, crushed Weiser Farms potatoes; bourbon, hazelnut and sunny Cal Farms apple stuffing; spiced cranberry chutney with orange and candied ginger; and turkey gravy. End the meal with a pumpkin pie straight from the Ecology Center Farm! Orders must be placed by 5 p.m. on Nov. 22. All items are packaged to go, simply heat and serve; instructions will be provided. To-go: $200. 3408 Via Oporto, Suite 103, Newport Beach, 949.529.2784.
Preorder by Nov. 23. It's not Thanksgiving as usual this year but that doesn't mean it should be any less delicious of an occasion. Let chefs Florent, Amelia and team prepare sumptuous dinners for you and your family with everything you need for a luxurious Thanksgiving feast to enjoy at home or even perhaps a picnic right on the Crystal Cove beaches across the street from the restaurant. Each box serves four guests for $395. Orders can be placed from 1 to 5 p.m. Wednesday to Sunday by calling the restaurant; Last call for preorders is on Nov. 23 by 4 p.m. Curbside pickup from 11 a.m. to 1 p.m. on Nov. 26. Limited availability; first-come, first-served basis. 7862 E. Coast Hwy., Newport Beach, 714.434.7900.
Nov. 26. Old Brea Chop House is offering two special Thanksgiving menus, one for dine-in and one for take-home that feeds four. The menus have been curated by executive chef Masa Ose and feature traditional Thanksgiving dishes alongside steakhouse classics to please all palates. The at-home meal includes roasted free-range turkey, roasted pear salad, garlic rolls, seven sides and homemade pumpkin pie with cinnamon cream. Call to preorder the take-home kit or to make reservations. Dine-in: a la carte. Takeout: $159. 180 S. Brea Blvd., Brea, 714.592.3122.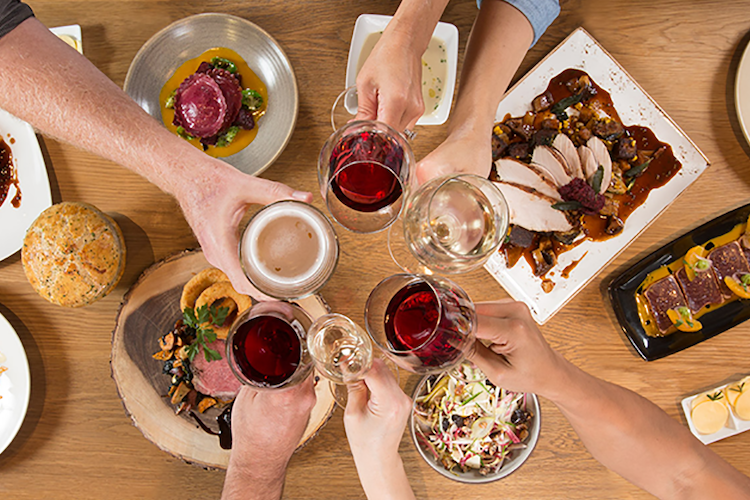 Preorder by Nov. 22 | Dine-in Nov. 26. Satisfy your cravings at the Ranch with its four-course holiday dinner or order the four-person takeaway kit to enjoy at home. Menu highlights include housemade Laura Chenel goat cheese ravioli, Frog Hollow Warren pear and endive salad, Mary's organic free-range turkey and harvest pumpkin cheesecake. The takeaway kit is available only for pick-up Nov. 23-25 from 1 to 6 p.m. Call to make reservations for dine in. 2-7 p.m. $95 dine-in, $345 takeaway kit. 1025 E. Ball Road, Anaheim, 714.817.4200.
Preorder by Nov. 23 | Dine-in Nov. 29. Indulge in a healthy and delicious Thanksgiving meal from Seasons 52 onsite or at home! For those who want to dine in, there's an a la carte menu and a hearty Thanksgiving plate with antibiotic-free roasted turkey with savory pan gravy along with herb stuffing, Yukon mashed potatoes, mashed butternut squash, French green beans and housemade cranberry relish. Finish on a sweet note with a mini pumpkin pie indulgence. Want to take the feast home? You can store the pre-made dinner in your refrigerator and simply reheat on Thanksgiving in less than an hour; Preorder and pickup on Nov. 24 or 25. Dine-in: $29 per person for Thanksgiving entree, $15 children 12 and under; a la carte menu priced per offering. Takeout: $150 (serves 4-6). South Coast Plaza, 3333 Bristol St., Costa Mesa, 714.437.5252.
Nov. 26. The award-winning steakhouse continues its holiday tradition. Chef Vince Terusa's Thanksgiving menu is composed of three courses with choices accompanied by straight-from-the-farm sides served family-style. Entree choices include Mary's Farm Heritage turkey, American prime ribeye roast and Kurobuta leg of ham. The sweet ending of this memorable meal is either maple chocolate pecan bar or creamy pumpkin tart. Noon-8 p.m. $125 adults, $30 children 4-12. 1464 S. Coast Hwy., Laguna Beach, 949.715.9881.
Nov. 26. Known for its coastal, eclectic and hearty fare, new waterfront Shorebird celebrates its first Thanksgiving with a plated three-course dinner and family-style sides. A number of first-course options include avocado fries or crispy cauliflower lettuce cups. Main course brings herb-roasted organic turkey or Harris Ranch prime skirt steak with red chimichurri sauce; among holiday-favorite sides are caramelized-apple-and-sage stuffing. Finish with apple or pumpkin pie. Noon-8 p.m. $75 per person, $29 children ages 5-12, turkey main only. 2220 Newport Blvd., Newport Beach, 949.287.6627.
Preorder by Nov. 22. Toast Kitchen + Bakery, a Costa Mesa dining staple, is here to take some of the holiday stress away! This season, chef John Park and his team at Toast are offering an exclusive "Pie & Pint" presale just in time for Thanksgiving. Featuring nine-inch pies and a pint of its famous homemade ice cream, choose from parings​​ such as taro blueberry pie with blueberry pie ice cream, apple pie with mulled wine ice cream, POG Pie with strawberry shortcake ice cream and more. These holiday combinations are available for $39 each and can be preordered by Nov. 22—all order pick-ups will take place on Nov 25. 1767 Newport Blvd., Costa Mesa, 949.873.5057.
Nov. 26. Setting a new precedent, Water Grill will open Thanksgiving Day and serve its popular a la carte menu plus a three-course Thanksgiving menu. Start with a choice of Water Grill's signature clam chowder or mixed organic greens. The holiday plate has Diestel Farms roasted turkey, sourdough-apple stuffing, cranberry relish, Yukon gold mashed potatoes and turkey gravy. For dessert, select from caramel bread pudding or pumpkin cheesecake. 11 a.m.-8 p.m. $68 per person, $25 children 12 and under. 3300 Bristol St., Costa Mesa, 949.208.7060.
Preorder by Nov. 23 | Dine-in Nov. 26. Located in Tustin or Newport Beach? The Winery's chef Yvon Goetz invites guests to dine on site with a prix fixe menu of traditional Thanksgiving options, along with Winery favorites, or to preorder his take-home dinner menu that can feed six people. If ordering to-go, guests may also purchase wines by the bottle or craft cocktails to accompany their meals. Preorder by 3 p.m. on Nov. 23 for pick-up on Nov. 25 between 1:30-8 p.m. For dine-in, highly recommend making reservations online or by calling. Dine-in: Noon to 8 p.m.; $75+ adults, $24.95 children. Takeout: $350. 3131 W. Coast Hwy., Newport Beach, 949.999.6622; 2647 Park Ave., Tustin, 714.258.7600.
Photo credits: All other images are courtesy of the businesses and venues.