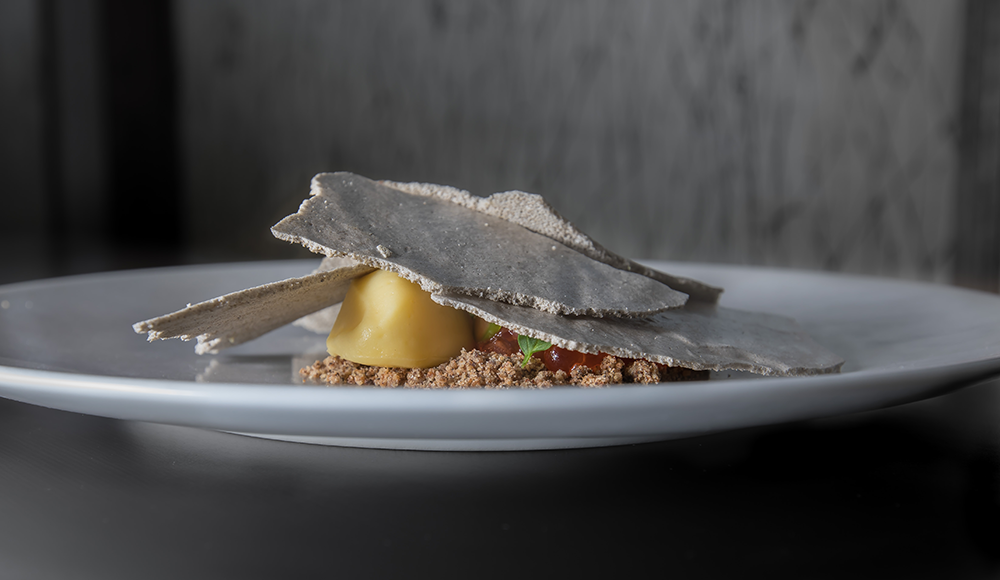 A feast for the eyes at three Orange County restaurants.
Photography by Julie Chung.
"Too pretty to eat?" Never. But that's just one of the buzz phrases tossed about on social media to describe the meticulous culinary presentations showing up at many fine-dining destinations these days. Others include "edible art" and, our favorite, "tweezer food." The latter refers to the utensil favored by the chefs who create these ephemeral masterpieces. How else to precisely place that roe and microgreen to maximum effect? Edible art can also venture well beyond prettiness to more conceptual realms. Here are visually stimulating dishes from three restaurants we've enjoyed of late.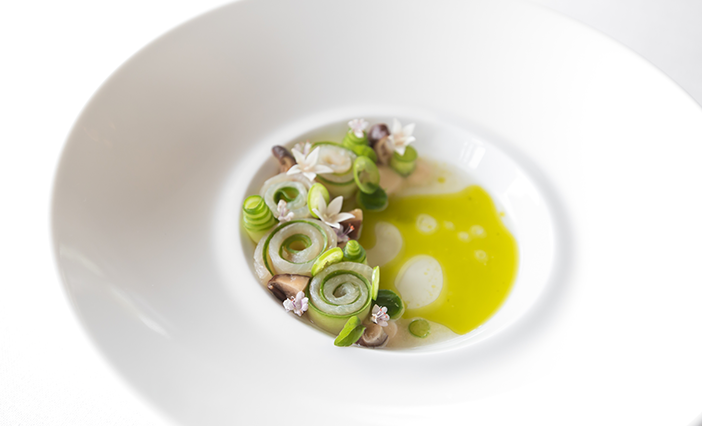 Cured Hamachi / Studio at Montage Laguna Beach
Tomato tom yum, pickled shiitake, cucumber and apple butter.
"I thought about the color green—the basil, the cucumber, the oil," recalls Karlo Evaristo, who created this dish at Studio, the fine-dining room at the Montage Laguna Beach. "I thought about Thai flavors, the tom yum broth. My father was an illustrator. I'm not good at drawing, but food is more abstract—shapes and colors that just have to be arranged a certain way. The first time I plate, it's spontaneous—I plate it once and that will be the look of it." Evaristo now creates pop-up dinners for Adia restaurant.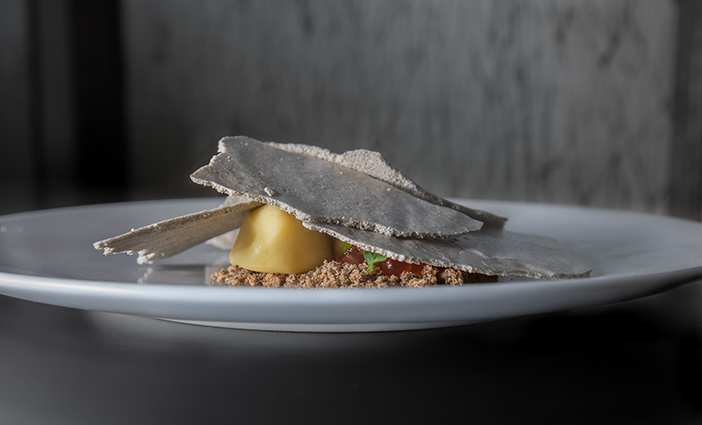 Salmon Roe, Asparagus, Mushroom, Mint / Journeyman's Food + Drink
Smoked salmon roe, fresh asparagus and white asparagus ice cream, dehydrated mushroom meringue and crumble, mint and lemon jam.
This dish at prix-fixe Journeyman's Food + Drink in Fullerton is a metaphor on several levels. "I wanted it to seem like the dish is coming up through the bottom of the concrete plate," says chef Zachary Geerson, "a breakthrough, the concrete broken from beneath." The new restaurant and its postmodern cuisine represent personal breakthroughs for Geerson. And, he adds, "the ingredients, mushrooms to asparagus, epitomize a transition from the cold winter months—well, the idea of cold winter months, we're in California—to the fresh vibrancy of spring."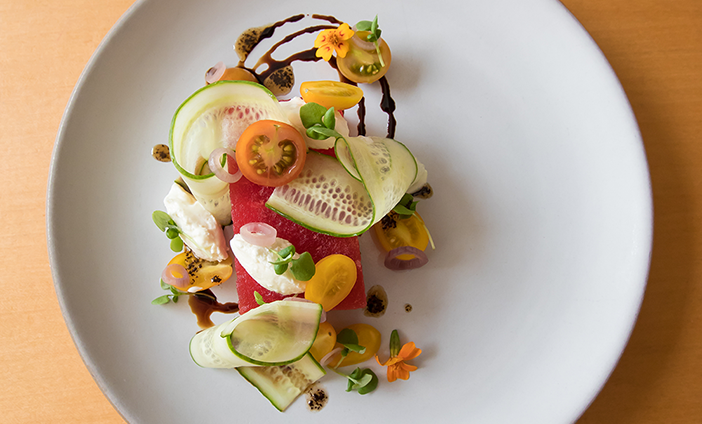 Watermelon Salad / Leatherby's Café Rouge
St. Germain-compressed watermelon, cucumber ribbons, yellow and red cherry peppers, micro basil, whipped feta, pickled red onion and black-garlic vinaigrette.
"I plate my food in a very abstract manner, with lots of white space," says Vana Er-Sahakian, sous chef under executive chef Greg Stillman at Leatherby's Café Rouge in Costa Mesa; Leatherby's is the sophisticated steakhouse inside the Renée and Henry Segerstrom Concert Hall. "I add small touches, with lots of variation in height and sizes," she says. "It's never whimsical, it's always abstract."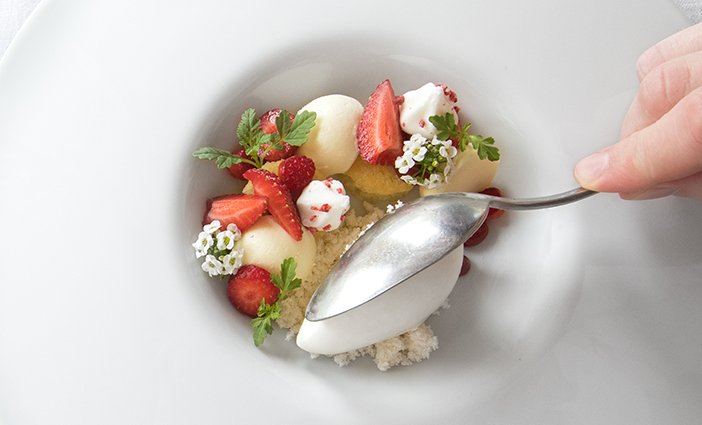 Harry's Berries Strawberries / Studio at Montage Laguna Beach
Olive-oil cake, Opalys white-chocolate mousse and yuzu sorbet.
The inspiration is strawberry shortcake, according to Keara Wilson, pastry chef at Studio in Laguna Beach. Local strawberries get several treatments, among them a gel and a strawberry meringue topped with a crumble of freeze-dried strawberries. Olive oil appears as a cake and a powder. For Wilson, plating is a very intuitive and very organic process. "I have a little idea, I think of fun shapes I can use," she says. "Then I let my second nature take over. I let it happen. It changes a lot."