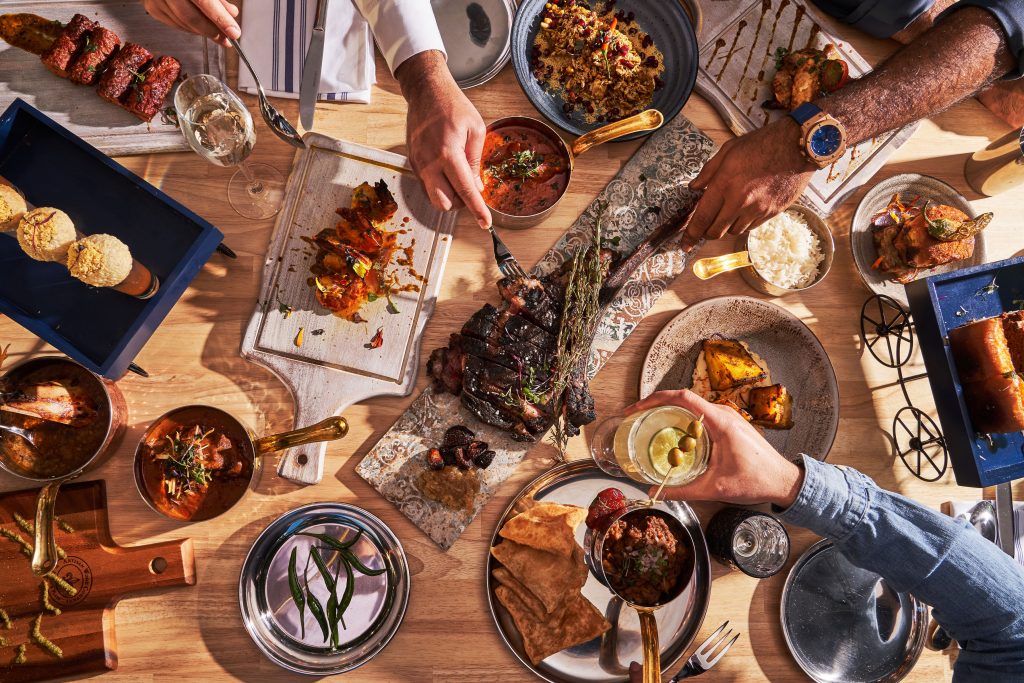 Halal kitchen Khan Saab and lounge Miirch Social put Fullerton on the map for Desi dining.
For those craving the flavors of the Indian subcontinent, there may be no more exciting destination in Orange County right now than downtown Fullerton, where a pair of compelling spots, Khan Saab and Miirch Social, have launched in the last year. Both are on Commonwealth Avenue, mere minutes from each other, and both offer outdoor seating when health guidelines demand.
At the helm of Khan Saab Desi Craft Kitchen is chef Imran Ali Mookhi, well known in Southern California for his Tumbi in Santa Monica and previous tenures at acclaimed-but-now-gone Tantra on Sunset Boulevard and Tamarind of London in Newport Coast.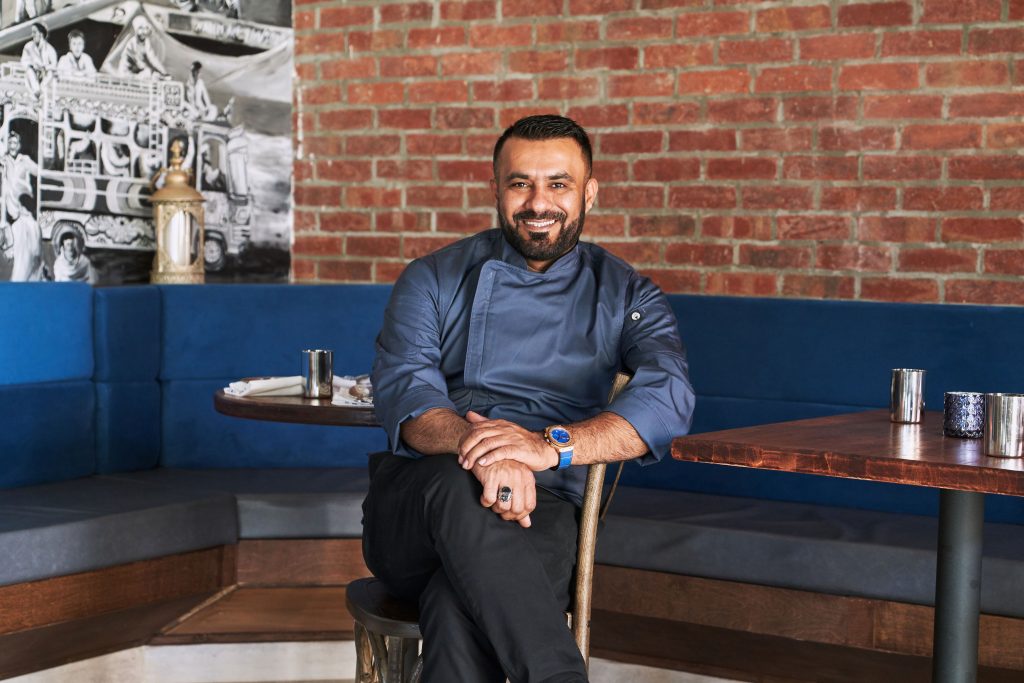 The setting at his Fullerton spot suggests relaxed fine dining. There's contemporary lighting and a mural that seems to go behind the scenes of a popular Pakistani movie; also on the wall is the restaurant's logo, depicting a too-cool-for-school Desi dude in yellow sunglasses and feathered turban.
Here, Mookhi elevates traditional dishes of India as well as Pakistan and Afghanistan.
Ingredients come from farther afield. Australia, for instance, is the source of wagyu beef for the signature Sloppy Khan keema pav and for steaks from a kiwami ribeye to a popular—and pricey at $150—wood-fired tomahawk.
From England come SeedLip nonalcoholic spirits. A halal kitchen, Khan Saab serves no alcohol. Instead, creative mocktails such as mango mojito and smoked negroni recast the cocktails that inspire them in altogether refreshing guises.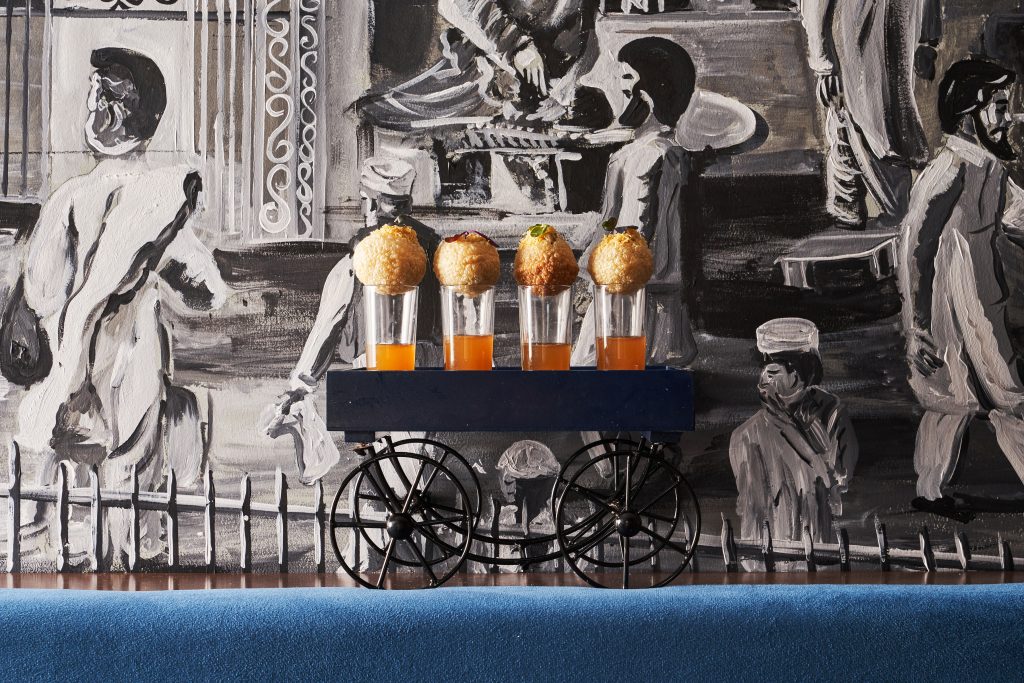 Presentations are often striking.
For the pani puri starter, chickpea- and potato-filled puff pastries come perched atop shot glasses of tamarind water lined up on a miniature wagon suggesting the dish's street-food origins.
Top-sirloin kabob arrives beneath a smoke-filled glass, the cloche removed in a circular motion to dispel the meat's fragrance, on a platter diagonally striped with a tomatillo chutney.
For the Choco Samosa dessert, triangular pastries are drizzled and filled with Ghirardelli chocolate, served bestride vanilla gelato and sprinkled with edible flowers. Even the pouring of the cutting chai is a show-stopper.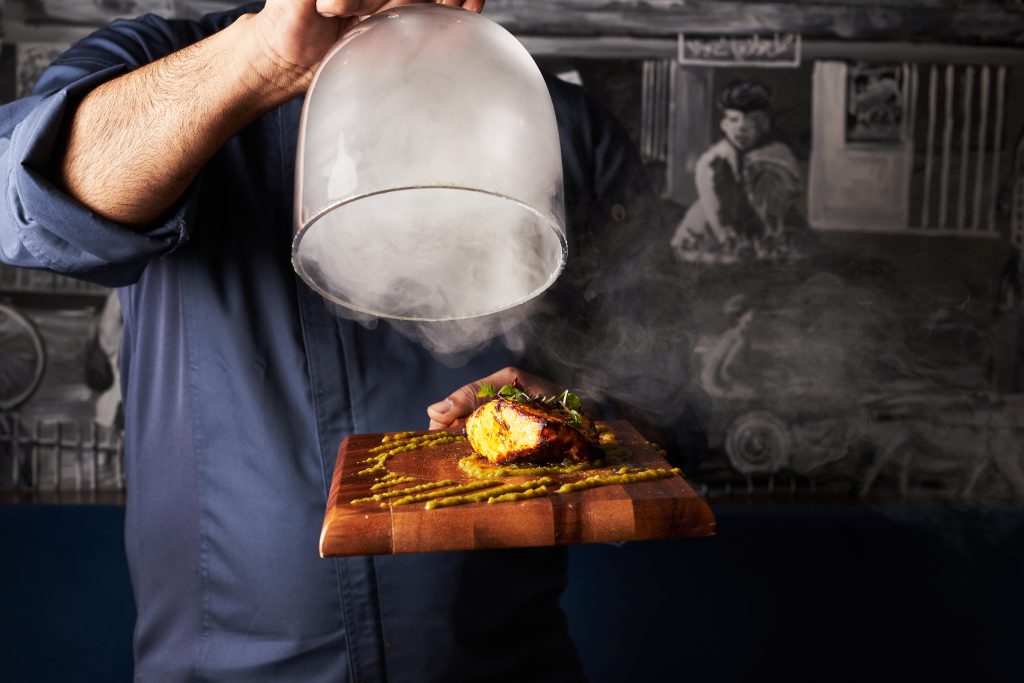 Several dishes with more straightforward plating make even more lasting impressions.
The pomegranate bhel puri—with crackers, rice puffs, peanuts, vermicelli, mint, tamarind, chili, garlic and chutney—proves addictive. The black tiger shrimp coconut masala curry is luxuriant. An Australian lamb shank rogan josh is arresting in its succulence, subtlety and depth of flavor.
Next time: those grass-fed-wagyu steaks. 229 E. Commonwealth Ave., Fullerton, 714.853.1081, khansaaboc.com
•
More casual Indian destination Miirch Social lounge earns high marks, too, particularly for its dishes with global influences and outsized flavors.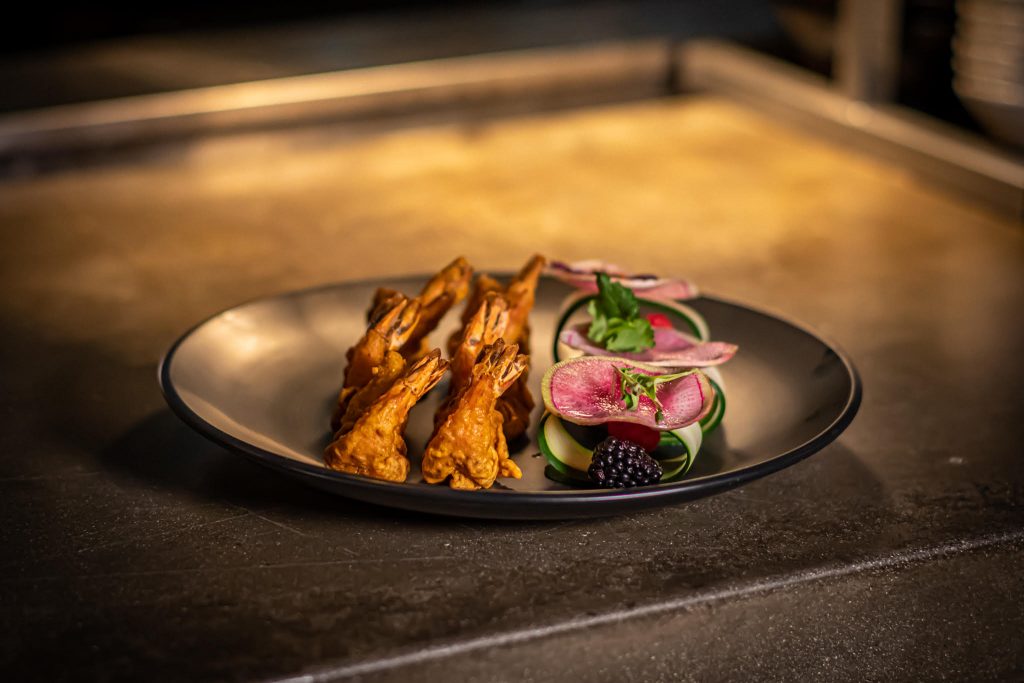 For outsized flavors, consider the Gol Gappa Shots starter. Similar to pani puri, wheat puffs are prettily filled with red-chili-spiced mashed potatoes, ariels and microgreens and presented with spiced water intense with tamarind and mint chutneys, chickpea puffs and optional vodka or spiced rum. Spoon the "water" into the snack for a "double-i" opening experience!
The actual cocktail list is a delightful global mashup. The Miirch Mezcal Manhattan combines mezcal with muddled green chili pepper, a smokey marmalade syrup and a Roch Afza sherbet floater. The Desi Masala Smash uses masala tea-infused vodka, muddled guava-chili flakes, mint, lemon and a masala-salt rim. The Ayurveda mixes Monkey Shoulder Blended Scotch with ginger-honey syrup and chocolate bitters.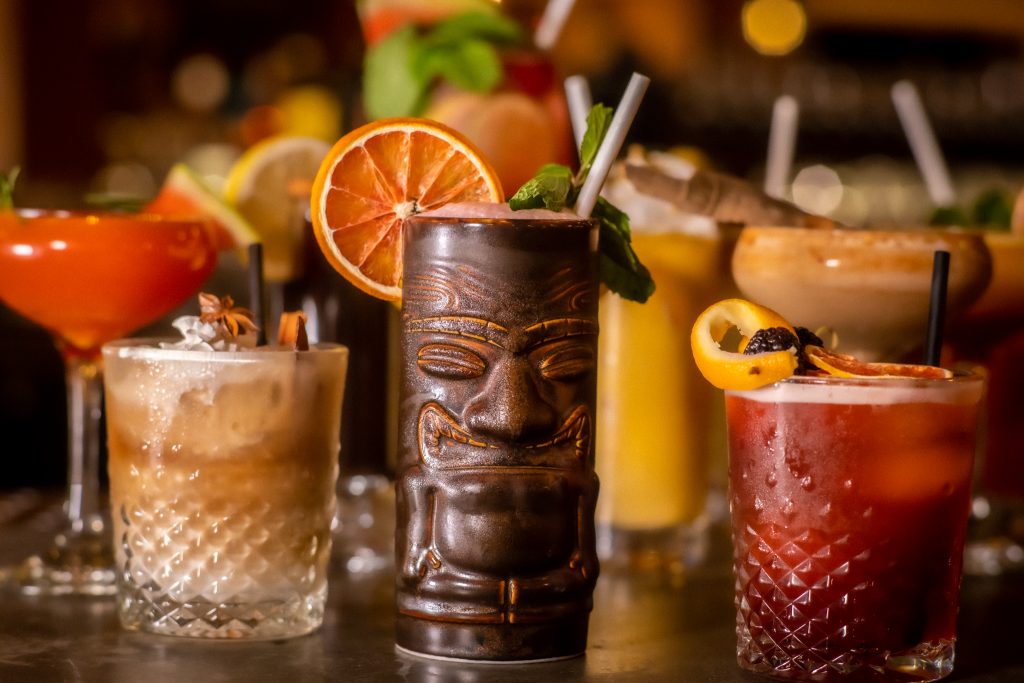 For global influences on the menu itself, the luscious truffle oil chicken tikka, a house specialty, is a prime example. But we're equally thrilled with the old-school lamb vindaloo, made with a tangy vinegar-chile sauce and listed on the menu as … Old School Lamb Vindaloo. The jury is out on the gulab jamun cheesecake—it's hard to beat the rose-syrup-inflected doughnuts that inspired it.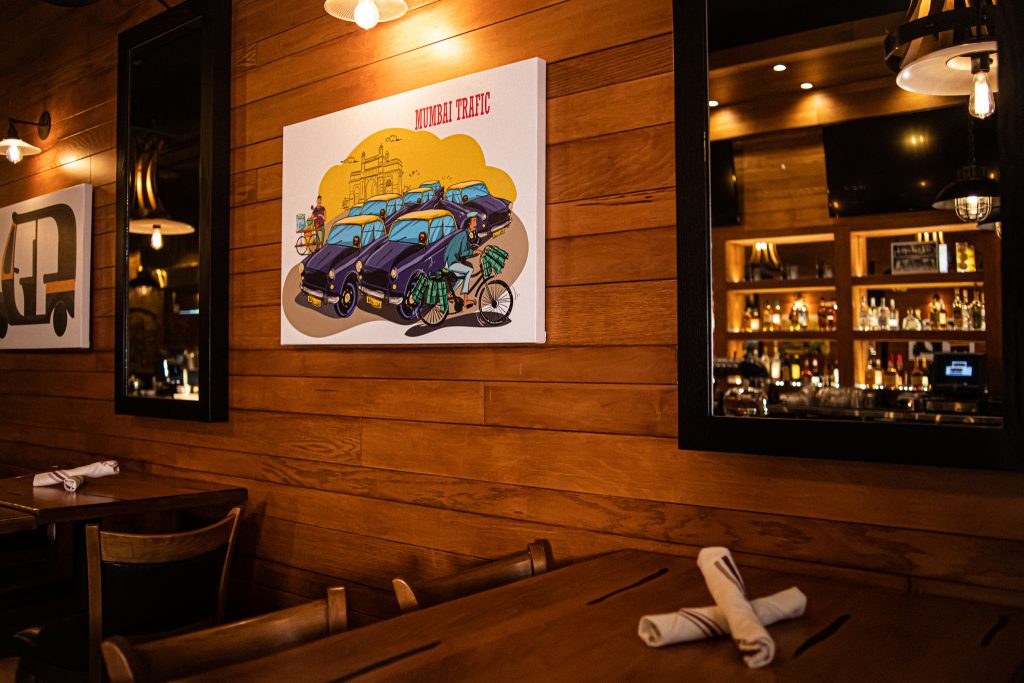 Menu categories and dishes often get fanciful names—e.g., Never a Dal Moment for soups and salads, Bend It Like Gobhi for spice cauliflower and potato—that underscore the unpretentious atmosphere.
Don't let that lack of pretense and relaxed demeanor fool you: The food exceeded all expectations and begs return trips. 138 W. Commonwealth Ave., Fullerton, 714.519.3501, miirch.com
Photos courtesy Khan Saab and Miirch Social.