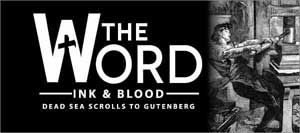 THE WORD: Ink & Blood Arrives at Muzeo
Explore the history of the written word in the west coast debut of THE WORD: Ink & Blood at MUZEO in Anaheim.
The exhibit is the world's largest, most comprehensive collection on the history of the Bible and the origins of written language with authentic Dead Sea Scroll fragments, ancient biblical manuscripts, 5,000-year-old pictographic clay tablets, Hebrew Torahs, ancient Greek texts, Medieval Latin manuscripts, original pages from Gutenberg's Bible and rare English printed Bibles on display for visitors. A working life-size reproduction of Gutenberg's Printing Press with moveable type, perhaps the most significant invention of the last millennium, is also included in the exhibit and will be featured in live demonstrations.
THE WORD: Ink & Blood centers around four pieces of the Dead Sea Scrolls recovered from Cave 4 in Qumran featuring text from the books of Genesis, Deuteronomy, Isaiah and Jeremiah. Another exhibition highlight are the four proto-cuneiform tablets dating to 3200 B.C. and five cuneiform tablets dating from 200 B.C.-1500 B.C. Proto-cuneiform, a pictographic script, is the oldest known example of writing which soon developed into the syllabic language of Cuneiform.
Admission to MUZEO is $13 for adults and $9 for children 12 and under; free admission for children 3 and under.241 S. Anaheim Blvd., Anaheim, 714.956.8936. muzeo.org