The Best Places To Celebrate Mother's Day In Orange County 2014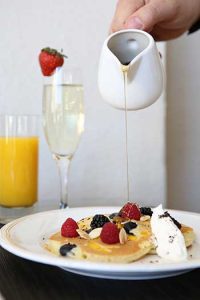 Mother's Day is on Sunday, May 11, so make your reservations for brunch, dinner and the spa now. We've lined up the best places to celebrate Mother's Day in Orange County this year. If you're looking for a sweet way to spend time with your mother in OC, this place will not disappoint!
MOTHER'S DAY
St. Regis Monarch Beach
Treat Mom to a five-star, five diamond brunch at Motif with ocean views and an exquisite buffet including a carving station, seafood station with fresh crab, shrimp, oysters and ceviches, sushi, omelet and pancake stations and more. Unlimited champagne and signature St. Regis Bloody Mary's. $115 adults; $36 kids. 1 Monarch Beach Resort, Dana Point, 949.234.3200. stregismb.com
Agora Churrascaria
For a charming Brazilian dining experience, treat Mom to a feast of flavorful meats, salads and sides fit for a queen. Moms will be treated like royalty, honored with a classic white carnation as a gift. $46. 11 a.m.-9 p.m. 1830 Main St., Irvine, 949.222.9910. agorachurrascaria.com
Hilton Anaheim
The enchantment of Merry Olde England returns with a British-themed champagne brunch in the hotel's Mix Restaurant and Lounge. Indulge in dishes such as honey baked ham, prime rib, sushi and sashimi, butter poached halibut, pineapple-infused rotisserie chicken, salads, breakfast fare and desserts as well as some of the Queen's favorites like quiche and scones. 10:30 a.m.-3 p.m. $49 adults; $52 with sparkling wine service; $20 children 12 and under. Complimentary valet parking for all brunch guests. 777 Convention Way, Anaheim, 714.750.4321. hiltonanaheimhotel.com
Prego
Mom will love the Tuscan-style Mother's Day buffet brunch featuring an omelet bar, seasonal insalate bar, antipasti, freshly made pastas, prime rib carving station and Italian pastries. 11 a.m.-3 p.m. $36.95 adults; $17.95 children 7-12; free for children 6 and under. 18420 Von Karman Ave., Irvine, 949.553.1333. pregoristoranti.com
21 Oceanfront
Enjoy a three-course brunch menu with options such as Doryman's quiche, spinach fettucini prima vera, crusted filet of salmon, steak frites and blueberry cheesecake brulee. 10 a.m.- 2p.m. $65, adults; $25 children 5-10 (children's menu). 2100 W. Oceanfront, Newport Beach, 949.673.2100. 21oceanfront.com
The Silver Trumpet
Spend a memorable Mother's Day lakeside at The Silver Trumpet where Chef Carlos Garcia will prepare a traditional feast featuring a delectable array of seasonally inspired culinary delights with bottomless mimosas and Bloody Mary's. 7 a.m.-2 p.m. Avenue of the Arts Wyndham Hotel, 350 Avenue of the Arts, Costa Mesa, 714.442.8593. silvertrumpetrestaurant.com
Andrei's Conscious Cuisine
Pamper Mom with a delicious three-course brunch by Executive Chef Yves Fournier. Menu selections include green asparagus veloute with prosciutto crisp and pistachio oil; California frittata with goat cheese, bell pepper, artichokes. oven dried tomato, basil, pain au levain, baby greens and cabernet vinaigrette and berries & cream crepe. 10 a.m.-3 p.m. $40 adults; $14 children 12 and under. 2607 Main St., Irvine, 949.387.8887. andreisrestaurant.com
Seventh Tea Bar
Book tea service on Mother's Day and receive 30% off. Select from Bantam service for two or Grand service for three or four and enjoy traditional tea service with hearty sandwiches, delicious breads, house-made spreads and desserts. Indoor and outdoor seating available. Reservations required for discount. 9 a.m.-6 p.m. The OC Mix, 3313 Hyland Ave., Costa Mesa, 714.656.2690.
Pinot Provence
Shower Mom with the gift of delicious cuisine admits the elegant dining room at French favorite Pinot Provence. A three-course brunch includes choices such as ricotta rhubarb pancakes; burrata cheese with elderflower vinaigrette and chocolate brownie bar. $38 adults; $19 children under 12. 10 a.m.-3 p.m.The Westin, South Coast Plaza, 686 Anton Blvd., Costa Mesa, 714.444.5900. pinotprovence.com
Ralph Brennan's Jazz Kitchen
Treat Mom to a New Orleans brunch with options such as Andouille-pretzel crusted gulf shrimp, clam and crawfish chowder, blackened rib eye steak au poivre, paneed chicken and grits and pineapple upside down cake. Downtown Disney, 1590 S. Disneyland Drive, Anaheim, 714.776.5200. rbjazzkitcehn.com
Laguna Cliffs Marriott
Celebrate Mom this year with love. Enjoy international cuisine and an ocean view at Vue Restaurant with indoor and outdoor seating available, live entertainment, keepsake photo and a special rose for each mom. 11:30 a.m.-2:30 p.m. $99 adults; $40 children ages 6-12. 25135 Park Lantern, Dana Point, 949.487.7516. lagunacliffs.com
Scott's Restaurant & Bar
Relax in the restaurant's warm and inviting ambiance as the entire family enjoys a three-course prix fixe brunch with choices such as eggs Benedict, brioche French toast and truffle macaroni and cheese. 11 a.m.- 3p.m. $59 adults; $12 children 12 and under. 3300 Bristol St., Costa Mesa, 714.979.2400. scottsrestaurantandbar.com
Anepalco's Café
A special three-course brunch menu to delight the entire family will be featured with dishes such as Anepalco's chilaquiles, huevos rancheros, horchata French toast, breakfast crepes, and more. 11 a.m.-3 p.m. 3737 W. Chapman Ave., Orange, 714.456.9642. anepalcoscafe.com
Catal
Celebrate Mother's Day at Catal with a three-course brunch of Spanish chorizo fresco scramble with crispy potato coins and scallions; bread pudding French toast with sautéed apples and brown butter maple syrup and buttermilk panna cotta with blackberry honey and shortbread crumble as options. $45. 10 a.m.- 3 p.m. Downtown Disney, 1580 Disneyland Drive, Anaheim, 714.774.4442. patinagroup.com
Hilton Waterfront Beach Resort
Impress Mom with a lavish brunch in the hotel's Pacific Ballroom complete with a variety of cheeses, salads and seafood along with a carving board, breakfast station, abundant dessert table and live entertainment. 10 a.m.-1 p.m. and 2 p.m.-5 p.m. $72 adults; $18 children 12 and under. 21100 Pacific Coast Hwy., Huntington Beach, 714.845.8000. waterfrontresort.com
Hopscotch Tavern
Join the restaurant for an a la carte brunch featuring creative dishes such as frosted Captain Crunch berry pancake stack, southern Benedict, breakfast poutine, brisket hash and breakfast bahn mi. 9 a.m.-3 p.m. 136 E. Commonwealth Ave., Fullerton, 714.871.2222. hopscotchtavern.com
Hotel Irvine Jamboree Center
Celebrate your family's leading lady and treat mom to a chef-crafted brunch at Six Park Grill. Enjoy a bountiful buffet created by Chef Albert with favorites like made-to-order Belgium waffles, biscuits and red-eye gravy, roasted salmon wellington, king crab legs and much more. Brunch includes bottomless champagne, coffee, juice and sodas. $65 adults; $25 children 4-12; children under 4 are free. 10 a.m.-2 p.m. 17900 Jamboree Road, Irvine, 888.230.4452. hotelirvine.com
Tangata
Mom will delight in a brunch buffet including dishes such as roasted beet salad with shaved parmesan cheese; mustard crusted salmon with sautéed broccolini and beurre blanc sauce; eggs Benedict and a made-to-order pancake bar. 10 a.m.-3 p.m. $46 adults; $19 children under 12. Bowers Museum, 2002 N. Main St., Santa Ana, 714.550.0906. patinagroup.com
Fig & Olive
Families will enjoy the three-course prix fixe brunch and dinner Executive Chef Pascal Lorange is preparing with dishes such as lobster bisque, French omelet, truffle mushroom croquette and petite filet mignon. Brunch, 11 a.m.-4 p.m., $40; Dinner, 5-11 p.m., $52. Fashion Island, 401 Newport Center Dr., Newport Beach, 949.877.3005. figandolive.com
Queen Mary
Mom will have the opportunity to take a culinary trip around the world with Asian, Chinese and Mexican favorites as well as made-to-order breakfast fare, carving station and an abundance of fresh seafood at their champagne brunch. 9 a.m.-3 p.m. $59.95 adults; $19.95 children 12 and under. 1126 Queens Hwy., Long Beach, 562.499.1606. queenmary.com
Matador Cantina
Executive Chef David Dennis creates an a la carte brunch menu offering a fusion of traditional and contemporary Mexican-inspired cuisine. Try chorizo Benedicto, Lila's cheese enchiladas con huevos, custom burritos and a variety of omelettes. 9 a.m.-2 p.m. 111 N. Harbor Blvd., Fullerton, 714.871.8226. thematador.com
Ways & Means
Chefs de Cuisine Benjamin Wallenbeck and Justin Odegard have crafted seasonally-inspired brunch and supper menus for families to enjoy with mom on her special day. Sunday's brunch is a three-course prix fixe with options such as Eggs Benedict with braised duck leg, smoked deviled eggs with salmon mousse and a fruit and cheese plate with compressed berries and wild arugula flowers. Supper features selections like oyster bruschetta, summer roast chicken and white chocolate berry cobbler. Brunch, 10 a.m.-4 p.m.; $25. Supper, 5-9:30 p.m.; $45. 613 E. Chapman Ave., Orange, 714.516.1800. wmoysters.com
The Resort at Pelican Hill
Delight in the elegance of traditional afternoon tea time in the Great Room, featuring a classical harpist and scenic ocean views. Enjoy teas, coffees, sweets, sandwiches and wines by the glass as part of the prix fixe menu. 1-5 p.m. $50 adults; $25 children under 12. 22701 Pelican Hill Road S., Newport Coast, 888.315.8214. pelicanhill.com
House of Blues
Get ready for a Mother's Day Gospel Brunch complete with napkin waving and a foot stomping good time. Rodney Jones & the Faithful Few will perform while you indulge in a delicious Southern-inspired buffet and unlimited mimosas. Downtown Disney, 1530 Disneyland Drive, Anaheim, 714.778.2583. houseofblues.com
McCormick & Schmick's
Spend Mother's Day at the famous seafood and steak establishment while enjoying classic brunch favorites such as eggs Benedict and bananas foster French toast. Moms receive a complimentary chocolate covered strawberry.  2000 Main St., Irvine, 949.756.0505. mccormickandschmicks.com
Blackmarket Bakery
Chef Rachel Klemek has created a special mom's reusable tote bag and all of the packaged bakery goods and breads that fit into it will be discounted at 15% off. Select from confections, tea cookies, cakes, artisanal chocolates and more. Moms-to-be will love the "Loafer" infant onesie available in sizes newborn to three months. The Camp, 2937 Bristol St., Costa Mesa, 714.662.3095. blackmarketbakery.com
The Golden Truffle
Chef Alan Greeley is preparing a three-course brunch with menu selections such as house smoked ham and eggs Benedict, mushroom cheese raviolis with wild arugula and tomato fondue and warm sicilian donuts with lavender gelato. 10 a.m.-2 p.m. $44 adults; $18 children under ten. 1767 Newport Blvd., Costa Mesa, 949.645.7831. goldentruffle.com
Cha Cha's Latin Kitchen
Beat the crowds and treat your mom a day early to receive complimentary mimosas with the purchase of brunch. 11 a.m.-3 p.m. $24.95. If you prefer to dine on Sunday, brunch will be served from 9:30 a.m.-4 p.m. for $14.95 with the option to add bottomless mimosas for an additional $6. 110 W. Birch St., Brea, 714.255.1040. chachaslatinkitchen.com
Chapter One: The Modern Local
Bring Mom in for the restaurant's a la carte brunch where she will receive a complimentary surprise dessert and can enjoy live music while celebrating her special day. $6 bottomless mimosas available. 227 N. Broadway, Santa Ana, 714.352.2225. chapteronetml.com
Harlow's
San Juan Capistrano's new restaurant is featuring a special farm to table Mother's Day brunch menu with dishes such as house-cured king salmon, steak 'n' eggs and N'Orleans beignets. 11 .m.-3 p.m. 31111 Rancho Viejo Road, San Juan Capistrano, 949.240.8100. harlowscuisine.com
Fireside
Chef Scott Brandon is showcasing fabulous breakfast fare for Mother's Day with a prix fixe menu including poached Kusshi oysters with roasted artichoke, creamy kale and uni sabayon; soft scrambled organic eggs with roasted asparagus, Scottish smoked salmon, Nueske bacon and grilled country bread and ice box chocolate cake with mocha mascarpone cream, raspberry coulis and chocolate ganache. $30 adults; kid's menu available. Add bottomless mimosas or Bloody Mary's for moms for $5. Happy Hour drink prices all day. Crowne Plaza, 3131 Bristol St., Costa Mesa, 714.913.9061. firesidetavern.com
A Restaurant
Celebrate at A Restaurant with a special three-course prix fixe brunch ($40 adults; $25 children) from 11 a.m.-2:30 p.m. and the regular dinner menu from 4-8 p.m. Brunch menu offers choices such as citrus cured arctic char with bagel chips, lemon chive crème fraiche and shaved shallot; lemon ricotta pancakes with blueberries, buerre de barrate and powdered sugar and blueberry cornmeal cake with house made yogurt. 3334 W. Coast Hwy., Newport Beach, 949.650.6505. arestaurantnb.com
Blushington
May 5-11. Orange County's go-to makeup and beauty lounge is treating moms to a complimentary makeup application ($40 value) when they come in with their daughter during the week of Mother's Day (May 5-11, excluding Saturday). Choose from one of their six looks such as Life of the Party or Simply Glowing or design your own. Fashion Island, 401 Newport Center Drive, Newport Beach, 949.640.8800. blushington.com
Spa at Laguna Cliffs Marriott
May 10-11. Spoil Mom this weekend with organic spa treatments from Orange County's only organic spa and receive complimentary mimosas. If you choose to treat Mom to a spa gift certificate instead, receive a complimentary Eminence body lotion ($35 value) with any gift certificate purchase of $200. 25135 Park Lantern, Dana Point, 949487.7576. spalagunacliffs.com
Spa Gregorie's
Pamper Mom with one of the spa's many Mother's Day packages such as a their Mom & Me Spa'lebration with massages or facials for two ($189) or the Marvelous Moms package complete with three of the spa's signature services, a massage, facial and manicure ($209). 200 Newport Center Drive, Newport Beach, 949.644.6672. spagregories.com
Indulge: A Stylish Treat for Moms Event at The Shops at Mission Viejo and Brea Mall
Moms and their friends cam enjoy a day of fashion tips, style consultations, beauty services, refreshments and giveaways at this event celebrating Orange County moms. The Shops at Mission Viejo, 555 The Shops at Mission Viejo, Mission Viejo, 949.364.1771; Brea Mall, 1065 Mall, Brea, 714.990.2732. simon.com