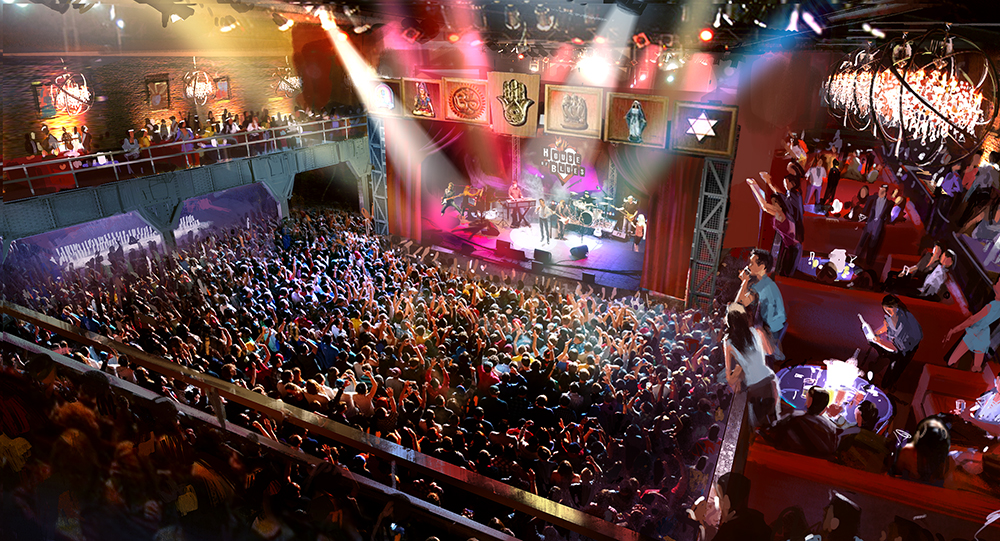 From the new exclusive Foundation Room and Southern-inspired menu to the all-star lineup of talent hitting the stage, here's what you need to know about the new House of Blues Anaheim.
By Laura Okey
House of Blues Anaheim, previously located in Downtown Disney and now reopening at the Anaheim GardenWalk, has been a staple to the nightlife and entertainment scene of Orange County for the last 15 years. With the closure of House of Blues Sunset Strip, which opened 23 years ago, the new House of Blues Anaheim will be the flagship venue for the famed group of music halls. Many artifacts, original sculptures and legendary American Folk Art items will now be displayed in Anaheim. In correlation with celebrating its milestone 25th anniversary, the new outpost will mark the debut of what they believe to be the most beautiful music hall and dining experience in the country.
The new 44,000 square-foot venue is twice the size of the former, featuring live music in four unique entertainment spaces. With a capacity of 2,200 people in the main concert hall, House of Blues maintains the intimacy unique to its brand, allowing you an up-close experience with the artists. Additional spaces include The Parish, a 400-person capacity music hall, the legendary Foundation Room and the VIP club. To elevate your experience, the Foundation Room showcases a breathtaking lounge and bar to enjoy upscale cuisine, top-tier cocktails and exceptional service. Pre-show parties, live music and late-night DJs keep this spot grooving all night long.
The House of Blues Restaurant & Bar team has curated a crafted Southern-inspired menu. "It's food that feeds the soul," said House of Blues general manager Tim Jorgensen. The menu includes iconic dishes like New Orleans jambalaya, voodoo shrimp, Nashville hot fried chicken salad and barbecue smoked on-site. The beverage program will showcase a selection of signature cocktails and local craft beer available throughout the entire location.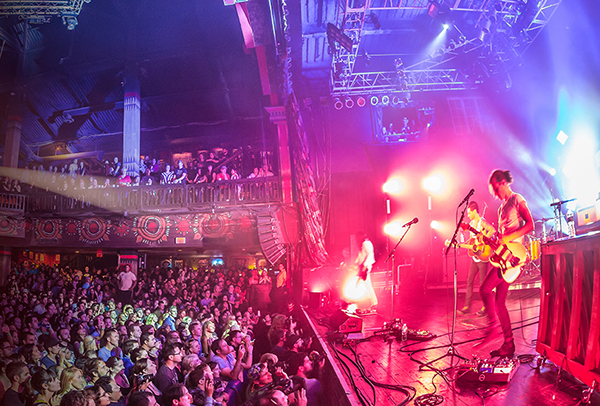 Through the years, countless rising stars and legends have graced the stages of House of Blues locations throughout the US. The tradition continues with the new location—February 28, 2017 will mark the premier performance and grand opening with Social Distortion. In its first month, headliners include artists ranging from Chase Rice and Korn to Billy Idol, 311, Big Sean and many more. See below for the latest on the concert calendar.
Feb. 28, Mar. 1 Social Distortion (7 p.m.)
Mar. 2 Anderson .Paak & The Free Nationals (7 p.m.)
Mar. 3-4 Chase Rice (7 p.m.)
Mar. 5-6 KORN (7 p.m.)
Mar. 7 Thrice and Manchester Orchestra (7 p.m.)
Mar. 8 George Thorogood and The Destroyers Rock Party Tour (7 p.m.); Hey Violet (7 p.m. in The Parish)
Mar. 9-10 Cafe Tacvba.
Mar. 11 Daya (6:30 pm); Adventure Club (10:30 pm)
Mar. 12 Andrew McMahon in the Wilderness (7 p.m.)
Mar. 13 Billy Idol (7 p.m.)
Mar. 14 The Growlers (7 p.m.)
Mar. 15 Jason Isbell (7 p.m.)
Mar. 16 Julieta Venegas (7 p.m.)
Mar. 17 Wu-Tang Clan: Return to the 36 Chambers (8 p.m.)
Mar. 18 Wrabel (7 p.m. in The Parish); KROQ Presents 311 (7:30 p.m.)
Mar. 19 Death Cab for Cutie (7 p.m.)
Mar. 20 KROQ Presents The Kills 15th Anniversary Show (7 p.m.)
Mar. 21 Big Sean: I Decided Tour (7 p.m.).
Mar. 23 Common (7 p.m.)
Mar. 24 Agent Orange (7 p.m. in The Parish)
Mar. 25 Yellowcard-The Final Show (5:30 p.m.)
Mar. 26 Josh Abbott Band (7 p.m. in The Parish); Save Ferris (7 p.m.)
Mar. 29 Eisley (7 p.m. in The Parish).
Mar. 29 Sleigh Bells (7:30 p.m.)
Mar. 30 Excision (8 p.m.)
Mar. 31 Reel Big Fish (7 p.m.); Joey Purp (7 p.m. in The Parish)
Apr. 1-2 The Growlers (7 p.m.)
Apr. 2 John Lindahl ( 7 p.m. in The Parish)
Apr. 5 Frankie Ballard (7 p.m.); Carter Winter (7 p.m. in The Parish)
Apr. 6 Badfish-A Tribute to Sublime (8 p.m.)
Apr. 7 Mayday Parade-A Lesson In Romantics 10th Anniversary Tour (7 p.m.)
Apr. 8 The Damned 40th Anniversary US Tour (7 p.m.)
Apr. 9 The Maine (6:30 p.m.)
Apr. 11 NF-Therapy Session Tour 2017 (7 p.m.)
Apr. 13. Simple Plan-No Pads, No Helmets…Just Balls 15th Anniversary Tour (6 p.m.)
Apr. 14-15 Ramon Ayala (8 p.m.)
Apr. 16 Tech N9ne (7 p.m.)
Apr. 17 Shinedown (7 p.m.)
Apr. 21 Berlin (7:30 p.m.)
Apr. 23 Pixies (7 p.m.)
Apr. 25 Denitia and Sene (7 p.m. in The Parish)
Apr. 28 Sammy Johnson (7 p.m.); The Aggrolites (7 p.m. in The Parish)
May 5 Cinco de Mayo with Oxomatli (7 p.m.); Sondre Lerche (7 p.m. in The Parish)
May 6 Blue October (7 p.m.)
May 12 Suburban Legends and Pilfers (6:30 p.m. in The Parish)
May 14 Real Friends (7 p.m.)
May 18 Testament (6 p.m.)
May 20 Jack Ingram (7 p.m. in The Parish)
May 23 The M.E. Tour featuring Marsha Ambrosius and Eric Benét (7 p.m.)
May 24 Catfish and The Bottlemen (7 p.m.)
May 27 New Kids on the Block (7 p.m.)
June 9 Biz Markie-Decades Collide 80s vs 90s Party (8 p.m.)
June 10 Metalachi (7 p.m. in The Parish)
Sept. 11 Santana (7 p.m.)
400 West Disney Way, Suite 337, Anaheim, 714.778.2583. houseofblues.com