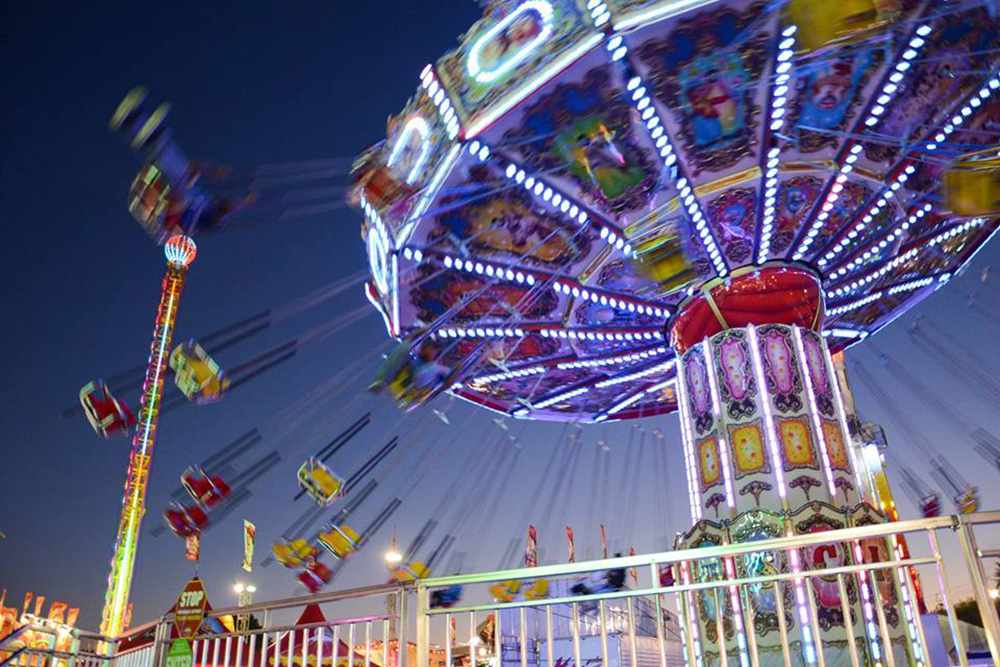 From fun new rides and tasty exhibits to entertainment, special discounts and more, here's your guide to the 2017 OC Fair.
By Laura Okey
Summer in Orange County isn't complete until the OC Fair arrives—23 days and nights of fried food, carnival rides, pig races and more. This year's theme, "Farm, Fresh Fun" features new gourmet food options, exhibits, headline performances in the Pacific Amphitheatre, nightly music in The Hangar and adrenaline-inducing events in the Action Sports Arena.
Due to an ever-growing list of attractions year to year, we've created this handy guide to help you navigate through the fairgrounds, and most importantly, prioritize the room you have in your stomach for some of the delicious—and inventive, to say the least—new items on the menu.
FOOD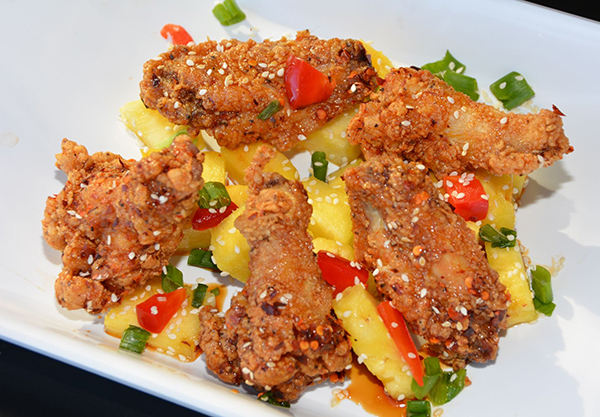 OC Fair food steps up its game every year, but this year, they've really outdone themselves. For the foodies who want to try it all, get a sampling of all the fun food for only $3 each, every Thursday from noon to 4 p.m. Fun-sized samples include funnel cake, tri-tip, lemonade, cinnamon rolls, tacos, gelato, cotton candy and more. Here are a few new must-try items.
Unicorn Nitro Pop features a cotton candy ring around a colorful cup of kettle corn and whipped cream, submerged in liquid nitrogen from RCS Cowboy Kettle Corn.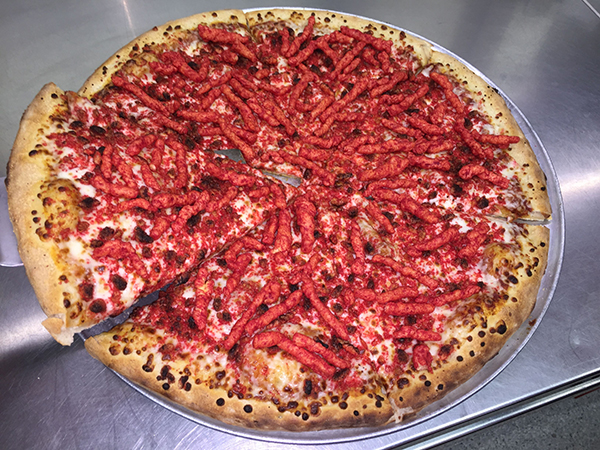 Calling all Flamin' Hot Cheetos lovers, because it's making a big appearance this year on several items: pizza, Big Daddy corn dog, cheese fries and corn in a cup or on the cob. Find these items at Enzo's Pizza, Biggy's and The Corn Shack.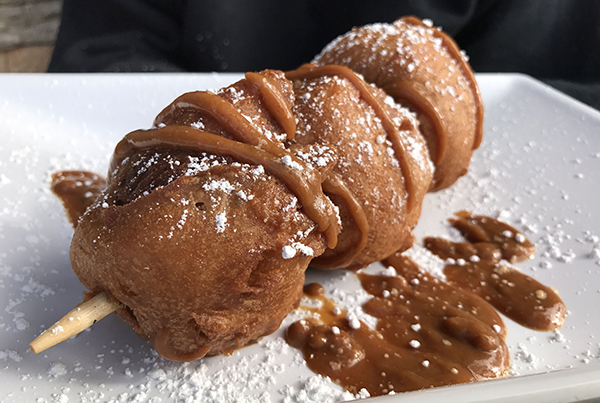 Chicken Charlie's is always a fan favorite with its incredibly inventive items. This year, they're unveiling fried peanut butter meatballs, luau chimichanga, pupu chicken, and, best of all, a Krispy Kreme ice cream chicken sandwich!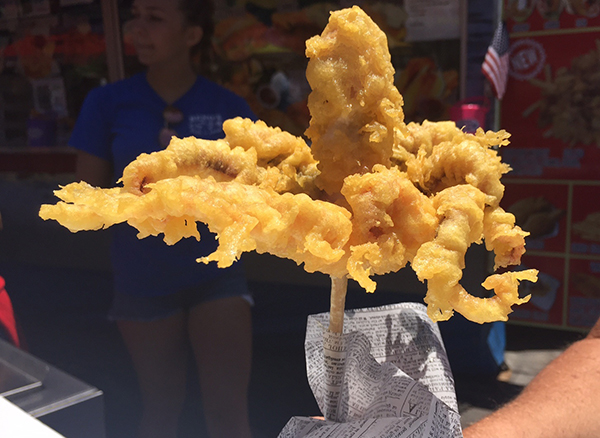 Pignotti's Pasta is serving up fried octopus on a stick and deep-fried ravioli on a stick.
Head to Bacon A Fair for a 5-pound barbecued pig leg or try the new bacon-wrapped Brussels sprouts, grilled on a stick with olive oil and rolled in Parmesan cheese; and pineapple on a stick, wrapped in bacon, grilled and rolled in Parmesan cheese.
For those who can handle the heat, Tasti Burger has added a Maui Cowboy ghost pepper cheeseburger to its 2017 offerings.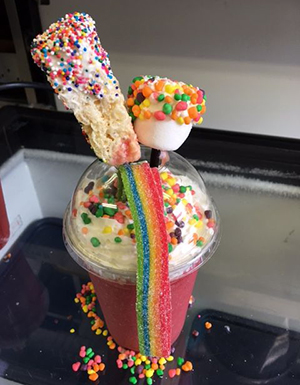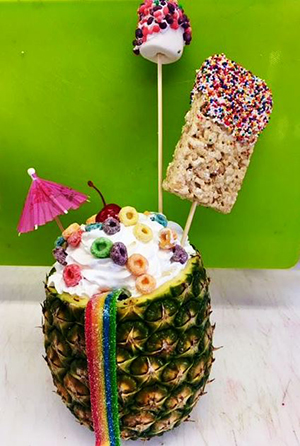 Starbucks isn't the only one jumping on board with the unicorn craze—try the Unicorn Pineapple Bomb and the Unicorn Freeze from D&D Country Fair Cinnamon Buns.
Other vendors include: Pink's Hot Dogs, Biggy's Meat Market, Ten Pound Buns, Corn Star, Apollo's Greek, Carmelot, Pepe's Mariscos, Crutchee's Ice Cream, Enzo's Pizza, Fresh Frys, Fried Affair, Hussong's Cantina, Hot Dog on a Stick, Planet Popcorn, Mucho Crazy Nachos, Mustards Café, Old West Cinnamon Rolls, Texas Donuts, Vinny's Pizza and more.
MUSIC
During the run of the Fair, the Toyota Summer Concert Series at Pacific Amphitheatre features headliners such as Rebelution, Pepe Aguilar, Colbie Caillat, Lynyrd Skynyrd and Jake Owen with Orange County's own Honey County. See the full Pacific Ampitheatre schedule here.
The Hangar at the OC Fair will showcase the best in tribute bands and more including Queen Nation, Trevor Hall, Mariachi Sol de Mexico and Which One's Pink?, a tribute to Pink Floyd. See the full schedule for The Hangar here.
RIDES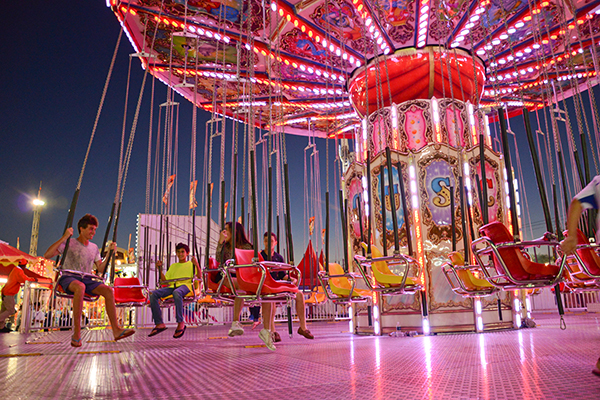 The OC Fair is adding three new rides this year and one new funhouse, making the carnival bigger and more exciting than ever before.
The new La Grande Wheel XL is so big that it was transported on 22 semi-trailer trucks to get to the Fairgrounds. It is 130 feet tall, weighs 616,000 pounds and features a half-million LED lights. The 36 cabins are climate-controlled and hold six to eight people. It takes the Ferris wheel about three and a half minutes to make a full circle and can carry about 2,000 passengers an hour. La Grande Wheel XL is one of the largest traveling observation wheels in the western hemisphere. This giant new Ferris wheel was manufactured in Europe and is known as the Mercedes Benz of carnival wheels.
…but two is better than one! For the first time ever, OC Fair will feature two giant Ferris wheels to whisk riders high into the sky for a panoramic view. La Grande Wheel XL will be joined by the Big Wheel. Standing more than 108 feet tall, the Big Wheel features the newest technology for a smooth ride. It's equipped with LED lights and 24 open-air gondolas.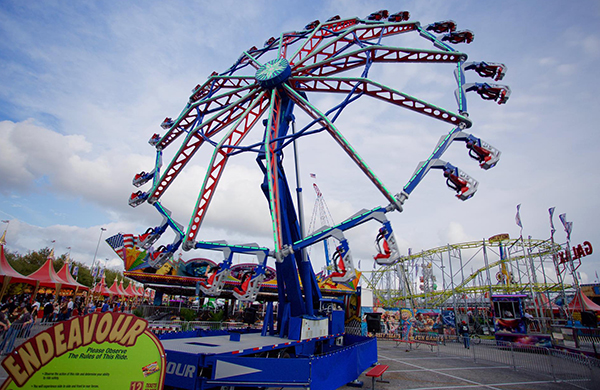 Also making its debut at the OC Fair is Endeavor—an open-air ride in which passengers are suspended in their seats and experience 3G acceleration. Riders will feel the sensation of flying 60 feet through the air at 25 miles per hour.
A new funhouse, Rockin' Rodeo, will be coming, too, with zany twists and turns around every corner.
Returning favorites include Big Top Swinger, Cliff Hanger, Cyclone, Insanity, Mach 1, Speed, Wild River and more. For a full list of carnival rides, visit ocfair.com.
DISCOUNTS, DEALS & BARGAINS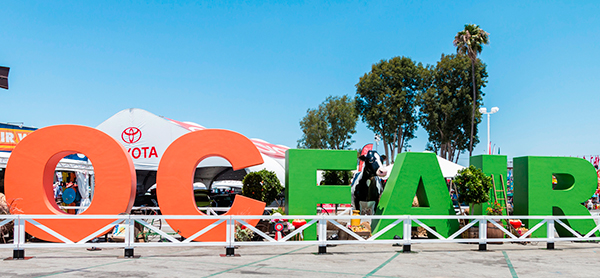 On opening day, Friday, July 14, the Fair is granting free admission and parking for the first three hours (noon-3 p.m.)! Here are some additional money-saving tips to know about this year—check out the full list of discounts, deals and bargains.
Super Pass: Enjoy all 23 days of the Fair for the best price. Super Passes are $35 for general admission and $28 for seniors and youth ages 6-12. New this year—Super Pass holders who come to all 23 days of the 2017 OC Fair will win the Perfect Attendance Award and receive a free 2018 Super Pass.
Veterans and active-duty military personnel: Admission is always free with ID and their guests can purchase up to six half-price tickets.
Read and Ride: Kids ages 5-11 can read two books to earn three free carnival rides. Download book report forms at bit.ly/ocfairread and redeem them at the Centennial Farm information booth.
Seniors Day: Those 60 and older get in for $5 every Friday.
$2 rides and $2 games: On Fridays from noon-4 p.m., rides and games are just $2 in the main carnival and the kiddie carnival.
Free offsite parking on weekends: Park in the Experian structure at 475 Anton Blvd. (near the Bristol exit off the 405 Freeway), in Costa Mesa and catch a free shuttle to the Fair from 10 a.m.-1 a.m.
FOOD EXHIBITS, TASTINGS & DEMONSTRATIONS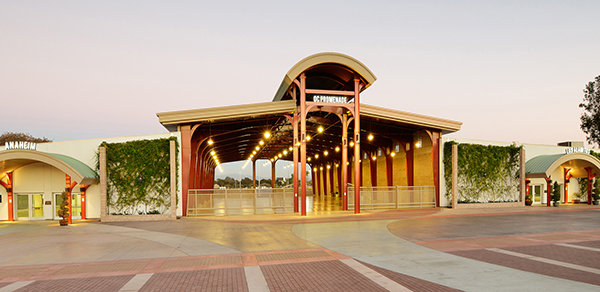 This year's theme, "Farm, Fresh, Fun" emphasizes food that is literally farm to fork and artisan crafted. Expect fare that is locally made in small batches and available in different culinary exhibits and demonstrations this year. Though there are several exhibits unrelated to food, here's what and who you'll find in the OC Promenade Culinary Arts Building:
Pies: Karen Uyeda is a passionate fair attendee and previous OC Fair Blue-Ribbon Winner for her pies. She launched Sweetcie Pie and her business has flourished. Learn her pie-making secrets on July 19 at 3 p.m.
Spirits: Brian and Robin Christenson launched the very first craft distillery in Orange County, Blinking Owl. These locavores and grain nerds will teach how they mill, ferment and distill barrel aged whisky and more. They have a great local story to tell on July 22 at 3 p.m.
Paella: Junior chef Isabella Vegh is a member of 4-H and a previous triple Best of Class Winner in Preserved Foods and Winner of the Youth Spam Competition. Isabella will demonstrate how to make authentic Paella Valencia on July 20 at 5 p.m.
Butchery: Chef Noah Blom of ARC Restaurant, Restaurant Marin and The Guild will give a primal cut butchery demonstration and he'll share his best tips on Aug. 2 at 5 p.m.
Meat: Executive chef Melissa Cortina, of Bavette's Meats and Provisions, attended Le Cordon Bleu in Paris, and learned at the hands of master Italian butchers. She will answer questions about buying, using and preparing meat on Aug. 13 at 5 p.m.
Bread: Melissa Cortina of Bavette's Meats and Provisions will be joined by former Blue Man Group performer Don Kohler who will demonstrate how to make unique Icelandic geothermal rye bread in your home kitchen. Kohler is now star of Hallmark Channel's The Home & Family Show. See this demonstration on Aug. 13 at 5 p.m.
Beer: The first and only non-GMO, vegan-friendly beer, Dr. Jekyll's Craft Beer, is produced by Tom Costa, an avid home brewer of more than 25 years. Learn how to bring craft beer into the kitchen and onto the plate on Aug. 6 at 3 p.m.
Fermented food: Fairgoers can learn about the health benefits of lacto-fermentation from Dr. Yasmine Mason of Fermentation Farm, and try a free sample of kombucha. Daily.
Seasonal: Chef Ernie Alvarado of Urbana is bringing farm fresh Mexican-inspired dishes to the table. Find out how he has mastered the use of seasonal produce in his creations on July 22 at 7 p.m.
Sweets: Chef Stéphane Tréand will showcase his incredible talents by creating a highly technical sugar sculptor showpiece on July 30 at 5 p.m.
Produce: Robert Schueller of Melissa's Produce is known as the Produce Guru. Become one of his followers and increase your knowledge of fruit and vegetables on July 20 at 2 and 4 p.m.
For a full list of culinary exhibits, click here.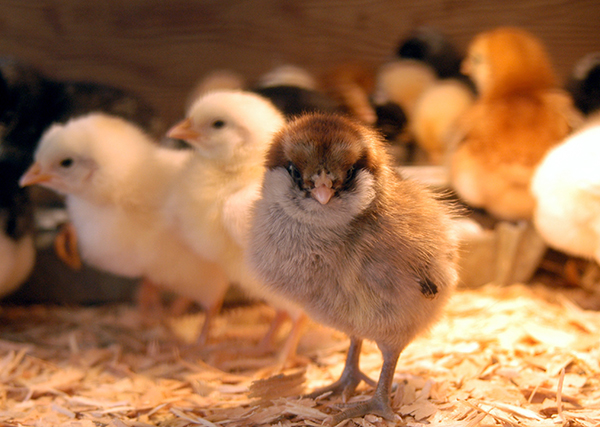 The Fair is open Wednesday-Sunday. Tickets are available for purchase online or from the on-site box office during limited hours. Free parking and shuttle service are available on Saturdays and Sundays from the Experian parking structure located off the Bristol St. exit of the 405 freeway. M-Tu Closed, Wed-F noon-midnight, Sat.-Sun. 10 a.m.-midnight. $7-$14, 5 and younger free; $10 (cash only) for parking. 88 Fair Drive, Costa Mesa, 714.708.1500. ocfair.com