Orange County's Coolest Coastal Hikes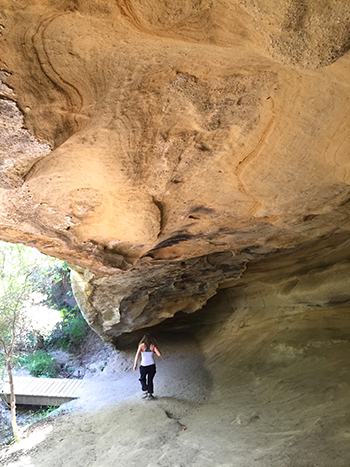 Whether you're seeking beautiful views, a challenging trail or a cool ocean breeze, we've lined up the coolest coastal hikes in Orange County.
By Joseph Elliot
Laguna Beach offers some of the county's best trails—and they usually come with ocean breezes.
There are great nature walks along the Orange County coast. Bolsa Chica Ecological Reserve and Upper Newport Bay Nature Preserve come to mind. Elevation gain: near zero. Difficulty: Easiest. You could spend all day slogging up Santiago Peak, aka Saddleback Mountain, the county's high point at 5,689 feet–but you'd never want to do that in the summer. Elevation gain: 4,000 feet. Difficulty: Difficult.
Then there are the county's ideal hikes. All in the Laguna Beach area, these offer elevation gain and points of interest, can be done in a morning and, given their proximity to the coast, are also the coolest–literally.
Find the Valido, Car Wreck and Dripping Cave trails in Aliso and Wood Canyons Wilderness Park; the Laurel Canyon-Willow Canyon Loop in Laguna Coast Wilderness Park; and Moro Canyon in Crystal Cove State Park.
For those with limited time, the Valido Trail –easily accessed, a mile round trip and doable in well under an hour–is the county's best. Park on Valido Drive in Laguna Beach near West Street; the trailhead is between two residences. Elevation gain is 400 feet; the trail gets steeper as it goes. Cross a creek near the start; turn left at Aliso Summit Trail; and mount the log steps to the summit, where you find a bench and incredible coastal vistas. Retrace your steps.
Car Wreck Trail is far more challenging. Even the drive to trailhead offers hefty vertical gain! Park at Alta Laguna Park, aka Top of the World, amid architecturally stunning homes. As that name suggests, this hike, unlike most, starts at the top, and it's far easier on the way down than the way back up. It's steep.
Begin along West Ridge Trail; turn right at Mathis Canyon Trail; and turn right on Car Wreck and descend. Near the bottom are the ruins of a vehicle, variously identified as a 1946 Dodge and a 1947 Volvo, embedded just off the trail, and it is mind-boggling to imagine how it got there. Head back up. Distance: About 3 miles round trip.
Or turn left onto Oak Grove Trail, then right onto Dripping Cave Trail, both easy, and add another 2 miles round trip. They lead past smaller caves to Dripping Cave, or Robbers Cave, used by thieves, says a sign, after robbing stages or stealing livestock.
The 3.5-mile Laurel Canyon-Willow Canyon Loop begins at a small lot on the west side of Laguna Canyon Road south of El Toro Road. The trail leads past old sycamores and sandstone outcroppings, scenes that might have attracted the early California Impressionists, to the top of 50-foot Laurel Canyon Falls–unfortunately seasonal–which out and back makes for a pleasant 1.5-mile jaunt. To continue, turn left onto the Laguna Spur, right onto Willow Canyon Trail and up to Bommer Ridge; glimpse the ocean in one direction and take in Santiago Peak, big as day, in the other. Descend via the Willow Canyon fire road.
All trails at Crystal Cove State Park, north of Laguna Beach, offer spectacular ocean views. Take El Moro Canyon Road from Coast Highway to the ranger station. Easiest is the 3-mile Moro Canyon out-and-back.