Ole Henriksen: Skin Guru To The Stars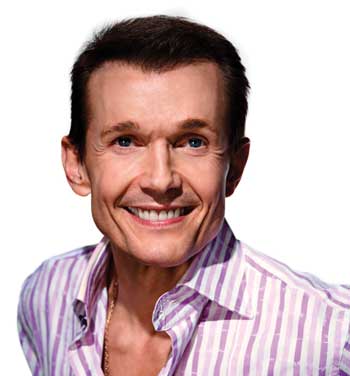 Get the 411 on skin guru to the stars, Ole Henriksen's most requested treatments by Hollywood's A-list faces. Treat yourself to this fun idea for the best in LA.
Not for nothing is Ole Henriksen (pronounced "ooh-lah") called the skin guru to the stars. The Denmark native has been tending some of Hollywood's most famous faces and bods since he opened his first spa in Beverly Hills in 1975. He offered us the scoop on the treatments most requested by celebs at his West Hollywood haven, Ole Henriksen Face/Body Spa (8622 Sunset Blvd., West Hollywood, 310.854.7700).
THE TREATMENT:
Hydrotherapy Soak
THE STAR CLIENTS:
Ellen DeGeneres, Portia de Rossi
"This bathing ritual sets the tone for the start of our guests' experience. It's so important to master the
senses immediately upon guests' arrival."
THE TREATMENT:
Hot Stone and Deep Tissue Combination Massage
THE STAR CLIENTS:
Katy Perry, Hugh Jackman
"This treatment required very intensive training, and it's traditionally a difficult modality to master. We use 54 hot stones uniquely used and placed on the body."
THE TREATMENT:
Ole Henriksen Head to Toe Spa Ritual
THE STAR CLIENTS:
Kate Beckinsale, Paris Hilton
"Everyone loves to feel clean with baby-fresh skin. Think of this treatment as a nurturing facial but over your entire body. [It's meant] not only to help with circulation and relaxation but also to detoxify and to give your entire body that beautiful glow."
THE TREATMENT:
8-Step Purifying Complexion Treatment
THE STAR CLIENTS:
Charlize Theron, Lisa Kudrow
"Based on my own personal experience with cystic acne, this treatment targets just that. It's also highly customizable because guests may be experiencing a multitude of concerns."
THE TREATMENT:
Advanced Hydra-Dermabrasion Experience
THE STAR CLIENTS:
Daniel Craig, Amy Adams, Mark Wahlberg, Shakira
"This treatment is a step above IPL for skin rejuvenation. I am a huge advocate for proper exfoliation. The diamond tip [microdermabrasion wand] really rejuvenates the skin and allows for deep penetration of our skin-care products."