Take Your Next Pilates Class From World Class Instructors At BASI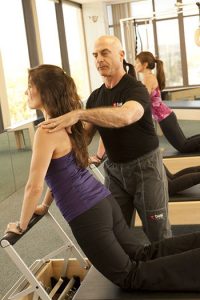 BASI pilates studio in Costa Mesa offers the ultimate pilates experience, complete with BASI-trained instructors and state-of-the-art equipment all in a luxurious space.
It's not often that one can train with the most recognized teacher in the pilates community and BASI Pilates is offering just that. Pilates instructors throughout the country train with internationally recognized teacher Rael Isacowitz, who has undoubtedly left a personal stamp on the practice of pilates over the past three decades through several published works, a DVD series and as a regular contributor to industry publications. He is a highly sought-after teacher and lecturer at pilates forums around the world and recently opened a new international headquarters in Costa Mesa.
The gorgeous 9,000 sq. ft. space allows pilates enthusiasts and professionals to train with Isacowitz and some of the most elite instructors from around the globe, as the studio offers mat and reformer classes as well as workshops and training courses. The studio features spa-like showers, relaxation room, clothing boutique, kitchen, wrap around outdoor balcony and learning library. Check website for class schedule. $15-$30 for mat or reformer classes; $85 and up for private sessions. 3800 Bristol St., Costa Mesa, 949.574.1343. basistudio.com