Top Orange County Chocolate Shops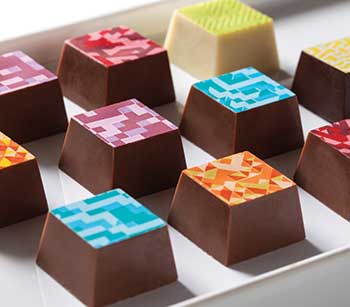 From drinkable delights to pure chocolate straight from the bean, here's where we're getting our haute chocolate fix in Orange County.
ChocXO
Touting "artisan chocolate, sophisticated technology," ChocXO in Irvine is the county's only chocolate factory making chocolate from the bean, which it does one small batch at a time using genetically pure beans. The guided factory tours are fascinating; find superb truffles, caramels, liquid chocolate and chocolate barks in the retail store. 9461 Irvine Center Dr, Irvine, 949.825.5781.
Valenza Chocolatier
Our favorite local artisan products at the Hood Market—a tiny retail space inside the Hood Kitchen Space—are the handcrafted chocolates by Valenza Chocolatier; they pay homage to the Italian heritage of founder Amy Jo Pedone, certified master chocolatier. 350 Clinton St., Costa Mesa, 714.549.2430.
Dark180
Think of Dark180, at the Anaheim Packing House, as a chocolate alchemist proffering what has to be the world's best hot chocolate. Deliriously delectable cups are made with organic whole milk or, even better, organic almond milk. Hot day? Cool off with frozen hot chocolate or hot-chocolate affogato. 440 S Anaheim Blvd, Anaheim, 949.554.5414.