Creamistry Brings the Future of Ice Cream to Irvine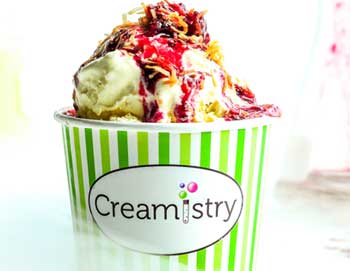 Take your dessert to the next level at Creamistry in Irvine. A blast of liquid nitrogen flash freezes ingredients in seconds, giving you pure edible science in ice cream form.
Creamistry's made-to-order ice cream just may be the freshest and creamiest ice cream in town. Using premium ingredients, including Straus cream, with organic and non-GMO soy options, Creamistry's creations are only limited by your imagination. With roughly 50 base flavors and more than 50 mix-ins and toppings, the flavor combinations are endless . For those that can't decide, ten signature flavors are available including vanilla bean with candied bacon, cookie butter, salted caramel, chocolate hazelnut and an array of Asian-inspired flavors such as Thai iced tea, red-bean and matcha green tea. Milkshakes along with ice cream cookie sandwiches are available as well. Pair your favorite ice cream flavors with a variety of cookies, including chocolate chip, macadamia and sugar.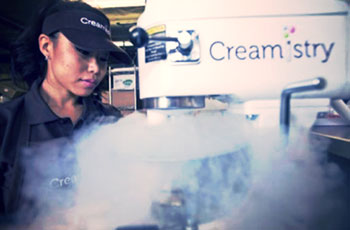 Co-owner Jay Yim, whose family has been in the bakery and sweets business for generations, first encountered the concept of liquid nitrogen ice cream in Korea nearly a decade ago. Smitten by the cool factor of liquid nitrogen smoke, Yim knew that customers would get a kick out of watching the process of their concoctions come to life. Mobile carts can bring cool treats to your next private party or special event too, delighting and entertaining your guests. 3972 Barranca Parkway, Irvine, 949.777.6627. creamistry.com