Celebrity Interview: The JoJo Bros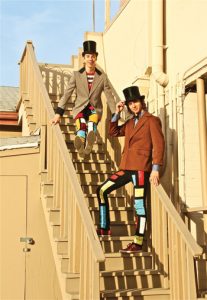 These brothers are not your average Joes—both are world-class surfers and professional artists who are taking on the world, bro-style, in their trademark top hats, Mondrian-inspired pants and wetsuits and relentless enthusiasm.
The JoJo Bros—Joe Aaron, 22, and Jordan Thomas, 19, brothers who go by their first and middle names—surf by morning, paint by day, make music by night. They had their first gallery show at ages 12 and 9. Their art, featured last year at the Philharmonic House of Design and at the Ritz-Carlton, Laguna Niguel, graces canvas, murals and surfboards. Joe placed ninth in the 2008 world longboard contest and was voted the O.C. Register's Longboard Surfer of the Year in 2009 and 2010; he makes surfboards under the logo JoeMotion. The pair's music efforts began when Jordan literally painted himself into a corner, leaving him with the Garage Band app for six hours while the floor stain dried.
Do the JoJo Bros live together?
Joe: We do. Having two artists working in the same studio, we inspire each other. And we do a lot of the work together.
Where can we see your art?
Jordan: Anytime at Wahoo's in Huntington Beach, and also The Point in Dana Point. We do an art show every third Saturday at the Point. Wahoo's had us paint an old surfboard, then said, "Why don't you do this wall above the cash register?" We both painted it. It's a 10-foot-wide mural of a VW van with a wave coming in and guys on the beach, and they wanted us to include Primo Beer.
You collaborate.
Joe: We both have our own styles, but sometimes people want us to blend them on one painting. My own paintings are Mondrian-inspired, bright colors and a surf theme. Jordan does hummingbirds—when he was younger, he saved a hummingbird caught in a bird of paradise.
Jordan: I have three basic styles. The hummingbird series is contemporary realism—the background is abstract, the bird is realist; it pops off the painting. Light and airy, calming and joyful. There are abstract wavescapes with glassy days, cool clouds and paradise dream waves. I also do indoor-outdoor paintings, paintings that can be hung outdoors, perfect for the California lifestyle.
How else do the worlds of surfing and art mix for you?
Joe: My JoeMotion surfboards! The boards incorporate my artwork—it's also in my signature fins. In fact, you can put any piece of art on my boards, but most people want ours, the exact piece of canvas art replicated on the board.
What art did you show at the Ritz-Carlton?
We had six pieces there. Jordan had hummingbird paintings, I had surf-theme-block-contemporary. My dad, who does all our photos and videos, used to work there as a valet—20 years later, his sons have their art there! His great-grandfather was a sculptor from Austria who did the sculptures at Rice University in Texas.
Tell us about your big surf win.
It was at San Onofre. I was 17, youngest in the contest. I had to do two preliminaries to even get in, and I beat the reigning world champion to come in ninth.
What are your favorite beaches?
For surfing, Doheny State Beach in Dana Point. I can walk there or ride my bike. That's where Jordan and I learned. If we're not surfing, we'll go to Laguna Beach—to Crescent Bay. We bodysurf there. The water is clean and clear, and it's got that crescent-type bay. Laguna is kind of the artists' town, too!
Where do you take out-of-town visitors?
Dana Point Harbor. The Ocean Institute is there, the tall ship Pilgrim is there … the ocean is there! We love that harbor feel, the feel of the O.C. coast. You can whale-watch. I also like San Clemente Pier and the area leading down to it.
You wear some interesting outfits. Where do you like to shop?
We love Joyride: Vintage for Men in Old Towne Orange—we get our top hats there. Most are from the 1920s, but Jordan's is from the late 1800s, made from real beaver skin. He has a photo of the original owner with it! Top hats and block pants are our trademark. We do the artwork on old jeans; our wet suits are painted in the same pattern. We surf in them, we paint in them. For finding the old jeans to paint, we also like thrift stores!
DETAILS
Dana Point Harbor 34624 Golden Lantern St., Dana Point
Crescent Bay Beach below Cliff Drive, Laguna Beach
Doheny State Beach 25300 Dana Point Harbor Drive, Dana Point
JoeMotion Surfboards 949.842.7600, joemotion.com
Joyride 133 W. Chapman Ave., Orange, 714.771.2118
Ocean Institute 24200 Dana Point Harbor Drive, Dana Point, 949.496.2274
San Clemente Pier 620 Avenida del Mar, San Clemente, 949.361.8219
The Point Restaurant and Bar 34085 Pacific Coast Hwy., Dana Point, 949.464.5700
Wahoo's Fish Tacos 7891 Warner Ave., Huntington Beach, 714.847.0555