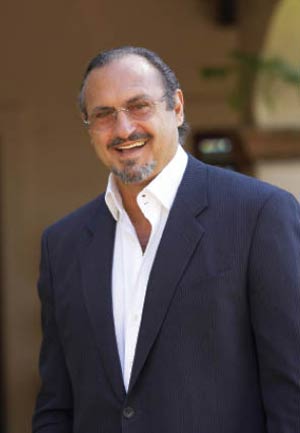 Italian-born Antonio Cagnolo delivers the taste of his homeland at four flavorful foodie favorites in and around South Coast Plaza.
Antonio Cagnolo, 61, was born in a small town of 500 in northwestern Italy and worked in Paris and Monte Carlo before moving to California in 1975. He opened elegant Antonello Ristorante in Santa Ana 1979. Its menu and frescoes have earned Antonello national acclaim and consistent top honors locally; patrons have included Madonna, President Clinton, Magic Johnson and Japanese Prime Minister Ryutaro Hashimoto. The influence of his mother, Mamma Pina, is present throughout the menu. Cagnolo also operates Quattro Caffé, Nello Cucina and Antonello Espresso Bar at South Coast Plaza. He married in 2010. He and wife Fiorella had a baby in June; the family lives in Newport Beach.
Who were your greatest culinary influences?
My mother, Mamma Pina. We grew up in a very humble house–not much money–but the food was always the main thing with my family. Lettuce, tomato, garlic, potato–we got everything fresh from the garden, just picked. We grew up with the right taste, the right flavor in your mouth. My grandfather had a butcher shop. We would get always the best meat and the best way to prepare it.
At what age did you decide on a culinary career?
When I was 11 years old, I used to help a friend of mine in a restaurant. We would leave at 5 in the morning, drive two hours in a little 500 Fiat to get there, up in a mountain, and we'd work all day long. I was washing dishes. They wanted me to start serving a little and found out I was good–so then I was serving and washing dishes after! This was on weekends; I was in school.
Which menu item comes closest to the meals of your youth?
Ravioli di Mamma Pina. My mother made it on the weekends from scratch. It was like a feast!
What dish at Antonello is the most contemporary?
The osso buco. I use a Cajun spice that gives it a little bite. I didn't like osso buco until I had it this way at the house of a friend from Louisiana. Incredible flavor.
What one dish would you recommend above all others?
Osso buco with risotto milanese. Incredible risotto, with saffron.
Where in O.C. Might you eat if it were your last meal on earth?
Bluefin. I like sushi. My wife orders crunchy roll with thin-sliced tuna sushi on top. I discovered jalapeño stuffed with spicy tuna and cream cheese, in a fryer like tempura. Always sea urchin, fresh uni. We also serve uni at Antonello twice a week–divers bring it to us live. With pasta, risotto or crostini rubbed with garlic and extra-virgin olive oil–it's like heaven.
Where do you shop for clothes?
It's difficult because of my build. But I like Façonnable at South Coast Plaza. I shopped at Façonnable when I worked in Monte Carlo. I'd go into Nice; it was like a candy store–very colorful, very crisp shirts and pants.
And your wife?
Fiorella is the perfect shopper–she goes to Marshalls and Ross, and that's it! She likes to get a bargain. Plus, we go to Italy a lot, so we shop there. When we have guests from Italy, we take them to Ross and Marshalls and they go home with a luggage-full–they come home with name brands, they buy gifts, everybody's happy! My mother walks to Ross to find things for my sisters and niece for $2, $3, $4. They can't believe it, the best of the best! We walk around South Coast Plaza, but all the Italian brands are in Italy. Abercrombie & Fitch they can't find in Italy.
Where else do you take your guests from Italy?
We get in the car and go to Balboa Island, to the little stores, to the ferry… and then they get blown away when they see the boats and the homes. I take them to the beach in Newport Beach to see the beautiful sand, then down the coast to Laguna Beach and back for dinner at the Beachcomber in Newport Coast. We have tuna sushi tacos and watch the sunset. That's my favorite.
DETAILS
Antonello Ristorante 3800 South Plaza Drive, Santa Ana, 714.751.7153. antonello.com
The Beachcomber 15 Crystal Cove, Newport Beach, 949.376-6900. thebeachcombercafe.com
Bluefin Japanese Cuisine 7952 E. Pacific Coast Hwy., Newport Beach, 949.715.7373. bluefinbyabe.com
South Coast Plaza 3333 Bristol St., Costa Mesa, 714.435.9600. southcoastplaza.com
Façonnable 3333 Bristol St., Costa Mesa, 714.754.1915
Abercrombie & Fitch 3333 Bristol St., Costa Mesa, 714.668.9017
Ross Dress for Less 289 E. 17th Sth., Costa Mesa, 949.631.1887; 3900 S. Bristol St., Santa Ana, 714.546.2600 (and eight other O.C. locations)
Marshalls Metro Pointe, 901 S. Coast Drive, Costa Mesa, 714.751.3853