7 Top Things To Do In Orange County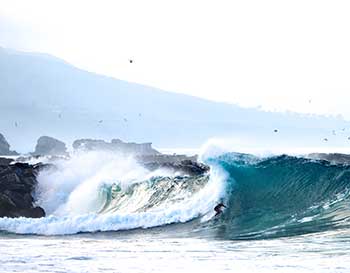 From beaches to theme parks to museums to performing arts, here are seven top things to do in Orange County for your bucket list.
Orange County Beaches
Orange County's coast is among the world's most beautiful. Half a dozen cities—from Dana Point and San Clemente at the south end to Seal Beach in the north—offer an amazing array of beach experiences, from intimate coves to sandy expanses, some visible from Coast Highway, others hidden behind cliffs. Laguna Beach boasts distinctive beaches such as Victoria Beach, which has a tower fit for Rapunzel; accessing Thousand Steps Beach offers as much exercise as a StairMaster. Huntington Beach offers two of California's cleanest beaches; Huntington State Beach hosts the U.S. Open of Surfing. The Wedge in Newport Beach is a world-renowned bodysurfing mecca; explore tide pools at photogenic Little Corona Beach in Corona del Mar.
Orange County Galleries
Traditional art, contemporary art, photography, sculpture, California Impressionism, Native American pottery— the renowned galleries of Laguna Beach run the gamut. Highly recommended stops include Peter Blake Gallery for new works, Dawson Cole Fine Art for sculpture, and Wyland Galleries for marine art. An arts haven since its inception, the seaside town has been attracting artists and collectors since the late 19th century. In 1918, artist Edgar Payne opened a gallery that would ultimately become the Laguna Art Museum. California impressionism was the pre-eminent genre, but today, stylistic diversity rules, and the contemporary art gets edgier all the time. Summer art festivals attract visitors from all over the world. Most Laguna galleries participate in the monthly First Thursdays Art Walk.
Segerstrom Center for the Arts
The center offers the very best in the performing arts. This season, Segerstrom Hall, its largest venue, offers the world premiere of American Ballet Theatre's new Sleeping Beauty and the West Coast premiere of Eifman Ballet of St. Petersburg's Tender Is the Night, as well as Broadway shows including Kinky Boots, Motown the Musical and a new production of The Phantom of the Opera. The Cesar Pelli-designed Renée and Henry Segerstrom Concert Hall is home to the Pacific Symphony, whose music director, Carl St.Clair, marks his 25th season; touring orchestras, including both the London Philharmonic and London Symphony Orchestra, presented by the Philharmonic Society of Orange County; and John Alexander's Pacific Chorale. There's jazz in both halls. More intimate presentations—cabaret and chamber music—take place in Founders Hall and Samueli Theater. 600 Town Center Drive, Costa Mesa, 714.556.2787. scfta.org
Disneyland Resort
"Disneyland will never be completed … as long as there is imagination left in the world," Walt Disney said when he opened Disneyland, the original Disney theme park, in 1955. Visitors continue to explore its eight lands, from Frontierland to Tomorrowland, and iconic landmarks such as the Matterhorn, Sleeping Beauty's castle and Haunted Mansion beckon even as new attractions debut. Sister park Disney California Adventure zooms into focus of late with an expansion featuring Cars Land, inspired by the Disney-Pixar film Cars, and Buena Vista Street, inspired by early Disney history. The spectacular World of Color light-and-water show wows nightly; the thrills never end at California Screamin' and Twilight Zone Tower of Terror. Downtown Disney, between the two parks, is a lively, admission-free promenade with shops, cafés and entertainment venues such as House of Blues. 1313 S. Disneyland Drive, Anaheim, 714.781.4565. disneyland.com
Bowers Museum
Blockbuster exhibitions at the Bowers have been developed with venerated venues around the world, such as the Shanghai and British museums. This year, the venue presents shows including Heavenly Horses: Two Thousand Years of Chinese and Japanese Equine Art and Adams, Curtis, and Weston: Photographers of the American West. The county's largest museum is also its most diverse. More than 130,000 artifacts and works of art make up collections of Native American art, pre-Columbian art, Asian art, art of the Pacific, art of Africa and Orange County history. Ongoing displays include Spirits and Headhunters: Art of the Pacific Islands and Ancient Arts of China: A 5,000-Year Legacy. The world's indigenous peoples, and cultural art, remain the focus, yet many consider the California-themed exhibitions to be the highlight. Bowers Kidseum is nearby. 2002 N. Main St., Santa Ana, 714.567.3600. bowers.org
Mission San Juan Capistrano
Listen to the mission bells. View museum exhibits. Take any of a number of tours, including audio tours downloadable to your smartphone. The jewel of the California missions, the birthplace of Orange County, was founded by Spanish padres in 1776, the seventh of the state's 21 missions. The Great Stone Church was begun in 1796, completed in 1806 and destroyed by an earthquake in 1812. The Serra Chapel is the oldest church in California. You can visit all of those sites, as well as the padres' quarters, soldiers' barracks and cemetery, and wander about 10 acres of lush gardens and fountains. A few descendants of the indigenous Juaneño tribe still work at the mission. 26801 Ortega Hwy., San Juan Capistrano, 949.234.1300. missionsjc.com
Orange County Golf Courses
Orange County ranks high on the national scene as a golf destination. Entire vacations can be planned around a single day on the greens at one of its immaculately designed and groomed public courses, yet the number of excellent clubs in the county would allow a golfer to play daily for a month and never play the same course twice. Some clubs feature two courses. Several offer fine dining. Many offer fabulous views. Pelican Hill Golf Club boasts two courses, fine dining and unforgettable ocean views. The terrain at Strawberry Farms Golf Club, seen here, reveals rolling greens, a picturesque canyon, wetland vistas, O.C.'s longest hole—and a barn and windmill. Virtually all can provide fodder for stories that can be retold for a lifetime. Check out top Orange County Golf Courses.