Ditch your boring workout routines this fall and get in shape before the holiday season with Afterburn Training at The 12.
By Laura Okey
Orange County is a front-runner when it comes to staying in shape, especially considering our year-round beach weather and Real Housewives-of-Orange-County-type reputation. With so many options to choose from, fitness is no longer limited to boring gym sessions or running on a treadmill. Like many of you, cardio is my usual go-to calorie burning activity, but there are some things that a StairMaster just can't do.
The 12 offers signature Afterburn group classes that are designed for members to experience the benefits (and results) of personal training within the dynamic energy of a group. Afterburn Training combines body part specific, multi-directional movements utilizing free weights, resistance bands, cardio equipment and body weight with high intensity intervals.
And they mean it when they say high intensity.
Despite my serious lack of coordination and inability to initially execute movements that are taught in fitness classes, I am always up for a new challenge. Knowing how foolish I was going to look, it's safe to say I was stepping deeply outside of my comfort zone when I began Afterburn Training at The 12.
As I entered my first class, I looked around to see a large, open gym, and five stations labeled with bright markers on the mirrored-walls. Each station listed three movements or exercises to be completed, few of which I knew or understood. Class began with the instructor demonstrating every task before us. Being the type that learns by doing rather than watching, I forgot almost everything as I progressed through each station. The instructor was quick to assist me, correct my form and guide me to ensure I was maximizing my workout. Rather than feeling foolish, I was encouraged and motivated. When the class ended, dripping in sweat, I was already fired up to come back. I immediately booked two weeks worth of classes right from The 12's custom phone application.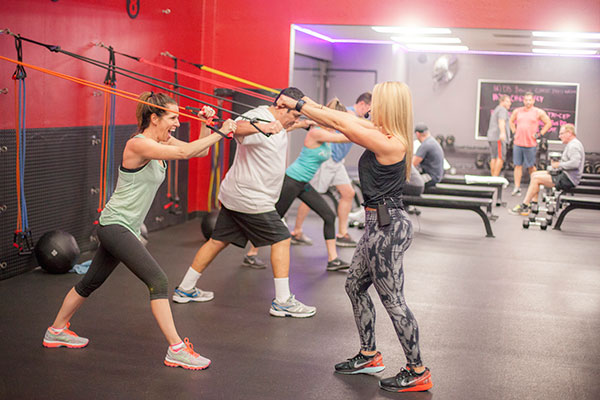 These circuit-style classes are deliberately formatted to burn maximum calorie levels in each hour-long class. Igniting the Afterburn effect, the body continues to burn excess calories up to 24 hours post workout, effectively sculpting and shaping each persons physique. In as little as two weeks I began seeing a difference in my body, my energy level and my overall strength.
The 12 has two locations in Orange County—Irvine and Costa Mesa—with a third opening in Huntington Beach January 2017. The class times are spread throughout the day so it's easy to fit into even the busiest schedules. The app even offers a wait list so that when you don't get into your preferred time slot, you're notified via text message should a spot open up. Visit the website to take advantage of three complimentary Afterburn sessions and a week of club membership. Beyond achieving results, you can expect full amenities and tools to help hold you accountable, such as body-fat percentage tests and nutrition coaching.
The 12 Locations
Irvine: 17532 Von Karman Ave., Irvine, 949.222.9052
Costa Mesa: 140 E. 17th St., Costa Mesa, 949.645.1677
Huntington Beach: 7362 Edinger Ave., Huntington Beach