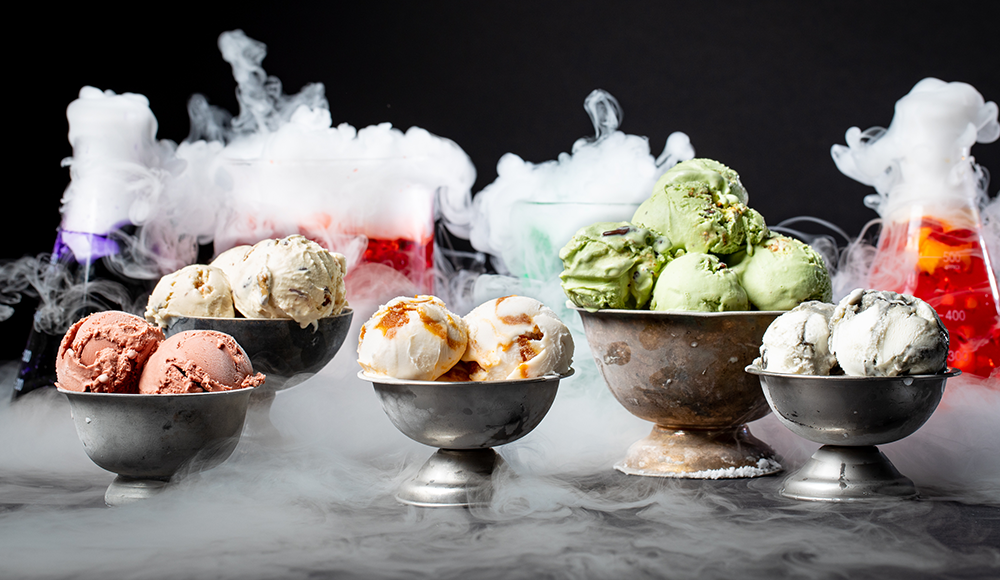 Jurassic Quest exhibit, Halloween happenings, Día de los Muertos festival and more…. Here are the top Orange County weekend events for October 31-November 3.
Edited by Whitney Lauren Han.
EVENTS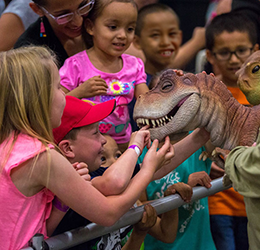 Jurassic Quest
Nov. 1-3. Bring the family to the largest exhibition of life-size, moving, museum-quality dinosaurs in North America at the OC Fair & Event Center. Expect more than 80 true-to-life-size, animatronic dinosaurs, science stations, rides, dino air mazes, fossil digs and face painting. F 3-8 p.m., Sa 9 a.m.-8 p.m., Su 9 a.m.-7 p.m. $22 adults, $22 GA for kids under 13, $36 VIP for kids under 13, $20 seniors ages 65+, $9 parking. 88 Fair Drive, Costa Mesa. jurassicquest.com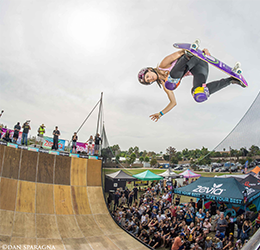 Exposure Skate Open
Nov. 2. Vans Off the Wall Skatepark gathers 200 top female skateboarders from around the globe to compete for a $65,000 prize purse at this annual women's benefit event. Highlights include a vendor village, a life-sized game zone, t-shirt and jewelry making stations, and a learn-to-skate clinic. Every spectator has a chance to win one of 100 skateboard and helmet packages. All event proceeds benefit local nonprofit Human Options. 9 a.m.-8 p.m. Free. 7471 Center Ave., Huntington Beach. exposureskate.org
HALLOWEEN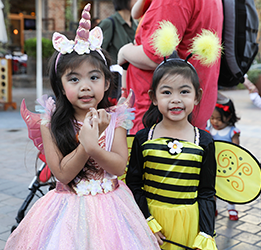 The District's Spookfest
Oct. 31. Take a stroll through the "Spooky" District at Tustin Legacy for family-friendly fun. Kids can enjoy trick-or-treating in the Promenade, games and crafts, Halloween-themed music played by a DJ, costumed characters and photo opportunities. 5-7 p.m. Free. 2437 Park Ave., Tustin, 714.259.9090. thedistricttl.com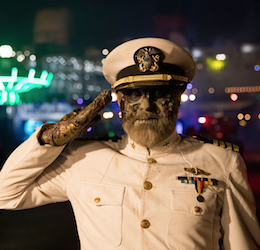 Dark Harbor
Through Nov. 2. Named one of the top 10 most haunted places on earth by Time magazine, the Queen Mary hosts an event dripping with its haunted history. Dark Harbor's resident spirits include Ringmaster, Captain, Samuel the Savage, Graceful Gale, Half-Hatch Henry, Iron Master, Scary Mary, Voodoo Priestess and Chef. See website for times. $20+. The Queen Mary, 1126 Queens Hwy., Long Beach, 562.499.1739. queenmary.com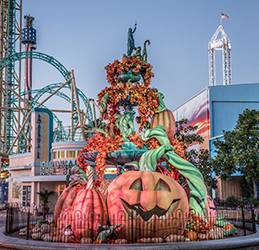 Knott's Scary Farm
Through Nov. 2. Snoopy's favorite theme park turns sinister on select nights during the Halloween season. This year brings new live shows, mazes and 1,000 monsters lurking throughout the park. Scary Farm opens 7 p.m. Admission: $95. See website for Scary Farm event nights. Knott's Berry Farm, 8039 Beach Blvd., Buena Park, 714.220.5200. knotts.com
FOOD + DRINK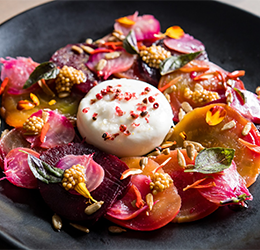 Fall Menu at Five Crowns
Now Available. Five Crowns welcomes a new fall menu by executive chef Alejandra Padilla. Experience the rich and delicate flavors of the season's most inspiring ingredients as a complement to Five Crowns' cherished classic dishes. The menu features seven new seasonal cocktails and nine new menu items, among the latter beef tenderloin carpaccio, pan-seared scallops with warm spices and lamb shank. Save room for new dessert options such as apple crumble or chocolate tart. Su-W 4:30-10 p.m., Th-Sa 4:30-11 p.m. 3801 E. Coast Hwy., Corona Del Mar, 949.717.4322. thefivecrowns.com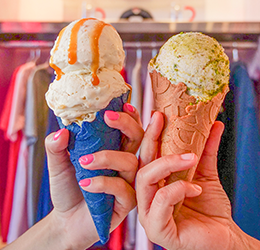 BYO-Candy and Fall Flavors at Atomic Creamery
Nov. 1-3. Atomic Creamery celebrates the season with fall flavors such as pumpkin custard, pomegranate, pecan turtle and butter beer and a BYOC (bring-your-own-candy) special where guests can bring leftover Halloween candy and have it mixed into one of Atomic's flavors. Sunday at 1 p.m., the creamery gives away 100 free scoops to ages 18+. Half go to the first 50 guests in line and the other 50 go to those who follow Atomic Creamery on Instagram (@atomiccreamery) and tag a friend in the comments. Winners claim their free ice cream between 2-4 p.m.  Fashion Island, 549 Newport Center Drive, Newport Beach, 949.630.5884. atomiccreamery.com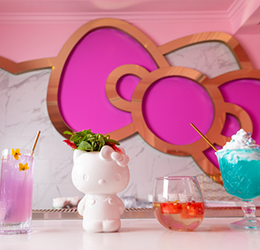 Hello Kitty's 45th Birthday
Nov. 1. Come celebrate 45 years of Hello Kitty at the brand's first and only permanent cafe in the U.S., located in Irvine Spectrum Center. Tickets includes two Hello Kitty craft cocktails (mocktails also available), Champagne toast, light bites and birthday cake. Limited seats are available (ages 21+) during different time slots from 5-10 p.m.; first-come, first-serve. $55. 860 Spectrum Center Drive, Irvine, 949.536.5357. Tickets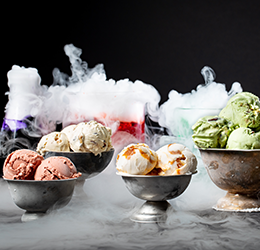 Salt & Straw's Spooktacular Series
Through Nov. 1. The Salt & Straw Spooktacular series returns to all Salt & Straw scoop shops. Featured flavors include the Great Candycopia (housemade trick-or-treat favorites folded into salted butterscotch ice cream), Creepy Crawly Critters (matcha ice cream with toffee-brittle mealworms and chocolate crickets) and vegan Mummy's Pumpkin Spiced Potion (amber leaves of rooibos with flakes of pumpkin). Open daily 10 a.m.-midnight. Downtown Disney, 1550 Disneyland Drive, E-103A, Anaheim, 714.855.4321. saltandstraw.com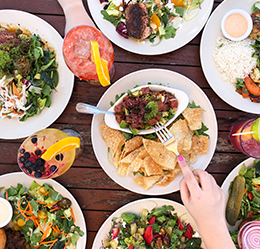 Al Fresco Menu at the Rooftop Lounge
Begins Nov. 3. Located at the La Casa Del Camino hotel, spend your evenings at the Rooftop Lounge to nosh on nine new offerings from the seasonal Al Fresco menu. Featured items include grilled branzino, lobster mac 'n' cheese, and lamb chops served with grilled vegetable salad, sweet potatoes and topped with chimichurri sauce. Su-Th 6-8:15 p.m. 1289 S. Coast Hwy., Laguna Beach, 949.497.2446. rooftoplagunabeach.com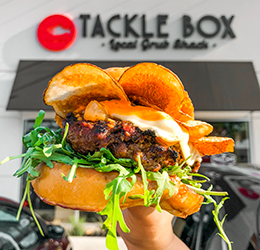 Laser Burger Pop-Up
Nov. 3. Come hungry to Tackle Box for a creative and interactive burger pop-up in collaboration with Thrillist where guests can select any burger on the menu to have customized with a laser that is able to write the guests name, a hashtag, Instagram handle, etc. on the top bun of the burger. This event serves as a way to get local foodies ready for Thrillist's 100 Course Meal event taking place in December. 11 a.m.-7 p.m. SOCO & The OC Mix, 3321 Hyland Ave., Suite E, Costa Mesa, 714.486.3301. tackleboxoc.com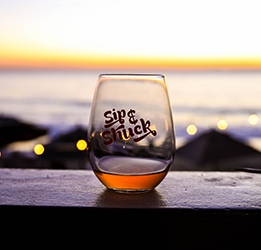 Sip and Shuck at the Deck on Laguna Beach
Nov. 3. Executive chef Rainer Schwarz and his team prepare tastes from the Deck, Driftwood  and Hendrix restaurants for the annual oyster tasting and fundraising experience. More than a dozen drink vendors participate, including Casamigos Tequila, Laguna Beach Beer Company, Veuve Clicquot, Tito's Handmade Vodka, Ketel One and Lavazza Coffee. 21+. VIP entry 1 p.m., GA 2-6 p.m. $145 pre-sale, $175 VIP. Pacific Edge Hotel, 627 Sleepy Hollow Lane, Laguna Beach, 949.494.6700. sipnshuck.com
ARTS + CULTURE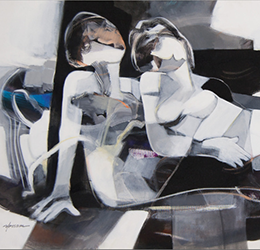 In Absence of Color
Nov. 2. A body of work featuring original black and white paintings by Iranian-born painter Hessam Abrishami is on view through December 2. The series relies on dynamic, even tumultuous compositional rhythms and stark contracts between black and white areas that excite the eye. Reception 6-9 p.m. Free. 540 S. Coast Hwy., Suite 106, Laguna Beach, 949.494.0900. avranart.com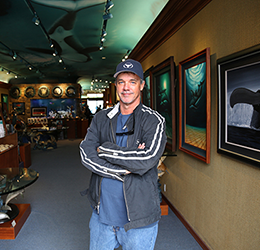 Meet Wyland at Wyland Galleries
Nov. 2. Join Wyland Galleries this Saturday to celebrate more than 40 years of creating some of the most beautiful marine-life art the world has ever seen. Be there to meet the artist Wyland as he unveils his newest artwork. 6-9 p.m. 509 S. Coast Hwy., Laguna Beach, 949.376.8000. wyland.com
Día de los Muertos Festival
Nov. 3. The Muckenthaler Cultural Center hosts its annual Día de los Muertos festival. Guests can design and submit their own ofrendas (altars) for display. The family-friendly festival features traditional Mexican food, live music and dance performances as well as booths of art and fine crafts for sale. Parents and children can participate in arts and crafts activities, many inspired by traditional Día de los Muertos decorations. Noon-4 p.m. Free. 1201 W. Malvern Ave., Fullerton, 714.738.6595. themuck.org
Photos: Jurassic Quest courtesy Jurassic Quest. Exposure Skate Open, Dan Sparagna. The District at Tustin Legacy courtesy FWD PR. Dark Harbor courtesy Victori Solutions. Knott's Scary Farm courtesy Knott's Berry Farm. Five Crowns, Anne Watson. Atomic Creamery courtesy 100inc Agency. Hello Kitty Grand Cafe, Jakob Layman. Salt & Straw courtesy Salt & Straw. The Rooftop Lounge courtesy Ajenda PR. Laser Burger Pop-Up, Kathleen O'Heron @heykatbabe on Instagram. Sip and Shuck courtesy Moxxe PR. "Before Dusk" artwork by Hessam Abrishami. Wyland courtesy Wyland Galleries. Día de los Muertos courtesy Muckenthaler Cultural Center.