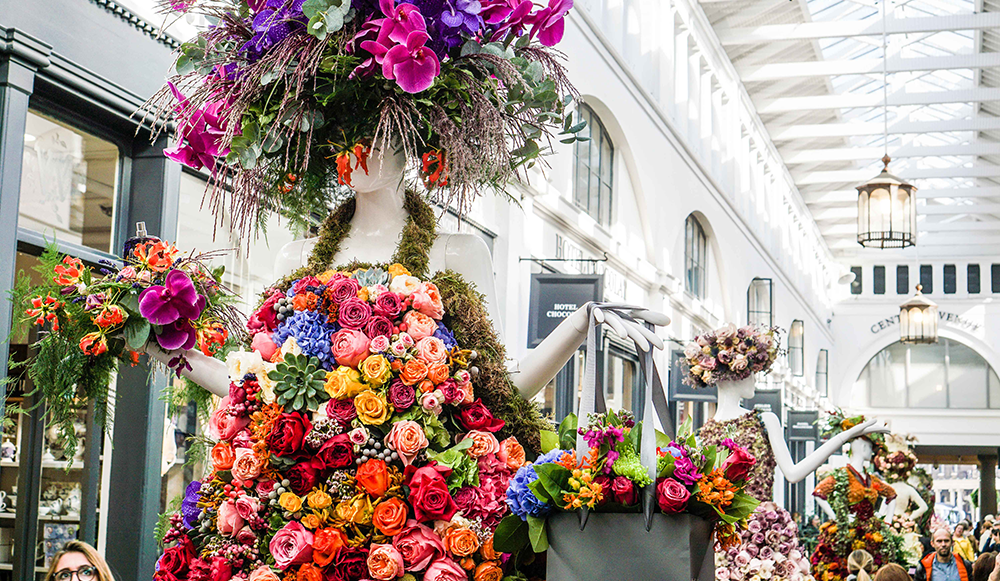 Fleurs de Villes, Savor Santa Ana, Mostly Blues Festival and more…. Here are the top Orange County weekend events for October 10-13.
Edited by Whitney Lauren Han.
EVENTS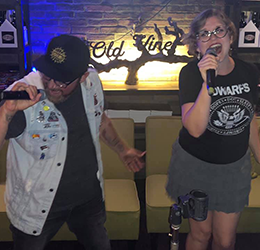 Friday Night Karaoke at Old Vine Kitchen & Bar
Oct. 11. Sing your heart out on Fridays at karaoke night with host Kevin Karaoke at Old Vine.Loosen up your vocal cords with $3 off select cocktails. 10:30 p.m.-1:30 a.m. The Camp, 2937 Bristol St., Suite A-103, Costa Mesa, 714.545.1411. oldvinekitchenbar.com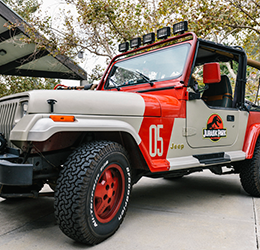 Prehistoric OC
Oct. 12. OC Parks invites families to explore the prehistoric history of Orange County, and learn about local natural and cultural resources, at Ralph B. Clark Regional Park. Look forward to fun, educational activities as well as fossils and artifacts at the family-friendly event. 10 a.m.-2 p.m. Free admission and parking. 8800 Rosecrans Ave., Buena Park, 714.973.3170. ocparks.com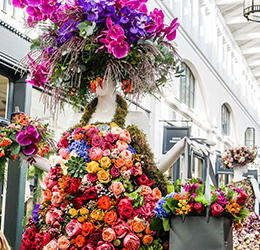 Fleurs de Villes
Through Oct. 13. Stop and smell the roses and lots of other flowers at Fleurs de Villes' floral couture exhibition—featuring 16 mannequins dressed in fresh flower ensembles by 16 leading Southern California florists and floral designers—and a flower market. Every mannequin showcases a theme; several reflect concepts from South Coast Plaza boutiques and restaurants such as Coach, Diptyque and Yellow Vase, as well as the center's community, arts and culture partners. South Coast Plaza, Jewel Court, 3333 Bristol St., Costa Mesa, 714.435.2000. southcoastplaza.com<
FOOD + DRINK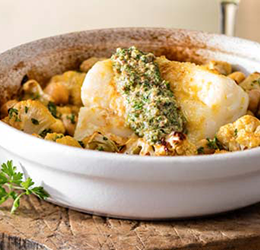 Root & Vine Menu at Seasons 52
Now Available. Seasons 52's new three-course autumn-inspired menu, available through November 18, features entrees prepared using oak-fire grilling and brick oven-roasting such as Kona-crusted prime sirloin, Mediterranean-style braised lamb and brick-oven-roasted wild cod (pictured). Also featured is a Caymus Autumn Flight for $18 highlighting three notable wines from the Caymus family that pair with the featured entrees. $32.95. South Coast Plaza, 3333 Bristol St., Costa Mesa, 714.437.5252. seasons52.com
Las Brisas' 40th Anniversary Party
Oct. 10. The cliffside restaurant invites the community and other guests to mark 40 years with an all-day happy hour, giveaways, complimentary cuisine and celebrity appearances. The reception features appetizers and live music in the bar and lounge. Happy hour 8 a.m.-10 p.m., reception 4-10 p.m. 361 Cliff Drive, Laguna Beach, 949.497.5434. lasbrisaslagunabeach.com
Porktoberfest
Oct. 11. Experience the 8th annual Porktoberfest in the Five Crowns and SideDoor's backyard and patio, a four-course, plated, pork-centric meal paired with brews from Russian River Brewing Co. Beers include Blind Pig (a hoppy American IPA), Temptation (a sour blonde ale aged in chardonnay barrels) and Pliny the Elder (a renowned American Imperial IPA). 6:30-9:30 p.m. $95. 3801 E. Coast Hwy, Corona Del Mar, 949.717.4322. Tickets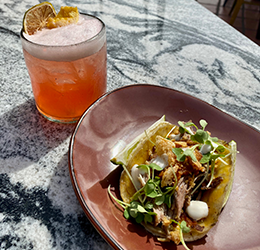 OC Fresca
Opens Oct. 12. Latin-inspired beach vibes and agua fresca-inspired cocktails arrive in San Clemente with the opening of a new bar and restaurant. Fresh-pressed juices are made daily onsite and crafted into cocktails that are made to order. The Latin-inspired menu items include 3 Little Pigs tacos, mini empanadas and pan-seared salmon. M-Sa 11 a.m.-midnight (kitchen closes nightly at 10 p.m.), Su 10 a.m.-noon. 1814 El Camino Real San Clemente. ocfresca.com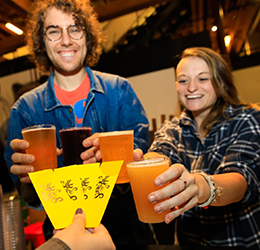 Savor Santa Ana
Oct. 12. Walk DTSA's tree-lined brick sidewalks, route map in-hand, and enjoy tastings at more than 40 downtown restaurants as well as live entertainment and a free trolley. 5:30-9:30 p.m. Five tastings for $10. Downtown Santa Ana Historic District, North Spurgeon and 4th streets, Santa Ana. savorsantaana.com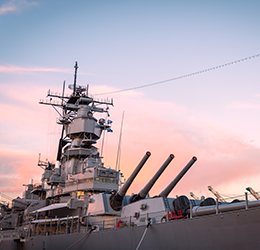 Museum Steel Beach BBQ
Oct. 13. Support veterans programming aboard the Battleship Iowa while paying homage to a U.S. Navy tradition: sailors enjoying a beach party without access to land. Enjoy an array of sweet-and-spicy barbecue fare, craft beer, wine tastings and line-dancing lessons as well as live music by Sean Oliu and the Coastline Cowboys. 4-7 p.m. 250 S. Harbor Blvd., San Pedro, 877.446.9261. pacificbattleship.com
ARTS + CULTURE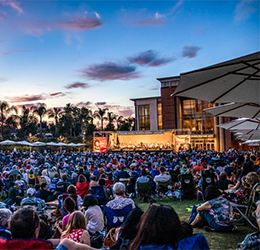 Mostly Blues Festival
Oct. 12. Pack a picnic and gather the family for an afternoon of free music and outdoor fun on the Aitken Arts Plaza. Hear live Memphis soul from Booker T (Green Onions), the Iguanas'  mix of New Orleans and Mexico sounds, and Aki Kumar's blend of Bollywood pop and blues. 2 p.m. Free; reservations preferred. Musco Center for the Arts, Chapman University, 415 N. Glassell, Orange, 844.626.8726. muscocenter.org
Photos: Old Vine Kitchen & Bar courtesy Kevin Karaoke. Prehistoric OC courtesy the ACE Agency. Fleurs de Villes courtesy Fleurs de Villes. Seasons 52 courtesy Seasons 52. Las Brisas courtesy Las Brisas Laguna Beach. Porktoberfest, Anne Watson. OC Fresca courtesy OC Fresca. Savor Santa Ana, Brian Feinzimer/Fein Image. Battleship IOWA, Mathew Martinez. Musco Center, Alissa Roseborough.