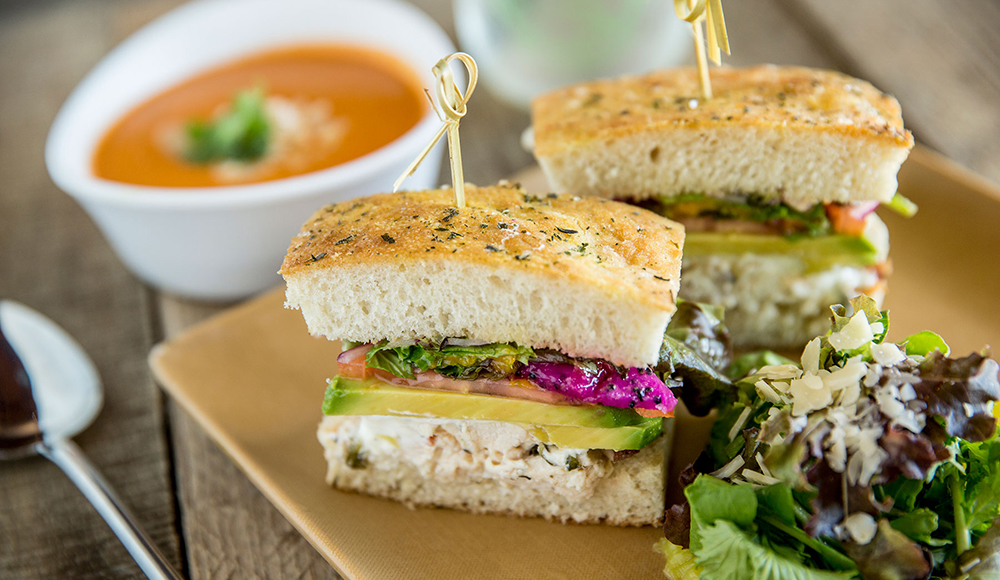 Champagne brunch cruise, Fork & Salad now open, Sawdust Art Festival and more…. Here are the top Orange County weekend events for June 27-30.
Edited by Whitney Lauren Han.
EVENTS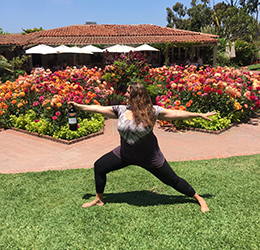 Happy Hour Yoga and Hot Yoga
June 27 and 29. Get grounded and connected at two summer yoga classes set amid the beauty of Sherman Library & Gardens. Come for the happy hour yoga Thursday to experience hatha yoga and meditation and end with a restorative Savasana pose. After class, enjoy a glass of wine and wander the gardens. On Saturday, build strength in the humid sweetly scented environment enjoyed by the orchids, bromeliads, koi fish and turtles. Bring a mat, small towel and water. Happy hour yoga: 6-8 p.m., Hot yoga: 9 a.m. Happy hour yoga: $20 members, $25 non-members; hot yoga: $15 members, $20 non-members. 2647 E. Coast Hwy., Corona del Mar, 949.673.2261. slgardens.org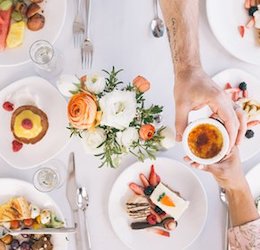 KJazz Champagne Brunch Cruise
June 29-30. Calling all brunchers and KJazz Radio fans! Hop aboard for one of the most unique and scenic brunches in California. For lovers of live jazz, this is the ultimate brunch cruise;  bountiful buffets and free flowing champagne on the water make it the ultimate relaxing repast. Hornblower Cruises & Events is also offering brunch and dinner cruises during the whole Fourth of July weekend! Boarding 11:30 a.m., cruising noon-2 p.m. $75 adults, $55 seniors ages 60+ and military, $45 children ages 5-12. 2431 W. Coast Hwy., Newport Beach, 949.650.2412. hornblower.com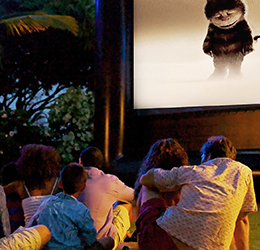 Movie Nights in the Backyard
June 29. Ditch the indoor movie theater, enjoy the blockbuster hit Captain Marvel on a 20-foot movie screen outdoors at Hotel Irvine. Feast on grilled burgers, hot dogs, farmers market salads and sides. Staple movie snacks such as ice cream, nachos, popcorn and candies are also available for purchase. You can also order up a cocktail or bottle of wine from the fully stocked alfresco bar. Doors open at 6 p.m. Movie begins at dusk. $15 adults, $65 VIP for two, free for children under five. 17900 Jamboree Road, Irvine, 888.230.4452. hotelirvine.com
FOOD + DRINK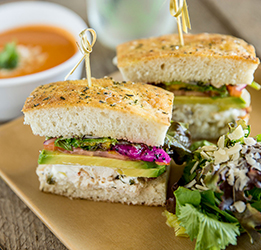 Fork & Salad
Now Open. The new Maui-inspired healthy fast-casual concept brings the aloha spirit to the mainland. The first of a number of planned locations, it touts signature salads and sandwiches using more than 50 fresh ingredients, a variety of gluten-free selections, build-your-own options and healthy beverages including house-made teas and organic kombucha. Old Towne Orange, 240 W. Chapman Ave., Orange, 657.223.9473. forkandsaladca.com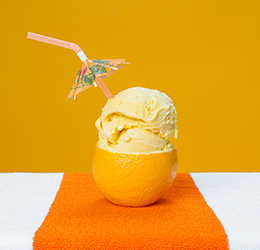 Summer of Skoop
Now Available. Nékter Juice Bar is offering four limited-edition flavors of its vegan dairy-free Skoop ice cream. Inspired by childhood summer favorites, the flavors are Monster Cookie Dough, Peanut Butter Swirl, Orange Twist and Chocolate Haze. These join perpetual favorites Chocolate Bliss and Coconut Vanilla through Sept. 3. See website for participating locations. nekterjuicebar.com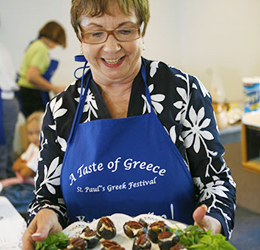 A Taste of Greece
June 28-30. Get a taste of the Greek Islands without having to leave Orange County. Enjoy traditional cuisine and pastries, Greek folk dancing lessons, a children's play zone, church tours and cooking demonstrations at the annual festival. F 5-10 p.m.; Sa noon-10 p.m.; Su noon-9 p.m. $3 GA, free for children under 10, free for seniors age 65+ on Saturday from noon-5 p.m. . St. Paul's Greek Orthodox Church, 4949 Alton Parkway, Irvine, 949.733.2366. irvinegreekfest.com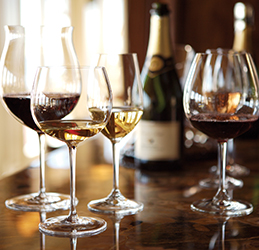 Aperture Cellars Wine Dinner
June 29. Chef Joosung Lee of the Loft welcomes winemaker Jesse Katz for a five-course dinner paired with Aperture Cellars wines. The second course of roasted duck breast with corn pudding and blackberry jus is complemented by Aperture Pinot Noir (Dry Stack Vineyard, Bennett Valle), the fourth course of roasted lamb loin, smoked polenta cake and cherry-balsamic jus with Aperture Cabernet Sauvignon (Alexander). Reception 5:30 p.m., dinner 6:15 p.m. $145. Montage Laguna Beach, 30801 Coast Hwy., Laguna Beach, 949.715.6000. montagehotels.com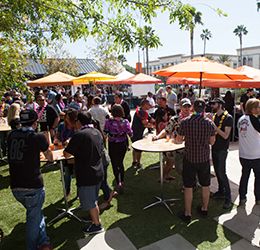 Firkfest
June 29. Nosh on nachos, sip on unlimited pours of beer at the sixth annual food fest. Expect more than 30 local craft breweries to bring 50+ beers. Local Anaheim Packing House chefs are collaborating on an international-style nacho bar; guests can purchase bites from Heritage Barbecue, The Iron Press, Adya, Urbana Mexican Gastronomy and others. Also available is Honey & Butter's acclaimed macarons. Noon-4 p.m. $45. Anaheim Packing House, 400 S. Anaheim Blvd., Anaheim. firkfest.com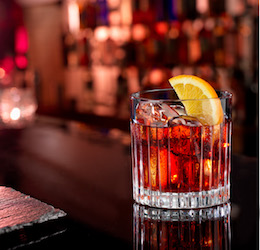 Negroni Week Party and Competition
June 30. Inspire Artistic Minds is hosting their fifth annual event featuring six talented SoCal bartenders who will prepare their signature variation of the Negroni using spirits from Blinking Owl for a judging panel of cocktail aficionados and industry leaders. Participating bartenders include Anese St. Jean (Harley), Rachel Keeney (Pie Society), Richard Henry (The Studio), Christian Zamudio (Twisted Tiki), Rafael Ramirez (Vaca) and Bradley Eston (Navy Proof). Onsite vendors include Campari with their aperol cart for spritzers and Burnt Truck for an extra special menu item. Noon-4 p.m. Open to the public, $10 donation upon entry is recommended (includes samples of each drink and vote for your favorite cocktail). Playground DTSA, 220 E. 4th St., Santa Ana, 714.560.4444. negroniweek.com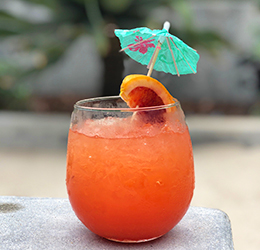 National Negroni Week at Pacific Hideaway
Through June 30. The Huntington Beach hotspot shakes things up during this year's National Negroni Week with a special twist on the classic drink for the charitable week. Created by famed bartender Casey Lyons, the slushy-style drink—"Dude Where is My Negroni?" (pictured)—features Junipero Gin, Campari, Carpano Antica Vermouth, orange juice and blood orange. A percentage of each cocktail purchase goes to the Surfrider Foundation. Kimpton Shorebreak Huntington Beach Resort, 500 Pacific Coast Hwy., Huntington Beach, 714.965.4448. pacifichideawayhb.com
ARTS + CULTURE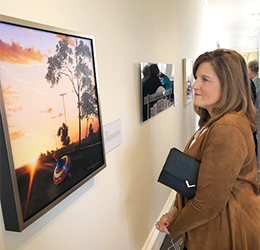 People & Places
Now Open. The Festival of Arts presents its latest off-site exhibit at the Ritz-Carlton, Laguna Niguel. The showcase features contemporary works from artists represented in the Festival's permanent art collection and selected set pieces from past Pageant of the Masters performances. The exhibition comprises an assortment of artworks selected from more than 1,000 pieces spanning 1913 to the present. Free. Open daily. One Ritz-Carlton Drive, Dana Point, 949.494.1145. foapom.com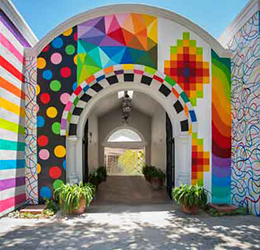 Laguna Art-A-Fair
Begins June 28. The annual juried art festival includes works by 125 artists in the media of painting, drawing, photography, digital art, mixed media, sculpture, jewelry, ceramics, glass and wood. Weekends feature live entertainment. Su-Th 10 a.m.-9 p.m., F-Sa 10 a.m.-10 p.m. (closes 6 p.m. on July 4 and Sept. 2). $7-$9. 777 Laguna Canyon Road, Laguna Beach, 949.494.4514. art-a-fair.com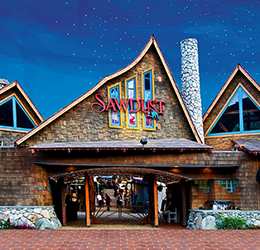 Sawdust Art Festival
Begins June 28. View works by 200 Laguna Beach artists in media including glass, painting, jewelry, ceramics, clothing and textiles, sculpture, scrimshaw and photography. Additional highlights include demos, kid's activities, outdoor cafes and live music in the eucalyptus grove. Daily 10 am-10 pm (closes 6 p.m. on July 4). $4-$9. 935 Laguna Canyon Road, Laguna Beach, 949.494.3030. sawdustartfestival.org
Moments of Reflection
Through June 30. This exhibit features more than 100 works of art by members of the Mukrim Brush Painting Club. The 35 artists present genres including landscapes, folk art, fans and folding screens. The centerpiece of the display depicts the beautiful Mt. Geum Gang in North Korea. W-Su 10 a.m.-5 p.m. 241 S. Anaheim Blvd., Anaheim, 714.956.8936. muzeo.org
Secrets and Illusions
June 30. Illusionist Ivan Amodei's new stage show features his signature storytelling, thought-provoking vignettes and audience participation. The Boston Globe says it's "magic with a message." 4 p.m. See website for ticket prices. Irvine Barclay Theatre, 4242 Campus Drive, Irvine, 949.854.4646. thebarclay.org
Photos: KJazz courtesy Hornblower Cruises & Events. Movie Nights courtesy Marguarite Clark Public Relations. Fork & Salad courtesy LargeMouth Communications. Summer of Skoop courtesy Peacock PR. A Taste of Greece courtesy Saint Paul's Greek Orthodox Church. Aperture Cellars courtesy Montage Laguna Beach. Firkfest, Geoffrey Kagy. National Negroni Week at Pacific Hideaway courtesy Crowe PR. "People & Places" courtesy Victori Solutions. Laguna Art-A-Fair courtesy Stefanee Freedman. Sawdust Art Festival courtesy DB&M Media. "Moments of Reflection" courtesy Muzeo Museum and Cultural Center. "Secrets and Illusions" courtesy Irvine Barclay Theatre.