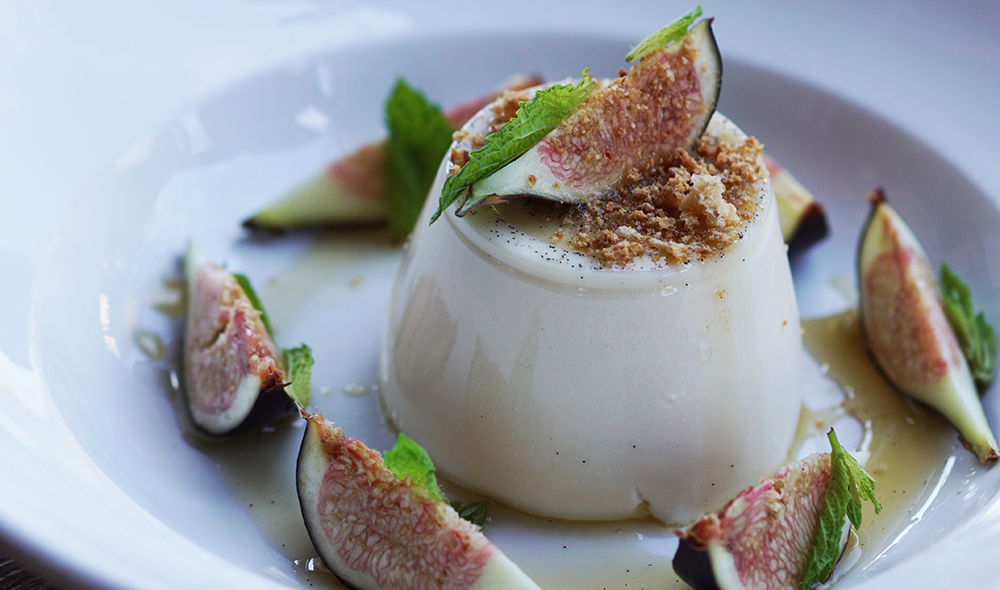 From outdoor summer festivities to libation-themed happenings, check out the top Orange County weekend events for July 12-15.
Edited by Whitney Lauren Han.
EVENTS
The Art of Mixology
July 12. Watch owners of The Blind Rabbit, Robert and Ying Adamson, create master-crafted cocktails to pair with health-conscious dishes. Guests will also learn from Fisher & Paykel Experience Center's Executive Chef Rob Wilson, Chopped champion Joe Youkhan and The Blind Rabbit's Executive Chef Peter Lai on how to create amazing dishes that will spark your taste buds. Registration 5:30 p.m., event 6-8 p.m. $65. Fisher & Paykel Experience Center, 695 Town Center Dr., Suite 180, Costa Mesa, 714.403.1980. thewholepurpose.com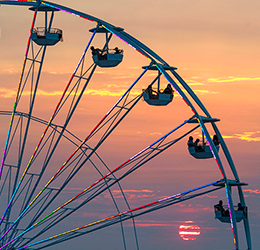 OC Fair
July 13-Aug. 12. Indulge in a little bit of deep-fried everything at the OC Fair. Bring the whole family and enjoy action sports (rodeo, BMX, pig racing), tribute bands in the Hangar, a carnival with rides, La Grande Wheel, livestock competitions, petting zoo and wine tastings. Concerts at the Pacific Amphitheatre include artists such as Earth, Wind & Fire, Hunter Hayes, Trevor Noah and more. W-F noon-midnight; Sa-Su 11 a.m.-midnight. $7-$14 adults; free for children under 5; $10 parking (cash only). 88 Fair Dr., Costa Mesa, 714.708.1500. ocfair.com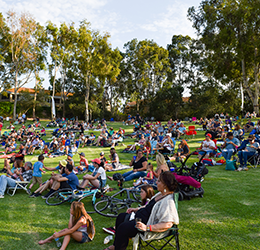 OC Parks Sunset Cinema
July 13-Sept. 14. Pack a picnic, blankets and beach chairs to enjoy this film series that brings 14 family-friendly screenings to regional parks. This evening, bring the little ones to watch the DreamWorks animated film Trolls. Food trucks will also be on-site. See website for list of films and venues. 6-10 p.m. Free entrance and parking. Mason Regional Park, 18712 University Dr., Irvine, 714.973.6865. ocparks.com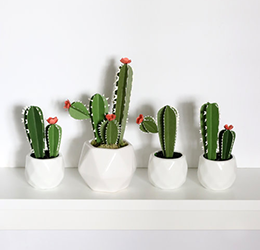 Paper Cacti & Macrame
July 14. Taught by Handmade By Sara Kim, join in on this step-by-step workshop on making paper cacti and a macrame hanging planter that will never need to be watered and lives forever. All the materials—card stock paper, scissors, glue, mini pot, moss, macrame cord and a packet of paper to take home for practice—will be supplied. 10 a.m.-noon. $65. M.Lovewell, 305 E. Fourth St., Unit 103, Santa Ana, 657.245.3553. mlovewell.com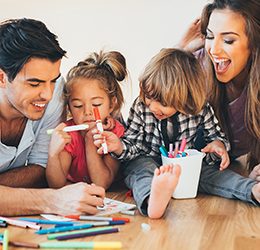 Summer of Color Celebration Art Walk
July 14. Come ready to create at this super fun, educational workshop focusing on Color Theory Study and Pollinators. The importance of pollinators for our environment will be discussed and the color wheel will be used to create beautiful wax resistant paintings using oil pastels and watercolors.  2-5 p.m. Free. MainPlace Mall, 2800 N. Main St., Santa Ana, 714.547.7800. shopmainplacemall.com

FOOD + DRINK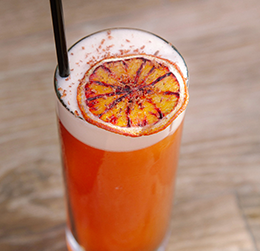 The Blind Pig Kitchen + Bar's New Summer Cocktail Menu
Now Available. Sip on Bar Manager Ryan Autry's menu of new craft cocktails that pair well with the restaurant's cuisine. New drinks include Third Time's A Charm (pictured), A Damn Good Margarita and the Mulberry Lane. Another drink called, Chip Off the Old Block, successfully marries the snack and beverage pairing, plus it's served with a mini chip and salsa as a garnish. All $12. 31431 Santa Margarita Pkwy., Rancho Santa Margarita, 949.888.0072. theblindpig.popmenu.com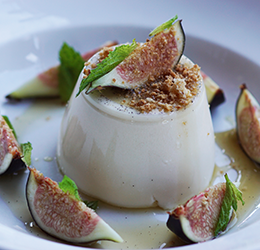 Brunos Italian Kitchen's New Summer Menu
Now Available. Dine with friends at Brunos Italian Kitchen to experience their new summer menu. Appetizers include the Summer Lettuce Salad, Local Heirloom Tomato and the Hamachi Crudo. Look forward to new pastas and entrees such as the Wild Boar Farfalle and the Swordfish. For dessert, enjoy the new Vanilla Bean & Cardamom Panna Cotta (pictured) made with honey figs and golden balsamic syrup. 210 W. Birch St., Brea, 714.257.1000. brunosbrea.com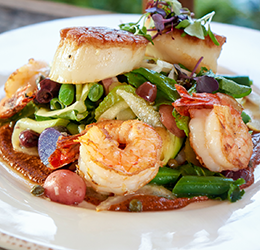 Farmhouse's New Summer Menu
Now Available. Courtesy of Owner and Executive Chef Rich Mead, indulge in several new starters and salads on the summer menu like the Grilled Strawberry Rhubarb Glazed Salmon Salad, main dishes like the Grilled Barbecue Spice Rubbed Pork Tenderloin and Peach Bourbon Sauce, and desserts like the Toasted Almond Cake. The full seasonal menu is also available in the Farmhouse bar, which features multiple new refreshing summer cocktails hand-crafted by Anthony Laborin, head of Cocktail R&D. Lunch: 11:30 a.m.-2 p.m.; Midday Menu: 2-5 p.m.; Dinner: 5 p.m.-closing. Farmhouse at Roger's Gardens, 2301 San Joaquin Hills Rd., Corona del Mar, 949.640.1415. farmhouserg.com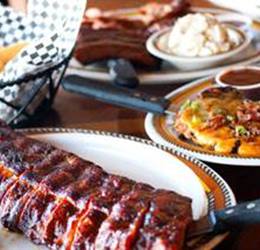 Bad to the Bone's Beer Pairing Dinner
July 12. Savor a five-course beer pairing dinner featuring brews from Left Coast Brewing Company. Enjoy a sampling of beers paired with the restaurant's signature "real-pit" barbecue, including mesquite-charred fennel salad, smoked ancho chili lamb dumplings and chilled Southwestern chocolate custard with charred lime and graham cracker crumble. Drink pairings include Left Coast Brewing's Blonde Marvel blonde ale, Del Mar St., Hop Juice triple IPA, Trestles and Asylum. 6 p.m. $36. 949.218.0227. badtothebone-bbq.com
Cha Cha's Latin Kitchen's First Anniversary
July 12. Celebrate the first anniversary of Cha Cha's with Latin-inspired lobster tacos made with maseca dusted crispy lobster tails ($6 à la carte, $18 full plate). Pair the tacos with the special El Palomar Margarita made with fresh serrano chili, orange liqueur, fresh squeezed lime juice, agave nectar, housemade hibiscus tea and hand-shaken with AsomBroso Blanco 100% blue agave tequila for $10 (regular) and $15 (grande). Enjoy live performances by either a live Latin band, a Mariachi band or traditional Folklorico dancers all day long. 11:30 a.m.-9 p.m. 13126 Jamboree Road, Irvine, 714.408.7819. chachaslatinkitchen.com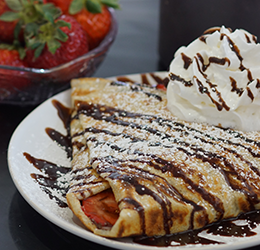 Bastille Day at Crepes Bonaparte
July 14. Known for their popular OC food trucks, Crepes Bonaparte is celebrating Bastille Day at their brick-and-mortar location in downtown Fullerton with a special red, white and blue mimosa flight (themed around the French flag!). The mimosa flavors include lavender, peach and pomegranate, which pair perfectly with popular crepes such as the California Sunrise and the HazelBerryAna. 9 a.m.-2 a.m. $7.14. 115 S. Harbor Blvd., Fullerton, 714.595.9995. crepesbonaparte.com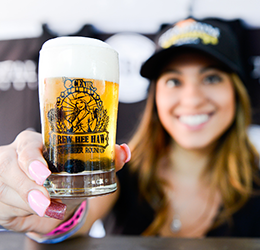 OC Brew Hee Haw
July 14-15. Following another record-breaking year, the annual craft beer fest returns to the world-famous OC Fair opening weekend. This boozy event features unlimited tastings from 80+ breweries, dancing, a commemorative glass and free admission to the fair. 21+. Tasting sessions: Sa noon-4 p.m. and 6-10 p.m., Su noon-4 p.m. $55 online, $65 day-of. OC Fair, 88 Fair Dr., Costa Mesa, 714.708.1500. ocbrewheehaw.com
Sidecar Truck Pop-Up at Puesto Los Olivos
July 14. As part of Sidecar Doughnuts' 2018 Chef Series, Puesto Pastry Chef Jessica Scott has teamed up with Sidecar to create a Mango en Nogada Doughnut, raised and topped with a sweet mango glaze and spiced candied walnuts, finished with a dash of Tajin spice and pomegranate seeds. The collaborative doughnut ($3.25) is available at Sidecar's Costa Mesa location through the end of July, and to celebrate, the Sidecar Truck is popping up outside Puesto Los Olivos. 11 a.m.-2 p.m. 8577 Irvine Center Dr., Irvine. sidecardoughnuts.com
ARTS + CULTURE
"Big Fish" at Chance Theater
Through July 29. Adapted from Daniel Wallace's novel and Tim Burton's acclaimed film, and featuring spine-tinglingly music and lyrics by Andrew Lippa (The Addams Family and The Wild Party), Big Fish is a fantastical musical that illustrates the larger-than-life anecdotes of Edward Bloom, a man nearing the end of his life. See website for show times and prices. Cripe Stage at Chance Theater @ Bette Aitken theater arts Center, 5522 E. La Palma Ave., Anaheim, 888.455.4212. chancetheater.com
The Art of Mixology photo by The Blind Rabbit. OC Fair photo courtesy of OC Fair. OC Parks Sunset Cinema and Farmhouse's New Summer Menu photos provided by The ACE Agency. Paper Cacti & Macrame photo provided by M.Lovewell. Summer of Color Celebration Art Walk photo provided by Powerhouse Communications. Brunos Italian Kitchen's New Summer Menu, Cha Cha's Latin Kitchen's First Anniversary, Bastille Day at Crepes Bonaparte photos provided by Ajenda PR. Bad to the Bone's Beer Pairing Dinner photo provided by Wicked Creative PR. Brew Hee Haw photo by Brew Ha Ha Productions. Sidecar Truck Pop-Up at Puesto Los Olivos photo by Alison Burns. "Big Fish" at Chance Theater photo by Doug Catiller, True Image Studio.
[et_bloom_inline optin_id=optin_12]