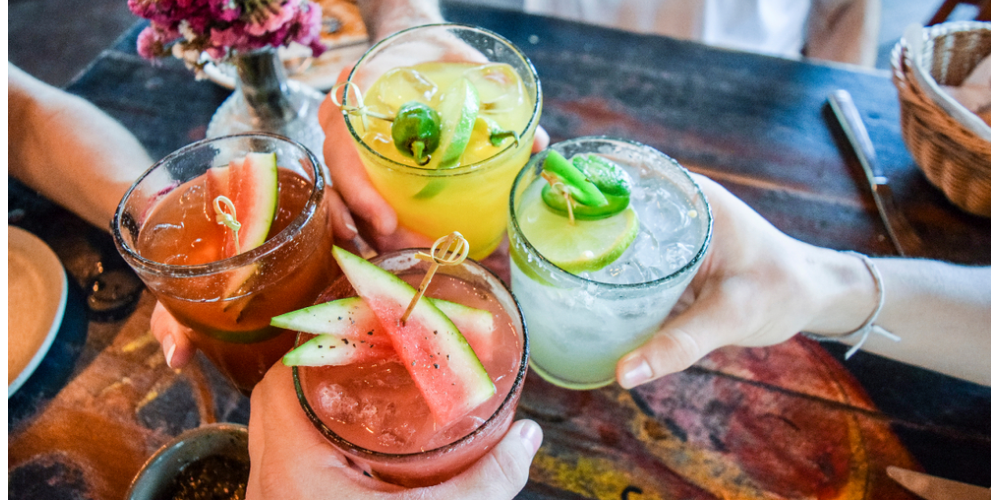 Orange County Restaurant Week, Festival of Whales, Kid's Fishing Derby… Here are our top picks for OC weekend events February 28-March 3.
Edited by Laura Okey
EVENTS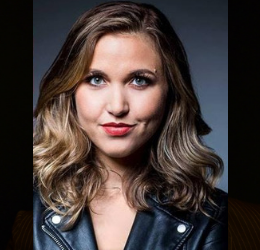 Taylor Tomlinson 
Feb. 28. Prepare for an evening of laughter as Last Comic Standing finalist Taylor Tomlinson headlines at the Rec Room. Tomlinson began her stand-up career at 16 years old; she's been featured on Conan and The Tonight Show with Jimmy Fallon. 21+. 8 p.m. $15. 7227 Edinger Ave., Huntington Beach, 714.510.6972. recroomhb.com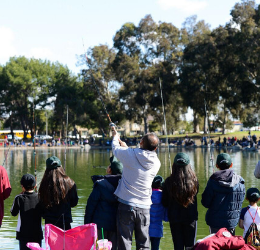 Kids' Fishing Derby
Mar. 2. Cast your lines at the annual event, where kids have the opportunity to refine their fishing skills and different age groups compete for multiple prizes. North Lake will be stocked with more than 1,000 pounds of trout and catfish for the derby. Registration 7:30-8:30 a.m.; event 9 a.m.-noon. Free. Mile Square Regional Park, 16801 Euclid St., Fountain Valley, 714.973.6600. ocparks.com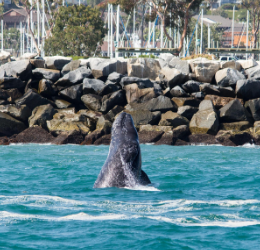 Festival of Whales
Mar. 2-3. The 48th annual event features activities including whale watching, a parade and street fair, live music, a chowder cook off and art in the park. In celebration of the gray whale's annual winter migration, Dana Point Harbor—an area famous for its whale gatherings—hosts a series of events through next weekend. See website for full schedule. Free. Dana Point Harbor, 34675 Golden Lantern, Dana Point. festivalofwhales.com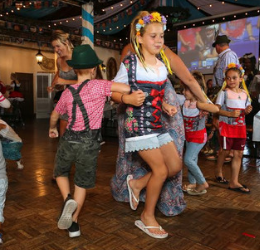 Fasching: German Carnival
Mar. 3. Immerse yourself in authentic German culture with afternoon festivities including dancing, contests, live music, games and cuisine. Known as Fasching, this ancient spring festival features colorful costumes, loud music and joyful celebration; it's led by teachers from German School Campus. 3 p.m. Free. Old World Huntington Beach, 7561 Center Ave., Huntington Beach, 714.895.8020. oldworld.ws
FOOD + DRINK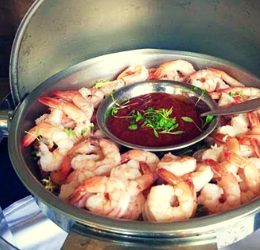 Brunch at Sol Agave
Now Available. Acclaimed Mexican restaurant now serves Sunday brunch at its Mission Viejo location. Known for its authentic cuisine, the buffet style brunch features a wide selection of seafood, salads, chili verde, tacos and grilled-meat dishes. For a boozy addition, enjoy $3 mimosas, $5 micheladas and a number of bloody-agave cocktails. Su 10 a.m.-2 p.m. $25 adults; $12, children 5-12; ages 4 and under, free. Kaleidoscope, 27741 Crown Valley Parkway, Mission Viejo, 949.446.8058. solagave.com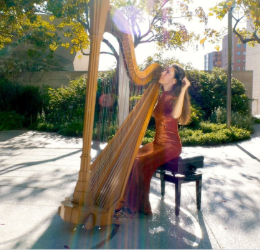 New Menu at Descanso
Now Available. Taste all-new appetizer, lunch, dinner and cocktail specials at the popular new modern Mexican restaurant Descanso. Highlights include torta ahogada with carnitas, refried pinto beans, spicy tomato ginger broth and chile peron relish; tamales dorados, featuring three sweet corn tamales, salsa verde, crema, queso fresco and purslane; and spicy paloma margarita with Casamigos Blanco tequila, red fresno syrup and grapefruit. Su-Th 11 a.m.-10 p.m.; F-Sa 11 a.m.-11 p.m. 1555 Adams Ave., Suite 103, Costa Mesa, 714.486.3798. descansorestaurant.com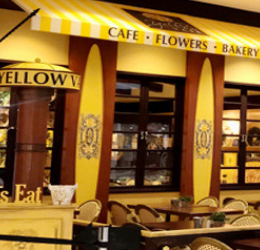 Yellow Vase
Now Open. A distinctive French café with a California twist has arrived at South Coast Plaza. Yellow Vase features a wide array of menu offerings, including all-day breakfast dishes and a grab-and-go bakery items. The space doubles as a high-end florist known for its creative arrangements. South Coast Plaza, Saks Fifth Avenue Wing, Level 1, 3333 Bristol St., Costa Mesa, 714.435.2000. yellowvase.com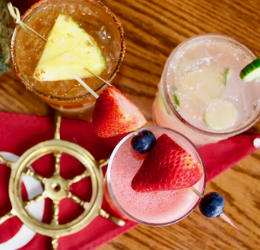 Dory Beach Club Launch Party
Mar. 1. The popular lunchtime destination Dory Deli transforms to Dory Beach Club for its debut appearance on the nightlife scene of Newport Beach. Enjoy smooth cocktails from its full bar menu, good music and late-night bites. 9 p.m.-1 a.m. 2108 W. Oceanfront Drive, Newport Beach, 949.220.7886. dorydeli.com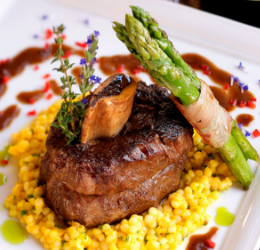 OC Restaurant Week
Starts March 3. Eat. Drink. Repeat. More than 150 Orange County restaurants dish up delicious prix fixe menus at fantastic prices. New focuses this year include cocktails, and breakfast for dinner. Choose where to go from categories such as family-friendly dining, date night and ladies' night. See website for list of participating restaurants. Lunch $10-$25, dinner $20-$50. ocrestaurantweek.com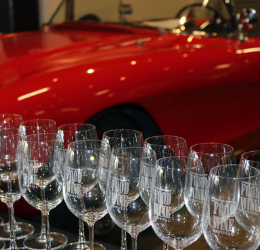 Orange County Food and Wine Festival
Mar. 3. Enjoy an afternoon of delicious food, beer and wine, musical entertainment and a live auction amid a collection of classic cars. Participants include SoHo Taco, LunaOlivo, Zapien's Salsa Grill & Taqueria, Noble Ale Works, Sodaro Estate Winery and Bootlegger's Brewery. Proceeds benefit Boys and Girls Club of Brea-Placentia-Yorba Linda. 1 p.m. $100+. Marconi Automotive Museum, 1302 Industrial Drive, Tustin. Tickets
ARTS + CULTURE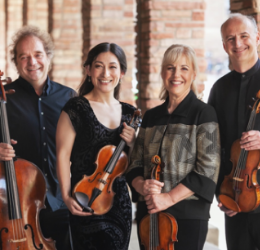 The Takács Quartet
Feb. 28. Be enchanted by one of the world's great string quartets: from left, Edward Dusinberre (violin), Geraldine Walther (viola), Andràs Fejér (cello) and Harumi Rhodes (violin). Harumi is the newest ensemble member, following the recent retirement of founding member Kàroly Schranz. 8 p.m. $39+. Segerstrom Center for the Arts, 600 Town Center Drive, Costa Mesa, 714.556.2787. scfta.org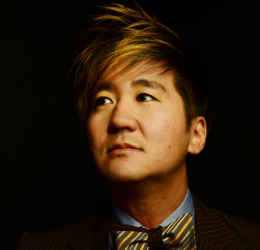 Kishi Bashi String Quartet
Feb. 28. Singer-songwriter, composer, violinist and loop-pedalist  Kishi Bashi makes his Musco Center debut. The musician is known for his remarkable range, incorporating classical music, Japanese folk songs and 21st-century pop into his performances. 7:30 p.m. $25-$45. Musco Center for the Arts, Chapman University, 415 N. Glassell St., Orange, 844.626.8726. muscocenter.org
Photos: Festival of Whales courtesy Dana Point Harbor/Craig DeWitt. Taylor Tomlinson courtesy the Rec Room. Kid's Fishing Derby courtesy OC Parks. Fasching: German Carnival courtesy Old World Huntington Beach. Dory Deli courtesy Dory Deli. OC Restaurant Week courtesy OC Restaurant Association. Orange County Food & Wine Festival courtesy Marconi Automotive Museum. Sol Agave courtesy Sol Agave. Descanso courtesy Moxxe PR. Takács Quartet courtesy Segerstrom Center. Kishi Bashi String Quartet courtesy Musco Center.