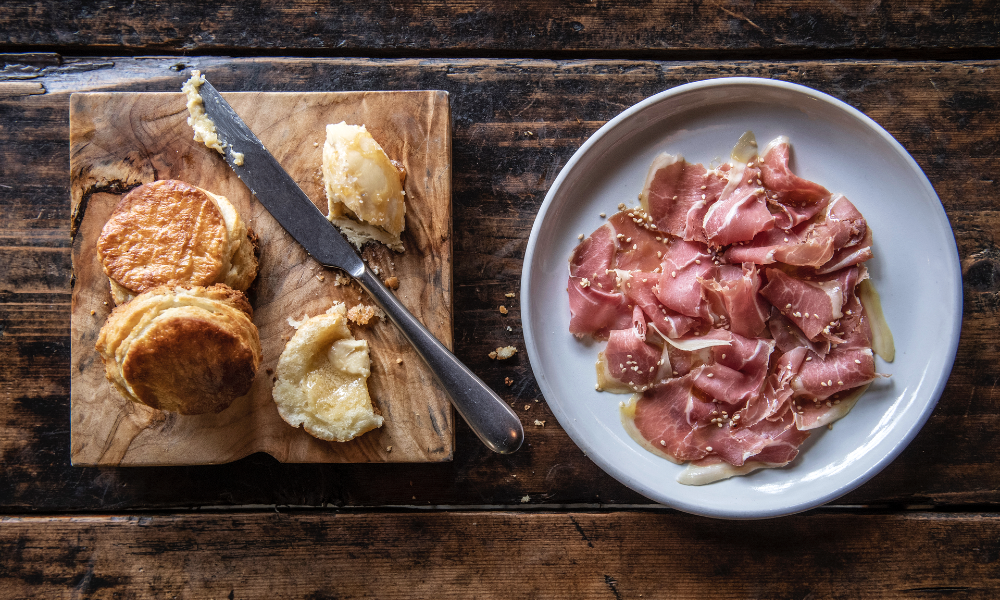 Support Los Angeles restaurants with these delivery, takeout and curbside options, gift cards, packages and more!
MULTIPLE LOCATIONS
Café Gratitude Arts District
Something to be grateful for? In addition to a offering a takeout (or delivery) menu, Café Gratitude will be supplying L.A. diners with $30 Covid Care Kits and $5 Grateful Bowls. Its one-of-a-kind kit includes a Crunchy Superfood Breakfast Parfait, a Healthy Green Juice, the Fulfilled Market Veggie Salad, the Brave Immunity Shot, an Accepting Japanese Grain Bowl and an Immortal Ayurvedic Almond Milk. The "Grateful Bowl" is a community bowl whose proceeds support those who have been financially impacted by the virus. So, spread the love! The special menu will also feature several more healthy bowl options, an assortment of baked goods, salads, juices, "immunity shots," soup, wraps and more. Noon-6 p.m. Get takeout with Chownow or via phone at 213.929.5580 and delivery by calling or using Doordash, UberEats or Postmates. See website for locations, cafegratitude.com
Go Get Em Tiger 
While its location at Grand Central Market is temporarily closed, Go Get Em Tiger is currently offering delivery and pickup. Plus, with its coffee subscription service, you can get quality coffee beans delivered to your door, with special roasts hand-picked by experts based on your personal preferences. You can also show your support by purchasing gift cards and merchandise, from quality ceramics to cozy sweatshirts. Download the GGET app to place orders for delivery or pick-up from any of the locations. Visit the website for more information and to find the location closest to you. gget.com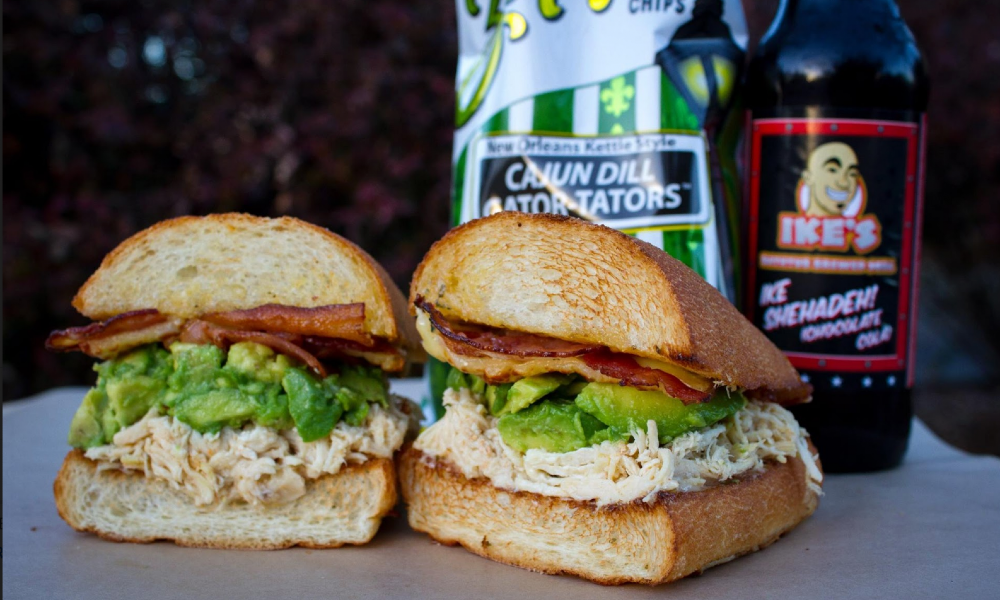 Ike's Love & Sandwiches 
The popular sandwich shop Ike's Love & Sandwiches is delivering its famous sandwiches throughout SoCal, and you can enjoy free delivery when you order through the Ike's app. Choose from dozens of cleverly named sandwiches, whether you're a meat lover, vegan or gluten-free. Download the app for free on the Apple Store or Google Play. Visit the website to find the location closest to you. loveandsandwiches.com
Natalee Thai
For traditional Thai dishes, including Nutty Chicken and a sole filet in red curry sauce,  Veggie lovers favor the spicy maha jumlong curry. Both Culver City and Beverly Hills locations are offering delivery and to-go orders, and have extended their hours. Delivery is $1 when you call directly into the restaurant. 10101 Venice Blvd., Culver City; 998 S. Robertson Blvd., Beverly Hills. Check out other delivery options on Postmates, DoorDash, GrubHub and Delivery.com   (998 S. Robertson location only). nataleethai.com
Norms
Perfect for all the families in hibernation, Norms is offering delivery on all menu items—and kids eat for free with the purchase of at least one regular entrée. The extensive menu includes highlights like the Lumberjack Breakfast, Mama Mia! Meatball Grinder, Hot Mess Pastrami Cheese Fries, blackened salmon filet and 1/2 Lb. New York Steak & Shrimp. Order from any location, anytime with UberEats, GrubHub, DoorDash and Postmates.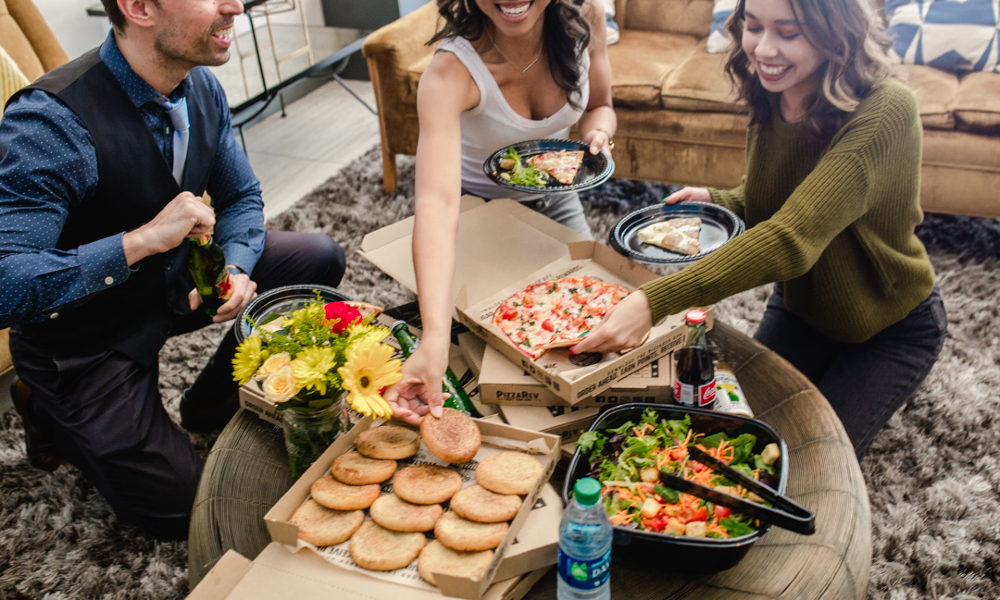 PizzaRev
You can craft your own pizzas, calzones, salads and desserts and have them all delivered to your door from the fast-casual restaurant PizzaRev. Plus, until further notice, take 30% off all online orders. All dietary restrictions can be accommodated. Visit the website to find the location closest to you. pizzarev.com
Sam's Cripsy Chicken
Conveniently, the sbe Entertainment Group recently launched its first delivery-only concept—and it's a fried-chicken lover's dream. Enjoy 100% antibiotic-free hand-breaded chicken in dishes like Nashville Hot, chicken and waffles, Buffalo fried chicken and more! Vegetarian options and salads are also available. Order on Postmates for $3 off $15; UberEats for free chicken tender bites; Doordash or Caviar for free delivery; or GrubHub for free chicken tender bites + free delivery.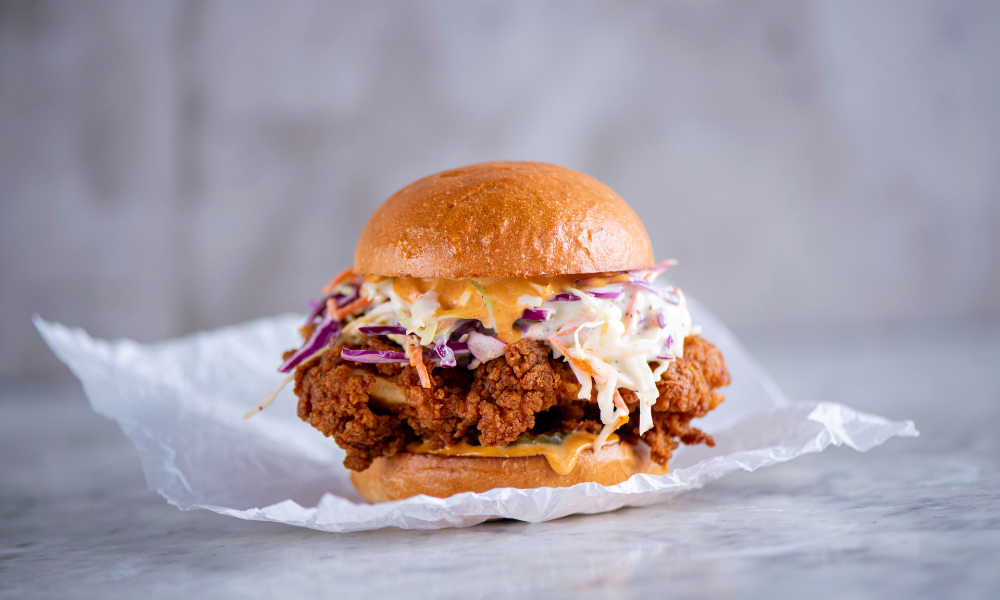 Urban Plates
Fast-casual and health-centric Urban Plates is now offering free delivery on DoorDash or when you order online for pickup. To be extra cautious, it's now providing "Express Pick-Up," a service with food carefully sealed and stored for fast and safe no-contact pickup. Plus, every meal can now be individually packaged per serving at no additional cost. Visit the website to find the location closest to you. 800.652.4788, Order using DoorDash or urbanplates.com.
BEVERLY HILLS
Lady M 
Sweeten up your seclusion with some luxury cakes—either whole or by the slice—from Lady M. Some of the tasty dessert shop's favorites include the signature Mille Crepes Cake and Green Tea Mille Crepes Cake. Plus, orders may be shipped nationally using its website, and you get free delivery with the purchase of two or more cakes. Su-F 11 a.m.-6:15 p.m; Sa 11 a.m.-7:15 p.m. 8718 W. 3rd St., Beverly Hills. 323.825.8888. Order locally using Uber Eats or nationally at ladym.com.
CENTURY CITY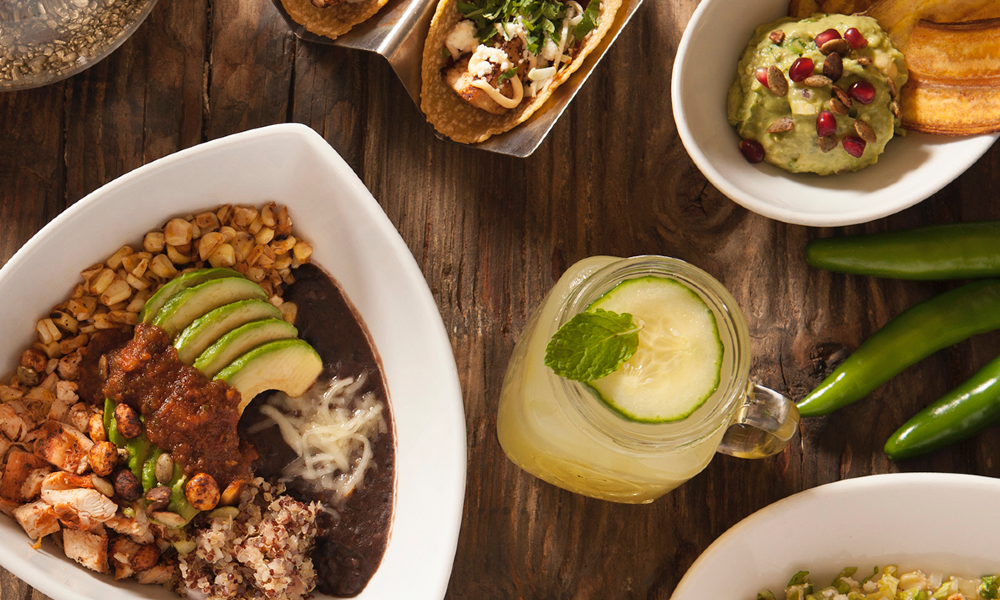 Westfield Century City
Enjoy some your favorite dishes with delivery and pick-up at Westfield Century City  On-site grocery options are also available at Eataly and Gelson's. For a full list of available restaurants, click here.| westfield.com
CULVER CITY
Pasta Sisters
Support the family-owned and -operated Pasta Sisters while enjoying fresh homemade pasta dishes, made in-house every morning. With different sauces and styles like slow-cooked Bolognese and the popular black truffle, the menu is made so that you can mix and match to create your perfectly tailored meal. 3280 Helms Ave, Culver City, 424.603.4503. Order from Postmates or visit pastasisters.com.
Piccalilli
For Cali-Asian cuisine, Piccalilli is now offering takeout. Treat yourself to some of the restaurant's favorites like the whole shrimp and sweet potato with Japanese curry salt, spiced yogurt and house hot sauce or modified dishes like the confit pork shank sandwich with cucumber salad, hoisin and lime. M-Sa 11 a.m.-8 p.m. 3850 Main St., Suite A, Culver City, 424.298.8540, piccalillila.com
DOWNTOWN
Boomtown Brewery
If you'd like a nice cold beer and are healthy enough to take a drive, make your way downtown to pick up four-packs, crowlers and growlers of your favorite Boomtown beers from its loading dock. The brewery will be offering the service daily for as long as it can. 10 a.m.- 7 p.m. 700 Jackson St., downtown, 213.617.8497, boomtownbrew.com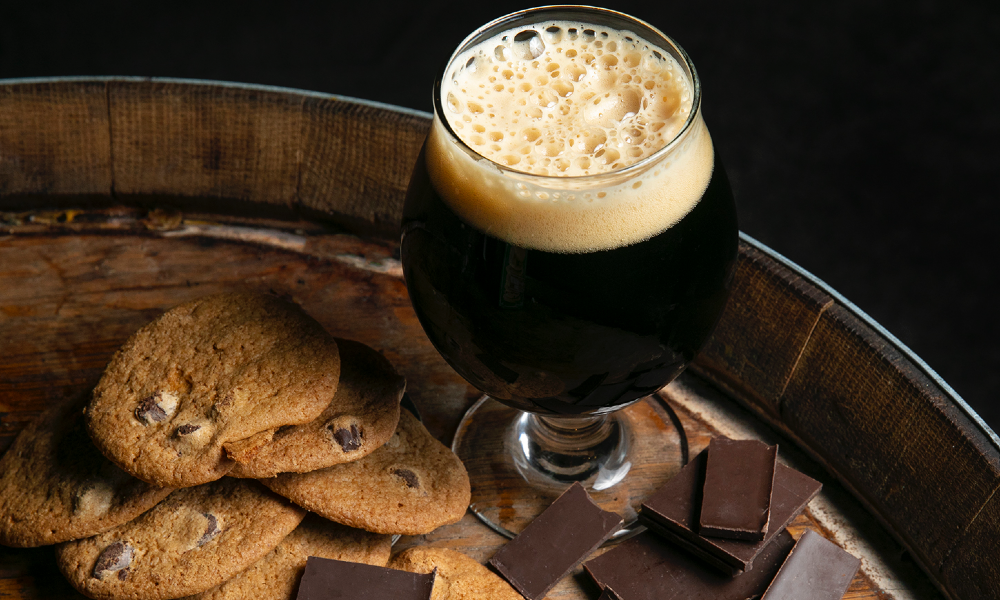 Here and Now
Order anything off of Arts District hot spot Here and Now's menu with Postmates. Choose from highlights like the Here and Now Burger with a short rib, chuck and brisket patty, American cheese, shallots, Boyle Heights sauce, a potato bun and fries, the roasted shishito peppers with lemon aioli and berbere spice, and habanero chicken wings. Order with Postmates. 300 S. Santa Fe Ave., downtown, 213.262.9291, hereandnowdtla.com 
InterContinental Los Angeles Downtown
The tallest building West of Chicago just debuted ready-to-go, farm-to-fork meals available for curbside pick-up. Choose from gourmet options on the daily lunch and dinner menu or indulge in the Weekend Brunch Special, featuring a three-course meal for just $18. $15 bottle of wines available for add on. Easy curbside pick=up at the hotel's valet. 900 Wilshire Blvd., downtown, 213.688.7777 x0, dtla.intercontinental.com 
Manuela
In order to ensure they can retain their staff, Manuela is going above and beyond with delivery options. In addition to their regular menu, you can order groceries as well as new special menu items, including a supper for two with a rotating daily special entree, sides and a dessert for $44. Additional menu highlights include a Fried Chicken Sandwich, Cumin Spiced Lamb Sandwich, Grilled Chicken Sandwich, Shrimp and Grits. Plus, you can order anything off of their full beer, wine and beverage menu. Grocery items include eggs, chicken breast, milk steak, butter, flour, coffee and more. Delivery with Caviar will be available soon. Cubrside pick-up, to-go and delivery can be ordered by calling the restaurant directly. M 5-9 p.m.; T-Su 11 a.m.- 9 p.m. 907 E 3rd St., downtown. 323. 849.0480 Order Online 
HOLLYWOOD
Chao Krung 
Keep yourself feeling safe and toasty with Chao Krung's nourishing Thai dishes—with options like garlic wings, BBQ squid, crispy mussel pancake and crispy tofu. In addition to a 10% discount on all curbside pickup orders, the Southeast Asian eatery will also be offering delivery with DoorDash, GrubHub, Postmates, Caviar and UberEats. 111 N. Fairfax Ave., #2110, L.A., 323.939.8361, chaokrungla.com
Crossroads Kitchen 
Along with classic meal delivery, Crossroads Kitchen is offering special home meal kits containing ingredients, along with meal-prep instructions, so you can make several of the restaurant's signature dishes from your own home. Each meal takes less than 15 minutes to prepare, can be refrigerated for 3-4 days and serves two people. Choose from dishes like the spicy rigatoni vodka, lasagna, chickpea marsala, scallopini Parmesan, tagliatelle Bolognese and more. Noon-6 p.m. Place orders 24 hours in advance. Delivery costs an additional $25. Pickup and delivery are available with 24 hours in advance and are accepted by phone, Doordash, Grubhub and Postmates. 8284 Melrose Ave., Hollywood, 323.782.9245, crossroadskitchen.com
Jane Q
Order fresh California-Mediterranean brunch and dinner dishes from Jane Q for takeout or delivery. Choose from flavorful favorites like the beef carpaccio, housemade pork meatballs, Dungeness crab, vegetable crudité and more. 1800 Argyle Ave., Hollywood, 213.279.3534, janeqla.com. Order with Postmates or Caviar.
LONG BEACH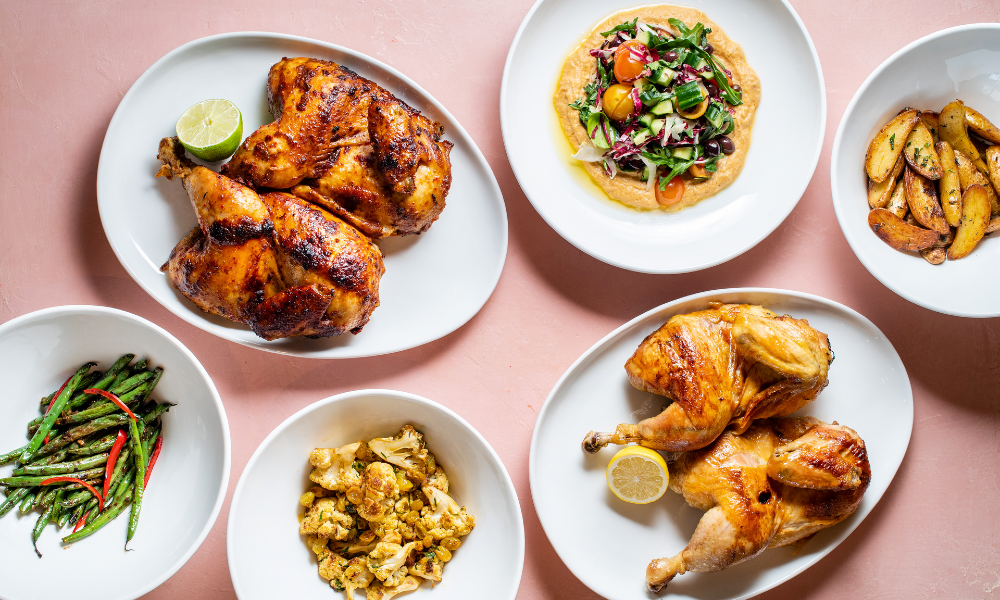 Noble Bird Rotisserie
Noble Bird is offering a complete family meal called the "What the Cluck?!" Kit—it feeds up to four for just $40 and comes in two options. The first includes one whole rotisserie chicken (traditional herb and lemon or G-chicken, which is marinaded in Korean gochugaru chili flakes, sesame oil, honey, citrus and ginger), any two sides, half a baguette and Brownie Bark (crispy thin, rich brownies that are dairy-free). The second includes half a rotisserie chicken (any flavor), a farmers market salad, any two sides, half a baguette and Brownie Bark. Orders can be phoned in for convenient grab and go takeout. Or you can order delivery from the regular menu via DoorDash and Grubhub. 2ND & PCH, 6460 E. Pacific Coast Hwy., Suite 125, Long Beach, 562.431.0445, noblebirdrotisserie.com
Portuguese Bend Distilling 
The Long Beach gastropub is now offering takeout, curbside pickup and delivery for its food and beverages. Since hand sanitizer is so important and hard to find at the moment, Portuguese Bend is giving complimentary bottles of homemade hand sanitizer (made of alcohol, purified water and essential oils) to customers who purchase $30 or more in takeaway food or a spirits bottle. 300 The Promenade N., Long Beach, 562.435.4411, portuguesebenddistilling.com
LOS FELIZ
Atrium
For the first time ever, the beloved Los Feliz gem Atrium is offering takeout and delivery offerings along with brand-new lunch offerings. The dishes feature the restaurant's same top-tier decadence with thoughtfully curated modifications to fit the current situation. Enjoy comforting soups, hearty toasts, fresh salads and more—with options for kids too, like the Smash Burger and crispy chicken strips. Some one-of-a-kind highlights include lavender granola with coconut yogurt and seasonal jam and the crispy pork schnitzel, along with beverages like cold brew, drip coffees, Mexican coke and more. Bonus: If you want to avoid going to the grocery store, you can also buy essentials like freshly baked Bub and Grandma's sourdough bread, unsalted butter, multifold towels and two-ply toilet paper. Call for takeout and pickup. Lunch 11 a.m.- 3 p.m.; dinner 4-8 p.m. 1816 N. Vermont Ave., Los Feliz, 323.607.6944, atriumlosfeliz.com
Little Dom's
For contemporary Italian cuisine, Little Dom's Restaurant and Little Dom's Deli will be offering delivery of its beloved classic dishes—along with exciting new additions. Try out the three-course PanDOMic menu for soups, sauces, jams, beers, bottles of wine and more fridge and freezer-ready items to get you through your seclusion. 9 a.m.-1 p.m. Order with Caviar. 2128 Hillhurst Ave., Los Feliz, 323.661.0055, littledoms.com
MALIBU
Taverna Tony
During these tough times, Taverna Tony is still serving its traditional Greek food, available for pickup. You can order a la carte off the menu or treat your family to a Greek feast. Enjoy classic dishes like taramasalata, tzatziki, Greek Peasant Salad, spanakopita, fried calamari, keftethes (greek meatballs), roasted lamb and more. The Greek Catering Feast is $49.95. If you would like to add fish to your feast, it is an additional $7 per person. 23410 Civic Center Way, Malibu, 310.317.9667, tavernatony.com
MANHATTAN BEACH
Love & Salt
In light of recent events, Manhattan Beach's Italian bistro Love & Salt is putting together special affordable meal packages—enough to feed a family of four. Additionally, beer and wine options are priced at retail for delivery. 317 Manhattan Beach Blvd., Manhattan Beach, 310.545.5252, loveandsaltla.com. Order via the website, GrubHub, Postmates or Doordash.
NORTH HOLLYWOOD
The Front Yard at The Garland
The Garland's signature restaurant remains open for to-go and deliveries daily from 11:30 a.m.-8:30 p.m. Call directly for beer and wine specials with your to-go order.  4222 Vineland Ave, 818.255.7290  thefrontyardla.com. Order on Postmates or Doordash
PLAYA VISTA
Winsome
The recently opened Playa Vista brunch spot Winsome will carry on serving the community with delivery, pickup and to-go options. The market-driven eclectic menu includes highlights like a prosciutto tartine with ricotta, pear, pepper jelly, saba and sourdough; or a falafel sandwich with watermelon radish, jalapeno, comte cheese, garlic aioli and aged balsamic on a potato bun. M-F 7 a.m.-3 p.m. 6080 Center Drive, Playa Vista, 310.883.3932, eatwinsome.com. Postmates or Doordash.
STUDIO CITY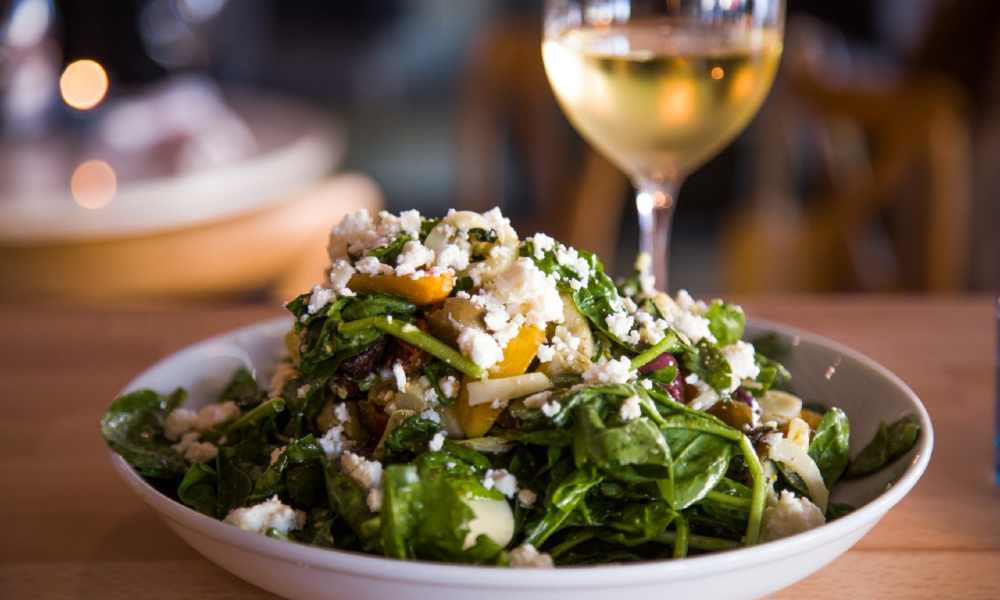 Vintage Wine + Eats
The popular specialty wine shop Vintage Wine + Eats has prepared and stocked up on supplies so you can relax and stay put with some comfort food and an assortment of wine. While delivery is available, if you place a call for takeout, you'll receive 20% off your order! Plus, it's offering 40% off all bottles of wine (or 50% off, if you're a wine club member) to take the edge off. Neighborhood delivery is available for orders of six bottles or more—just be sure to give 24 hours notice. 11 a.m.- 6 p.m. 12023 Ventura Blvd., Studio City, 818.505.0207, vintagestudiocity.com
VENICE
American Beauty
While American Beauty's Steakhouse in Venice is temporarily closed, the Win-Dow is open for both pickup and delivery with extended hours. Dine on juicy Beauty Burgers, fried chicken sandwiches, grain bowls, kale salads and more. 11 a.m.- 9 p.m. 425 Rose Ave., Venice. 310.412.0075, americanbeauty.la. Online orders + delivery available via DoorDash, GrubHub, Postmates, Uber Eats.
Superba Food + Bread
The Venice restaurant, bakery and coffee bar concept is now open for pickup and delivery with a modified all-day menu. Plus, choose from an expanded variety of Superba's fresh breads available for takeaway. 8 a.m.-8 p.m. 1900 S. Lincoln Blvd., Venice, 310.907.5075, superbafoodandbread.com. ChowNow; Doordash; Postmates
WEST HOLLYWOOD
Delilah
Treat yourself to all the favorites from this glamorous 1920s-style restaurant and lounge, like Delilah's famous chicken tenders, burgers, Caesar salad, chicken sliders, carrot soufflé or the spot's signature mouthwatering dessert, the Slutty Brownie. Available for free delivery or pickup on Postmates + 30% off burgers. 11 a.m.-11 p.m. 7969 Santa Monica Blvd., West Hollywood, 323.745.0600, delilahla.com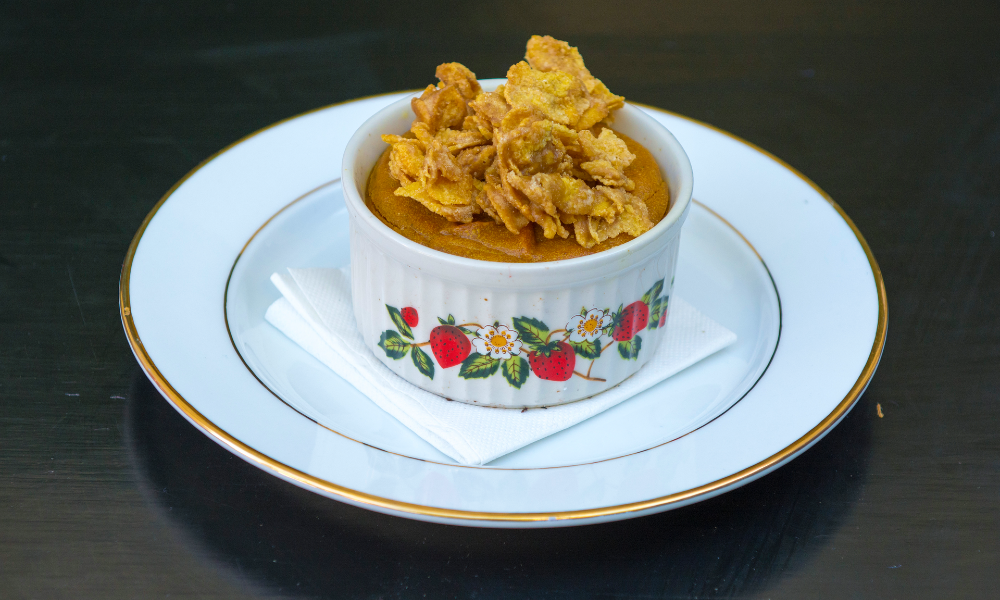 Genghis Cohen 
In the upcoming weeks, iconic Fairfax establishment Genghis Cohen will continue serving up its New York-style menu items—from noodles to dumplings—via delivery and pickup. Be sure to support the local business with purchases of gift cards, Genghis Cohen hats, long-sleeved T-shirts and baby onesies—coming soon! Noon-10 p.m. Order on Postmates, UberEats, GrubHub and Caviar. 740 N. Fairfax Ave., West Hollywood, 323.653.0640, genghiscohen.com
Georgia's Restaurant
Meals from this comfort-food restaurant are available for curbside pickup and delivery (from Long Beach Exchange through Grubhub). It's also offering the following two special family meals for pickup: the Fried Chicken Dinner with an eight-piece bucket of its famous fried chicken and two large sides for $20; and the Soulful Dinner with a choice of any two of the following Plate-Ups or specialty dishes: fried chicken, grilled tilapia, fried catfish, smothered pork chop, blackened chicken pasta or jambalaya, with two house salads and cornbread for $30. Specials are available all day, every day for dine-in or pickup. 4101 McGowen St., Suite 155, Long Beach, 562.420.5637, georgias-restaurant.com.
The Nice Guy
Satisfy your comfort-food cravings with a home-cooked Italian meal. West Hollywood's famous restaurant and lounge the Nice Guy is serving its tried-and-true traditional dishes like cacio e pepe and rigatoni Bolognese paired with roasted Brussels sprouts in a Caesar vinaigrette. Plus, you can enjoy 30% off pizzas every day. 11 a.m.- 11 p.m. 401 N. La Cienega Blvd., West Hollywood, 310.360.9500, theniceguyla.com. Available for free delivery or pickup on Postmates (use code GET100 for $100 in delivery credits).
The Original Farmers Market
The Original Farmers Market at Third and Fairfax is open! Their grocers are open and stocked with your essentials and many restaurants have convenient family packs and meals to go. You can order online, too.  Visit FarmersMarketLA.com/delivery for more details and visit www.farmersmarkelta.com for regular updates. Free parking. M-Sa 9 a.m.- 6 p.m.; Su 10 a.m.- 6 p.m.  6333 W. Third St., West Hollywood. 323.933.9211 farmersmarketla.com
Slab BBQ
Get the best barbecue that Los Angeles has to offer sent straight to your home. Slab BBQ is serving up smoked meats and comfort foods like collard greens and mac 'n' cheese—perfect to keep you feeling safe and warm. 11 a.m.-11 p.m. 8136 W. 3rd St., West Hollywood, 310.855.7184, slabbarbecue.com. Available for pickup and free delivery on Postmates.
Photos: Cream biscuits at Manuela credit Sim Canetty-Clarke. Boomtown Brewery's Cookie Stout courtesy Boomtown Brewery. Carrot soufflé at Delilah courtesy Delilah. Ike's Love & Sandwiches courtesy Ike's Love and Sandwiches. Noble Bird Rotisserie courtesy Noble Bird. Sam's Crispy Chicken Sandwich courtesy Sam's Crispy Chicken. Tocaya at Westfield Century City courtesy Westfield Century City. Vintage Wine + Eats Spinach Salad courtesy Vintage Wine + Eats.