5 New Spots for Cocktails in Los Angeles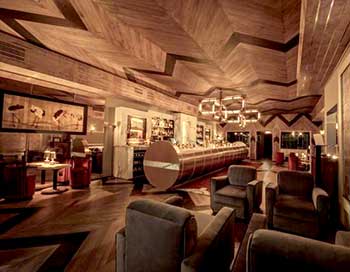 With a new season comes a new wave of stellar craft cocktails in Los Angeles. Here are five new spots with top drinks to put on your list.
By Christina Xenos
Grandpa Johnson's
Set in an unassuming space on Cahuenga Blvd. lays Grandpa Johnson's, an Art Deco cocktail lounge. You may remember going there for martinis and manicures when it was the Beauty Bar, but now after a complete makeover, it's stylishly unrecognizable. Everything about the drinking den down to the design of the velvet chairs and avant-garde wall art is credited to its owner, Johnny Zander. The nightlife impresario named the bar after his grandfather, Harold T. "Biz" Johnson a United States Congressman who represented California for 23 years. Step up to the curved brass bar topped with marble—it was inspired by a photo Zander saw of a bar made out of a redwood tree trunk—and order potions concocted by the Bon Vivant's Alex Straus. If you're wondering what's with all the first names, the menu pays homage to Zander's family and friends. Stand-outs include the T-Bizz (Zander's grandfather's nickname) with Angel's Envy bourbon, ginger syrup, apple cider, amaro, lemon juice and Angostra; while the Winnie is a refreshing blend of Beefeater gin, Darjeeling syrup and giffard apricot. And if this all sounds like some kind of decadent, brilliantly designed, boozy social experiment, it just might be, "In general, I like to create spaces and watch how people interact in them," says Zander. "I was trying to accomplish that here, and I am excited to see how the design influences the experience." 1638 N. Cahuenga Blvd.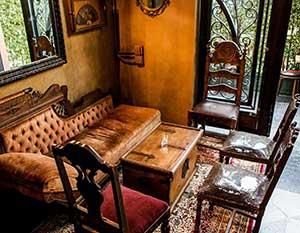 Butchers & Barbers
The brothers behind some of the best cocktail bars in Los Angeles embark on their first restaurant with this classic American Bistro. But even with the addition of a food focus (think grilled hanger steak, bone-in pork chop, charcuterie boards, halibut crudo), Mark and Jonnie Houston stay true to their roots. The cocktail menu utilizes darker spirits like whiskies, sherries, rums and bitter liqueurs to compliment the food. Expect house-made infusions and syrups, and fresh, seasonal ingredients along with mini-barrels of cocktails available for sharing. A few highlights of the cocktail menu include Sailors Beware with fig-infused park cognac, earl grey-infused gosling's rum, lemon, demerara; Lillian Gish with laird's bonded applejack, simple syrup, fresh lime juice, manzanilla sherry, herbsaint, green apple; and Greta Garbo with hazelnut-infused belle mead bourbon, benedictine, honey, angostura bitters, citrus oils. 6531 Hollywood Blvd., L.A., 323.461.1464. butchersandbarbers.com
Brilliantshine
Enter Santa Moinca's highly anticipated flagship bar and restaurant from Soigné Group's Julian Cox and Josh Goldman. Find cocktails with an international flare and focus on whiskey, and a small but well curated arsenal of craft, boutique production spirits and fortified wines as well as craft beers from California. Highlights of the cocktail menu include the Creole made with Michter's US-1 bourbon, Punt e Mes vermouth, Bénédictine, China-China liqueur, orange bitters and a lemon twist; and the Tattletale, which is a Scotch medley with Angostura bitters, lemon and orange blossom honey. Richie Lopez (Paiche) weaves his Peruvian roots into the comfort-driven food menu that offers seasonal cuisine like red snapper crudo with citrus soy sauce, peaches and yuzu kosho; a sea urchin rice with lobster, sea urchin oil and puffed rice; and a pork belly and beet hash with a poached egg and baby friseé. The rustic, coastal saloon is located in the courtyard of the former Renee's. 522 Wilshire Blvd., Santa Monica. thebrilliantshine.com
Magnolia House
Head to Pasadena to grab a seat inside a 1912 craftsman bungalow where you can embark on an experience of creative cocktails and eclectic bar bites. Mixologist Evan Zimmerman developed the list that "leaves no liquor behind." The perspective is classic with modern twists evident in selections like the Bee Sting with potato vodka, clover honey, lemon juice and absinthe; Pina Verde Swizzle with blanco tequila, mezcal, pineapple, lime juice, cilantro, mint, cayenne, absinthe; and the modern Lumberjack's Breakfast with blended Islay Scotch, bonded applejack, cardamom, maple syrup, lemon juice and egg white. Pair your drinks with bites like roasted beets and burrata; shrimp toast; apple cinnamon bread pudding and more. 492 S. Lake Ave., Pasadena, 626.584.1126. themaghouse.com
Velvet Lounge
Tucked away above the historic Culver Hotel's lobby lies the new Velvet Lounge. It's a speakeasy throwback to the hotel's Roaring Twenties roots serving 18 Jazz Age-inspired craft cocktails. Settle into one of the plush settees that adds to the "Prohibition meets Paris" decor, and order up any number of cocktails like the Dutch Mule with Nolet's Silver gin, ginger beer and grapefruit; barrel-aged peach Manhattan; and Prohibition Punch, a mix of vodka, Prosecco, orange, passion fruit, lemon and cranberry. 9400 Culver Blvd., Culver City, 310.558.9400. culverhotel.com