LA Things to Do for the Rest of Us!
When the sun goes down in LA, the heat rises from the endless stretch of roadway, beckoning the residents to reemerge from the comfort of their homes in search of something more than their Netflix cue. If this sounds familiar, consider The Black Market Liquor Bar in Studio City. It's one of LA's hot new attractions and totally worth checking out. It serves stylish cocktails as well as offering a menu that would make most gastro pubs blush (deviled quail eggs and house-made dill potato chips, anyone?). It's worth noting that they serve a deep-fried fluffernutter sandwich, which has admittedly become one of my personal favorite things to do in LA, especially 'round midnight.
Drinking & Dancing: Some of My Favorite LA Activities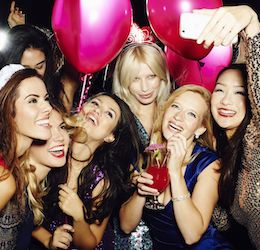 Every time that song comes on during my spin class about being a party girl, I kick it into high gear, eager to burn the extra cocktail calories from the weekend. One of the best places to sip on spirits and shake a tail feather is Villains Tavern. Gothic wooden arches and pew seating amidst big top stripped curtains create a dramatic atmosphere that comes to life when the blues and folk inspired bands take the stage on the patio each and every night. The L.A. Barbie is not only a signature drink, having that drink happens to be one of my favorite ways to spend an evening in LA.
Great Day Hikes in LA
If you're looking for a great day hike, try any number of trails in Griffith Park that lead to the Observatory. You can park on Fern Dell Drive (off of Los Feliz Boulevard), which is free and has plenty of spots available. To the right of Fern Dell Drive a dirt path slowly winds northward to a steeper path opening onto beautiful views of the mountains and surrounding hillsides. It's one of the greatest outdoor recreational activities, especially when you reach the top and check out the view from the Griffith Observatory, which also houses a planetarium and museum inside.
Bergamot Station: A Must-See for Residents and Tourists Alike
If you're new to LA or just visiting – be sure to check out Santa Monica's Bergamot Station, a facility housing many art galleries as well as a variety of exhibitions and shows. The site dates back to 1875 when it was a stop and car storage area on the steam powered Los Angeles Independence Railroad. After rail service ceased, Bergamot had various commercial usages until being appropriated by developer Wayne Blank in the early 1990's into a campus-like arts complex with a rudimentary, industrial look. Cited as one of the most popular recreation destinations in Southern California by tourists and locals alike, it's a spot that won't disappoint.
LA's Amazing Cultural Scene
If history and culture interest you, LA should suit you well! Within our website you can find guides to the best LA museums (including Kidspace and Discovery Cube,) as well as other resources for finding your next LA museum adventure!
Our Favorite Picks for Casual Dining in San Diego
What are our favorite casual places to grab a bite to eat in San Diego? Tender Greens is a great cafeteria style joint where you get your choice of choice of chicken, steak, fish or falafel sandwich, a hot plate or a simple salad, all for under $12. How awesome is that? If you've got a hankering for some south of the border, Carnitas' Snack Shack -Del Mar serves up some fabulous triple threat pork sandwich, shack fries and carnitas tacos, washed down with craft beer. Another great casual cafeteria that's also mighty tasty is the Lemonade UTC. Catch their truffle mac and cheese. It's amazing.
Downtown Los Angeles: Arts District for Day & Night Events
In terms of things to do in LA, One of the coolest places in Los Angeles is the Arts District. Historically known as warehouse space situated between the L.A. River and Little Tokyo where a small community of artists dwelled, it's definitely gone through a rapid face lift. Probably considered a top LA tourist spot on the weekends but definitely not one to be missed. Slowly, the LA Arts District has renovated old buildings and has created its own LA neighborhood on the map with the addition of thousands of apartments, brand new retail spaces, restaurants, coffee shops, craft breweries and art galleries. Yes, this district can remain as a super family friendly place to visit in LA during the day but at night, it's a whole other scene. Our personal favorite spot to eat at? The LA style taco trucks and tented taco vendors found after hours all around the district. Psst… did we mention a "bar-cade" for adults only?
Our Favorite Sushi Picks for Little Tokyo
Yes, great sushi in Los Angeles does exist! For a more fancy fare, with the top sushi chefs in LA, we recommend Sushi Gen. Serving traditional Japanese preparations since 1980, you might rub elbows with the mayor of LA or a befriend a local celebrity while chowing down on that real wasabi. Ebisu is the go-to LA sushi spot when you're on a budget or if you have picky eaters with you because they have a colorful menu of hotpots, rice bowls and $2 draft beers. We hope this will help you find things to do in LA!