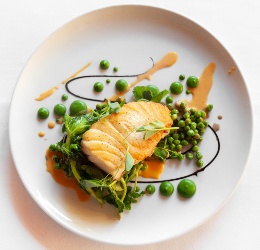 Saddle Peak Lodge's 35th Anniversary Dishes
Info: As his way to honor Saddle Peak Lodge's 35th anniversary, chef Adam Horton is celebrating with a new series of unique dishes. Previously a hunting lodge and roadhouse, the Malibu gem provides a truly one-of-a-kind atmosphere and has signature dishes to match. Delicious new menu items include Tartare of New Zealand Elk, Mushroom and Bone Marrow "Sandwich," MSC Certified Chilean Sea Bass, Tomato & Lobster Bisque and 3-pound Bone-In Westholme Wagyu Beef Tomahawk Feast.
Location: 419 Cold Canyon Road, Malibu.