REVIVE: An Immersive Dinner Theater Experience at Vibiana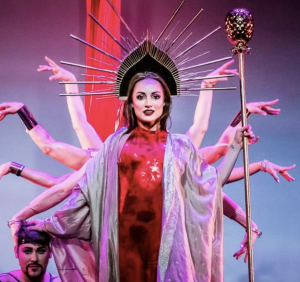 Join Chef Neal Fraser, restaurateur Amy Knoll Fraser and the Redbird | Vibiana team for a soaring 20's circus-infused immersive dinner experience created for the historic Vibiana by Vau de Vire Society. Immerse yourself in a grand spectacle of human feats performed above, behind and in front of you. With tables as stage, every seat is a great seat. Cutting edge projection mapping visuals highlight 40 circus and musical artists plus an original score by Angelo Moore (Fishbone). Chef Fraser's bold flavors complement the theatrics with hors d'oeuvres and a complimentary cocktail on the courtyard followed by a 4-course dinner.
– Thursday – Saturday: 6:45 p.m. and 8:45 p.m.
– Sunday: 5:00 p.m.
– Duration: 2 hours and 15 minutes