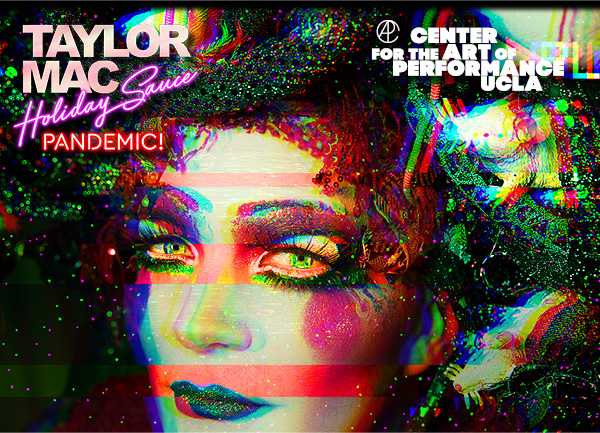 Holiday Sauce…Pandemic!
Christmas as calamity — 2020 Ibsen Award winner and MacArthur Fellow Taylor Mac and his long time collaborators, designer Machine Dazzle, Music Director Matt Ray and producers Pomegranate Arts join together to celebrate the holidays in all of their dysfunction. Holiday Sauce… Pandemic! will blend music, film, burlesque and random acts of fabulousness to reframe the songs you love and the holidays you hate. There is more to the holidays than rampant capitalism and gift giving and in Taylor's world, creativity and imagination are their own spirituality. This holiday season will be bittersweet for so many — Taylor Mac reminds us of the collective power of our chosen families, a message that will be of particular resonance this year when so many have lost so much. 
The premiere live streaming of Taylor Mac's Holiday Sauce… Pandemic! on Saturday, December 12 is a benefit event. By supporting this event, you will be supporting CAP UCLA and performing artists at a critical time.
Registration for the event is $25, but if you are in a position to support at a higher level, it is greatly appreciated! Patrons who support the benefit event with a gift of $100 or more will be invited to an After Party with special appearances from Holiday Sauce cast members.