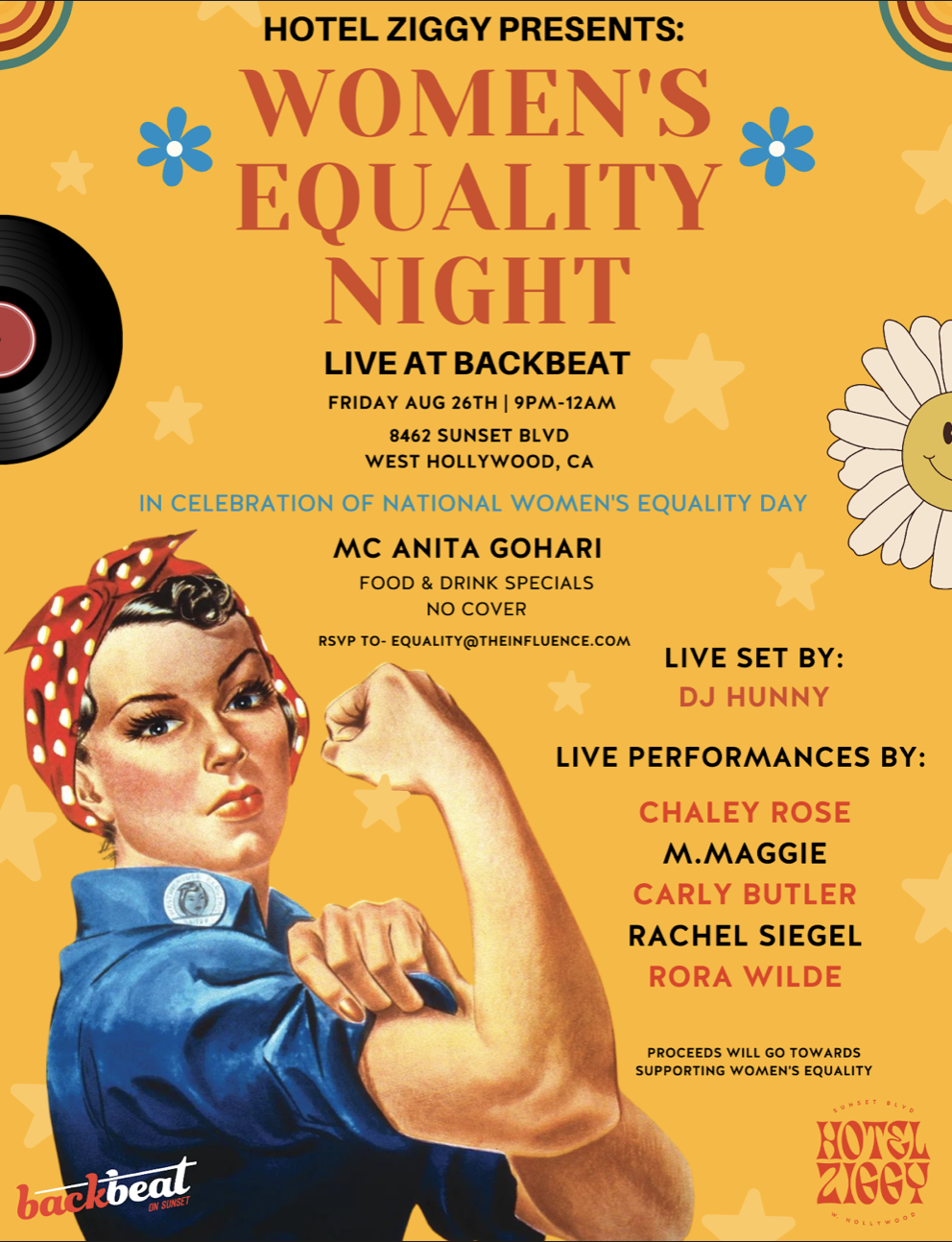 Equality Event at Hotel Ziggy
Women fought for their right to vote and won in 1920, but the fight for true equality continues each day. This is something we have currently been affected by recently and cannot stress the importance enough for us to honor Women's Equality Day as it's a day to call attention to all women's continual efforts toward full equality in all things. Hotel Ziggy is a firm believer in women's rights and is celebrating it with an incredible weekend of events stacked with all-female lineups starting on Women's Equality Day in Backbeat, their live music venue that overlooks The Sunset Strip on Friday August 26th, continuing on Saturday with a pool party and wrapping up the weekend with Sundays on The Strip featuring Katie Welch.
Hotel Ziggy is all about freeing "the music" aka  standing with those who fought for change in an era where the government wanted to silence, diminish and detour. Hotel Ziggy stands with all women in the continual fight towards women's equality so a portion of proceeds from this weekend  will  be donated to help protect women's rights! Drink & food specials will be offered all weekend long.
Details:
21+
TIME: 9pm -12 am
WHEN: Friday, August 26, 2022
WHERE: Backbeat at Hotel Ziggy
ADDRESS: 8462 Sunset Blvd, West Hollywood, CA 90069
WEBSITE: https://www.hotelziggy.com/
Please RSVP to:  equality@theinfluence.com
In a destination where luxury, glamor and celebrity reign, a rebellious new neighbor has taken up residence in the heart of the Sunset Strip.  Hotel Ziggy is LA's newest hotel, live music venue, restaurant and bar, pizza shop, and even features West Hollywood's largest saltwater swimming pool. It's where legends were made and groupies played. The hotel pays homage to artists of the 60s, 70s, 80s and 90s, the icons that shaped the Strip and music as we know it. Come as you are. Create your own music, your own memories, and be ready to rock.