From World Pasta Day to Ye Scallywag punk rock music festival, check out the top San Diego weekend events for October 18-21.
By Jordan Fraser
EVENTS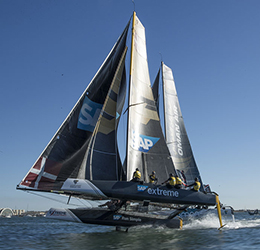 Extreme Sailing Series
Oct. 18-21. Experience the only U.S. stop on the action-packed global tour that plays host to a fleet of elite international sailing teams, including one American squad. Spectators can enjoy live music, entertainment, bars, food stalls and expert commentary of the racing, and also take advantage of the perfect viewing spot from the free-to-enter public Race Village located on Harbor Island. See website for full schedule of events and locations. sandiegoextremesailing.com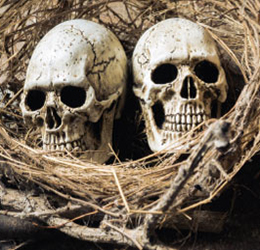 Haunted Tales
Oct. 20. Calling all aspiring ghosts, goblins, pirates and princesses to gather on the Star of India for some ghostly haunted tales. Enjoy lantern-led tours around the ship and listen to eerie legends from the Star of India's past. Hear the tales of how young John Campbell fell to his death from the rigging and more creepy events. 6-10 p.m. Included with general admission. Maritime Museum of San Diego, 1492 N. Harbor Dr., Embarcadero, 619.234.9153. sdmaritime.org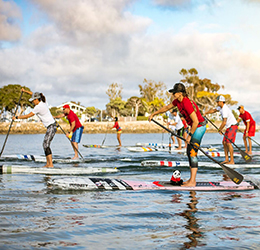 Panda Paddle
Oct. 20. Bring your competitive spirit to this first ever peer-to-peer athletic fundraising event that raises funds for the World Wildlife Foundation with a paddle session in Mission Bay. The event features a live performance from San Diego-based singer-songwriter Tristan Prettyman, appearances from professional stand-up paddleboarders Anthony Vela and Jona Letieri, and Victoria Secret Angel Jasmin Tookes. 8 a.m.-4:30 p.m. Bonita Cove, Mission Bay. pandapaddle.org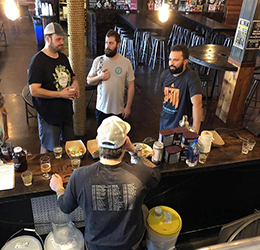 South Park Walkabout
Oct. 20. Join this evening festival that showcases all the unique and independent businesses within the cozy community of South Park. Enjoy complimentary treats, live entertainment and special offers at various businesses. Kids and dogs welcome. 6-10 p.m. Free. Fern St. and Kalmia to 30th and Beech St., South Park. southparksd.com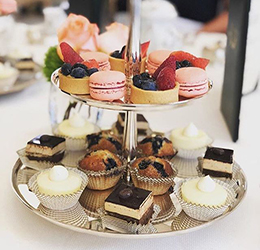 Westgate Fall Literary Tea with Kristina McMorris
Oct. 20. Bask in the company of New York Times bestselling author Kristina McMorris for her new book "Sold on a Monday" while enjoying an exquisite three-course afternoon tea with champagne in the Le Fontainebleau Room at The Westgate Hotel. "Sold on a Monday" captures the desperation sweeping through the country in the year of 1931 telling the story of a journey of ambition, love and the far-reaching effects of our actions. 2-4:30 p.m. $45. 1055 Second Ave., downtown, 619.328.1818. westgatehotel.com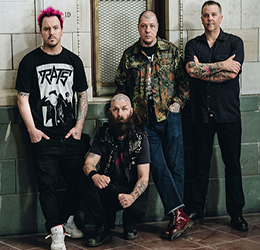 Ye Scallywag Festival
Oct. 20. Who said punk is dead? Rock out to live music throughout the day from Rancid, Mighty Mighty Bosstones, Hepcat, Less Than Jake, The Interrupters and more at this raucous music and beer festival. Enjoy unlimited tastings from a complimentary tasting glass from 1-4 p.m. After 4 p.m., food, beer and wine will be available for purchase. Noon-9 p.m. $55-$199. Waterfront Park, 1600 Pacific Hwy., Embarcadero. scallywagfest.com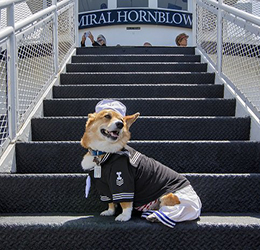 Bow Wow Brunch Cruise
Oct. 21. Bring your pup along for this special brunch cruise benefitting Helen Woodward Animal Center. Enjoy Hornblower's delicious and bountiful buffet with unlimited champagne and desserts, plus Fido gets a pet buffet to choose from along with a dog area set up on the sun deck. Chopper the Biker Dog will be making an appearance for photo opportunities, and Darris Cooper, Petco Pawsitive Dog Training expert, will be on hand for training tips. Reservations required. Boarding 11:30 a.m., cruising noon-2 p.m. $94 adults, $58.40 children ages 4-12. Pier 1 Hornblower Landing, 1800 N. Harbor Dr., Embarcadero, 619.686.8715. hornblower.com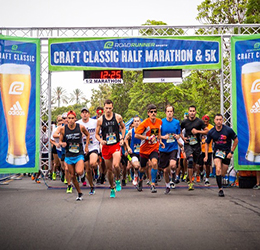 Craft Classic Half Marathon and 5K
Oct. 21. Run towards the cold one waiting for you at the Green Flash Brewing Co. finish line during this marathon and 5K that offers sweeping San Diego views and challenging hills along the way. All participants will receive a commemorative event shirt and beer glass, special finisher's medal, a free beer at Green Flash and free race photos. Finishers and guests over 21 can hang out in the post-race beer garden where bib wearers will receive a 25 percent discount on all craft beer. Half marathon begins at 7 a.m., 5K begins at 7:15 a.m. $60-$175. Green Flash Brewery, 6550 Mira Mesa Blvd., Mira Mesa. craftclassic.com

FOOD + DRINK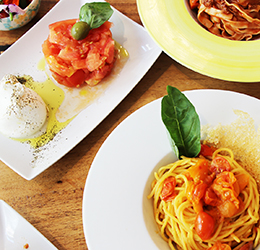 National and World Pasta Day at Monzu Fresh Pasta
Oct. 17-25. Find a new pasta dish highlighted each day from National Pasta Day to World Pasta Day. Each one is an authentic recipe from a distinct region in Italy, such as Neapolitan Scarpariello from Naples, Ligurian pesto from Liguria, Roman-style cacio e pepe and beyond. Flavorful pastas are made in-house using organic flour, cage-free eggs, and a blend of Italian and Californian ingredients. 455 Tenth Ave., downtown. monzufreshpasta.com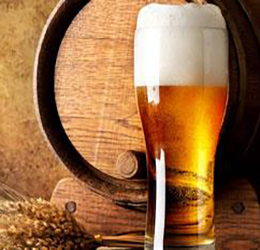 Oktoberfest at the Clubhouse Grill
Oct. 18. Satisfy your taste buds with beer tastings from some of the county's best craft breweries including Ballast Point, Iron Fist, June Shine Kombucha and Firestone Walker with German-inspired cuisine including bratwurst, wiener schnitzel and soft pretzels. Don't miss live music by Casual Magic and a beer stein-holding contest. 21+. 6-8:30 p.m. $50 includes beer tastings and food. Fairmont Grand Del Mar, 5300 Grand Del Mar Ct., Del Mar, 858.314.2700. fairmont.com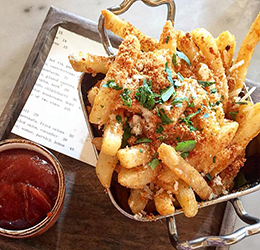 Cans & Jams
Oct. 20. Savor AleSmith beer specials at Searsucker during this monthly jam session. Kick back and sip on your favorite local craft varieties including Nut Brown Ale, Sublime, Spezial Pils and .394, and special limited releases to the sweet sounds of live music. Happy hour offerings include duck fat fries, spicy tuna poke and fish tacos. 2-5 p.m. No ticket purchase required, RSVP recommended. 611 Fifth Ave., downtown, 619.233.7327. searsucker.com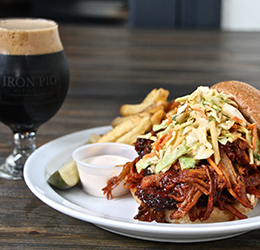 Aporkalypse Now
Oct. 21. Feel good about going out for barbecue during Iron Pig Alehouse's anniversary celebration where a portion of the day's sales will benefit RouteUSA, a local non-profit dedicated to promoting sports, creativity, education and the awareness to preserve the health of the world's oceans, beaches and marine life. Two whole pigs will be smoked for the celebration. Plus, be part of an interactive art project made from items collected during an organized beach clean up. Wrap up the party with a commemorative anniversary beer by Bay City Brewing Co. No tickets required. 1520 Garnet Ave., Pacific Beach, 858.412.4299. ironpigalehouse.com
ARTS + CULTURE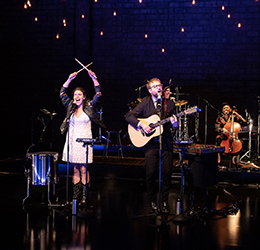 "Hundred Days"
Through Oct. 21. An exhilarating and heartrending autobiographical piece, written and performed by the husband-and-wife team of Abigail and Shaun Bengson, about embracing uncertainty, taking a leap and loving as if you only had 100 days to live. $25-$64. Mandell Weiss Forum at the La Jolla Playhouse, 2910 La Jolla Village Dr., La Jolla, 858.550.1010. lajollaplayhouse.org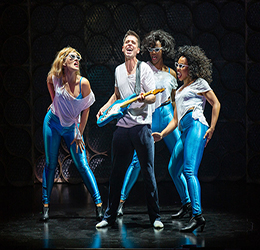 "The Heart of Rock & Roll"
Through Oct. 21. Be among the first to catch the musical comedy that celebrates the classic songs of Huey Lewis and the News. Hits such as "Workin' for a Livin'," "If This Is It" and "The Power of Love" are reborn in this world premiere. Shiley Stage at the Old Globe Theatre, 1363 Old Globe Way, Balboa Park, 619.234.5623. theoldglobe.org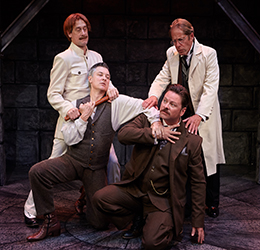 "Holmes & Watson"
Oct. 17-Nov. 18. See if you can solve the riddle at the West Coast premiere of Holmes & Watson in which Dr. Watson must discern which of three men is the missing Sherlock Holmes. Conceived by Jeffrey Hatcher, this show is fast-paced, thrilling, and full of twists and turns. See website for show times. $42+; discounts for seniors, students, military and educators. North Coast Repertory Theatre, 987 Lomas Santa Fe Dr., Solana Beach, 858.481.1055. northcoastrep.org
Extreme Sailing photo by Lloyd Images. Ye Scallywag photo courtesy A12 Entertainment. South Park Walkabout photo courtesy South Park San Diego. Westgate Fall Literary Tea with Kristina McMorris photo courtesy Westgate Hotel. Haunted Tales photo courtesy Maritime Museum of San Diego. Bow Wow Brunch Cruise photo courtesy Hornblower Cruises. Craft Classic Half Marathon and 5K photo courtesy Gameface Media. Oktoberfest at the Clubhouse photo courtesy Fairmont Grand Hotel. Cans & Jams photo courtesy Searsucker. Aporkalypse Now photo courtesy Baby Bird Communications. National and World Pasta Day at Monzu Fresh Pasta photo courtesy Monzu Fresh Pasta. "Hundred Days" photo by Jim Carmody. "The Heart of Rock & Roll" photo courtesy The Old Globe. "Holmes & Watson" photo courtesy North Coast Repertory Theatre.