From unique art exhibitions to West Coast premieres, check out the top San Diego weekend events for July 5-8.
Edited by Eva Scattergood.
EVENTS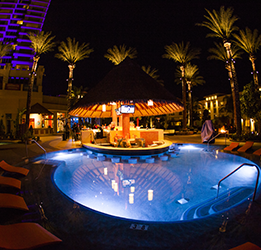 Cowboy Boots & Swimsuits
July 5. Grab your cowboy boots and head on over to Dive for a poolside music series. Catch country artist Brandon Lay on July 5, followed by Jimmie Allen (July 12) and Devin Dawson (July 26). The evenings include drink specials, games, water bull riding and more. Doors 7 p.m., show 8 p.m. $10+. Harrah's Resort Southern California, 777 Harrah's Rincon Way, Funner, 760.751.3100. harrahssocal.com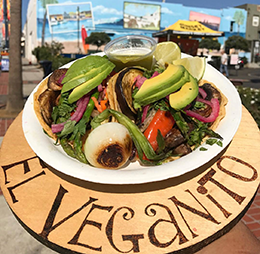 First Friday Night Market
Starts July 6. Join the inaugural First Friday Night Market at Anthem Vegan, featuring vegan food and drink vendors, local vegan-friendly beer in a 21+ beer garden, plus music too. Food options include El Veganito, The Vegan Tamale Company, Maya's Cookies and more, with drinks from Thorn Brewing Co. and Bambucha Kombucha. 6-10 p.m. Free. 2611 El Cajon Blvd., North Park. veganinsandiego.com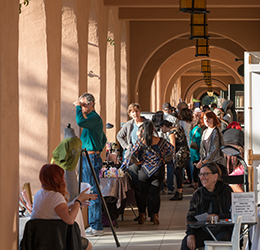 Friday Night Liberty Art Walk
Starts July 6. Wander, explore and enjoy this local art experience. Taking place on the first Friday of every month, Friday Night Liberty is San Diego's biggest monthly art walk. Meet working artists, enjoy dance, theatre and music performances, visit museums and galleries and explore the growing Arts District. See this week's featured performance by San Diego Dance Theater that brings student and professional intragenerational dancers together. 5-9 p.m. Free. 2950 Truxtun Road, Liberty Station. ntcfoundation.org
"Great Barrier Reef"
Opens July 6. The world's largest living wonder is coming to the giant screen as the new documentary Great Barrier Reef makes its West Coast premiere at the Fleet Science Center. The aim of the film is to capture the natural beauty and exquisite strangeness of the reef and to introduce us to the visionaries and citizen scientists who are helping us better understand the awesome, bizarre and vibrant living world that the Great Barrier Reef is. What's unique about this film is that it tells the story of the reef from the perspective of characters who have an intricately close relationship to it. See website for show times and ticket prices. 1875 El Prado, Balboa Park, 619.238.1233. rhfleet.org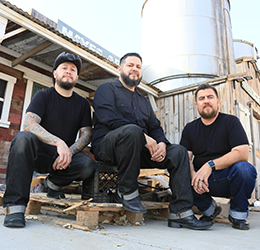 Puttin' Down Roots
Starts July 6. Delve into the multicultural roots of American music with the Puttin' Down Roots music series which will fill the Lyric Court with music every Friday in July. Kicking off the second season is Moonlight Trio, originators of a unique blend of musical styles called Cumbiabilly that captures the sound and essence of Southern California with a mix of old school rock 'n roll, rockabilly, cumbia, Tex-Mex and traditional Mexican music. Doors 6:15 p.m., show 7 p.m. RSVPs not required, but will be given priority seating. Free. California Center for the Arts, 340 N. Escondido Blvd., Escondido, 760.839.4138. artcenter.org
FOOD + DRINK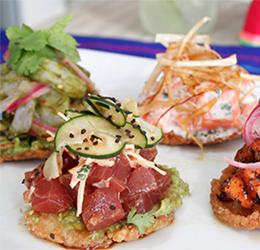 POKE IT Grand Opening
July 7. POKE IT, Hillcrest's newest Cali-Baja poke concept, has teamed up with the San Diego Fire-Rescue Department's newly remodeled Station No. 5 to host a public grand opening, which will serve as a fundraiser for the San Diego Fire Rescue Foundation. Guests can enjoy a special poke dish created by the firefighters of Station No. 5. 11 a.m.-9 p.m. À la carte pricing, free to attend. 690 University Ave., Hillcrest, 619.773.6486. pokeitsd.com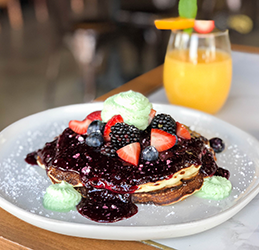 Maestoso Launches Sunday Brunch
Now Available. Maestoso has now added Sunday brunch to complement their buzzing nightly dinner service. The menu blends traditional fare with Chef Marco Maestoso's contemporary creations including Breakfast Pinsa topped with guanciale, pecorino cheese and eggs; Majestic Pancakes with berry "ragu" and vanilla whipped cream; and more creative dishes. Sunday brunch also features Maestoso's unique passaggi concept wherein a cart of chef's whims—usually small plates—is periodically rolled through the restaurant and offered to guests to enjoy with the brunch menu's core items. 10:30 a.m.-4 p.m. 1040 University Ave., Suite B101, Hillcrest, 619.642.0777. maestoso.com
ARTS + CULTURE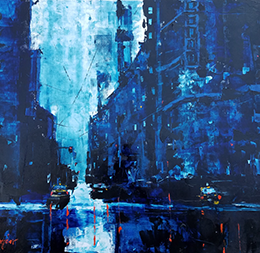 "Mankind Edited" Opening
July 6. Attend the opening of La Playa Gallery's newest exhibition Mankind Edited featuring pieces from painters Dan Adams and Matt Snyder, and sculptor Ry Beloin. Peruse selected works that explore the emotional range of Americana, from joy to depression, influenced by everyday objects such as the kitchen honey bottle, the skyscraper and the posture of man, all while enjoying a wine and cheese reception. 5-8 p.m. Free. 2226 Avenida De La Playa, La Jolla, 858.454.6903. laplayagallery.com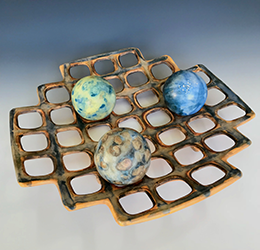 "GLAZE: Conversations in Clay and Paint" Reception
July 7. Ceramic artist Pierre Bounaud and painter Kathleen Kane-Murrell have come together to create an exhibition of their work at the Studio Door Gallery. Both use glazes to create intriguing and unique pieces. This show, the last at this location, will run through July 29. 6-9 p.m. Free. 3750 30th St., North Park, 619.255.4920. thestudiodoor.com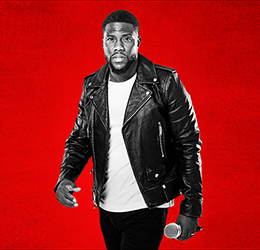 Kevin Hart
July 7. Laugh with comedian and actor Kevin Hart as he brings his international Irresponsible Tour to San Diego. Doors 6 p.m., show 7 p.m. $39+. Viejas Arena, 5500 Canyon Crest Dr., San Diego, 619.594.0429. Tickets  

"Great Barrier Reef" photo courtesy of the Fleet Science Center. Maestoso photo by Dalila Ercolani. "Mankind Edited" photo of Blue Note Cabs by Matt Snyder. "GLAZE" photo of Grid #2 by Pierre Bounaud.