Find out the best things to do in San Diego surrounding the MLB All-Star Game.
Edited by Lisa Kelley
America's Finest City plays host to the 87th Annual MLB All-Star Game and a profusion of baseball-themed activities. Here's the roundup of top MLB events in San Diego.
Budweiser MLB All-Star Concerts
Free tickets to these special concerts were snapped up in minutes, but wander along the Embarcadero and you just might be able to catch the sounds of headlining acts and watch the post-event fireworks shows.
July 8. 7-10 p.m. OneRepublic with NEEDTOBREATHE
July 9. 12-3 p.m. Tori Kelly with All Time Low
July 9. 7-10 p.m. Gwen Stefani with Eve
Embarcadero Marina Park South, 206 Marina Park Way, San Diego Marina. mlb.com
Soul Pose Yoga
July 9. Join MLB and Soul Pose for the ultimate outdoor yoga party. The 60-minute program includes yoga poses for all skill levels. Yoga instructor Heather Archer will lead two sessions at 8 and 11 a.m., while Michael Franti performs live music between sessions. $25/pp. San Diego Waterfront Park, 1600 Pacific Hwy, San Diego Marina. mlb.com
Color Run All-Star 5K
July 10. Nike presents a colorful 5K run through San Diego, complete with the Tropicolor Zone in which runners will be bathed bright paints and island scents, new color stations at every kilometer, island-style music and more fun surprises. 7 a.m. Waterfront Park, 1600 Pacific Hwy., San Diego Marina. thecolorrun.com
Legends & Celebrity Softball Game
July 10. At the Legends & Celebrity Softball Game, stars from movies, television, music, sports and more compete on the field for the coveted all-star bragging rights. Some of the famous faces include swimsuit model Nina Agdal, bassist Pete Went (Fall Out Boy), U.S. soccer legend Landon Donovan and former Padres giant Trevor Hoffman. 4 p.m. Petco Park, 100 Park Blvd., East Village. mlb.com
Pepsi Block Party
July 10-12. Join the ultimate block party on J Street between 6th and 10th Avenues. The free event features live music, food, beer, baseball interactive, giveaways and more. Noon-6 p.m. J Street, East Village. mlb.com
Home Run Derby
July 11. This single-elimination tournament pits the MLB's top eight home run hitters against each other in four-minute rounds to see who can hit the most home runs. Players include Mark Trumbo (Orioles), Todd Frazier (White Sox), Adam Duvall (Reds), Robinson Cano (Mariners), Giancarlo Stanton (Marlins), Will Myers (Padres), Carlos Gonzales (Rockies) and Corey Seager (Dodgers). 5 p.m. Petco Park, 100 Park Blvd., East Village. mlb.com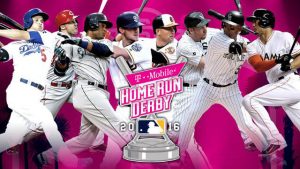 MLB All-Star Red Carpet Show and All-Star Game
July 12. At noon, players on the MLB All-Star teams will parade through San Diego from the Manchester Grand Hyatt to Petco Park. Grand Marshals, Trevor Hoffman and Dave Winfield lead the show in Corvettes. The highly anticipated 87th annual All-Star Game begins airing at 4:30 p.m. Petco Park, 400 Park Blvd., East Village. mlb.com
Missed out on tickets to the festivities? Fear not, here's your list of spots where you can still get in the spirit or catch screenings of the games.
Quartyard
July 12. Just a short stroll from Petco Park, East Village's Quartyard is a great space to meet up with the gang to watch screenings of Tuesday's All-Star game. The outdoor venue features a beer garden and some dining options to keep the good times rolling all evening. 1102 Market St., East Village. quartyardsd.com
Woodstock's Pizza
July 12. As part of Woodstock's month-long customer appreciation celebration, the pizzeria will be screening the All-Star game and offering 15% discounts for those wearing their team's gear. 6145 El Cajon Blvd., College Area, 619.265.0999. woodstockssd.com
Parq After Party
July 12. Following the All-Star Game, head downtown to Parq to enjoy hip hop artist Fabolous and mingle with a surprise lineup of MLB players. $20-35/pp. 9:30 p.m. 615 Broadway, downtown. parqsd.com
Garage Kitchen + Bar
Through July 12. All weekend, enjoy 51 percent off happy hour from 4-7 p.m., while crossing your fingers for the many Padres and concert ticket giveaways at Garage Kitchen + Bar. 655 Fourth Ave., Gaslamp Quarter, 619.231.6700. garagekitchenbar.com
Gaslamp Tavern
July 10-12. Less than a mile from the ballpark, Gaslamp Tavern takes guests right to the action of the game with numerous HD TVs screening the All-Star week events. The Gaslamp Tavern will also serve an all-star "Best of the West" beer roster, featuring brews from San Diego, LA, San Francisco, Arizona and Colorado for each of the National League West cities. 868 Fifth Ave., Gaslamp Quarter, 619.239.3339. gaslamptavern.com